PetSmart
Start typing, then use the up and down arrows to select an option from the list


top
DOG / fun & fashion
Pet Costumes: A Trend of Cuteness
The choices are endless for adorable pet costumes - hamburger, elephant, skeleton. And now even your small pets can get in on the cuteness! Here are some fun looks we've created that are easy to achieve. Just select the costume that best matches your pet's personality.
Superhero
Materials needed:
Green T-shirt
Scissors
Pet Expressions chalk
Turn your monster cute pet into a superhero in a matter of minutes! All you need is a green child-sized T-shirt (from a fabric store or an old one at home) or order one of our costume T-shirts, and use scissors to make it appear tattered. Then, with a little bit of creativity, take pet chalk (or visit our Grooming Salon to let our professional pet stylists handle this step) and add green color to your pet's front and back legs. You can even use black chalk on his bum to make it look like he's wearing pants. Apply the finishing touches and you've got yourself a character that might just fit his feisty personality!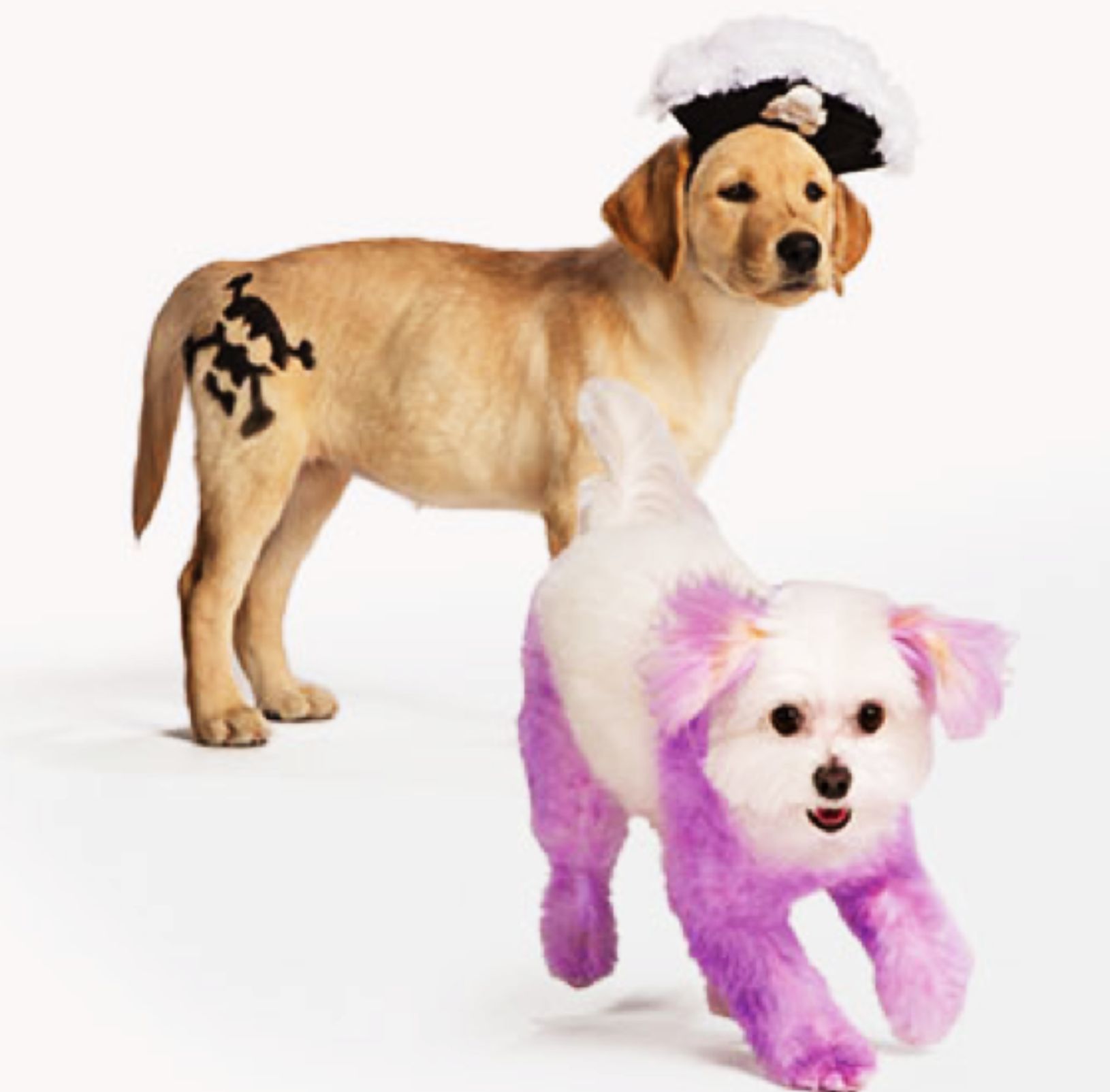 Panda Bear, Pirate, Pet Expressions, Oh My!
Materials needed:
Pet Expressions chalk
Stencils or feathers
Accessories (hat, bandana, decorative collar, etc.)
With a little help from our Pet Expressions line, give your pet a unique Panda Bear or Pirate "costume" look! For the Panda Bear, select a contrasting color that works well with your pet's coat, and chalk the front legs and around the neck and ears. Top off the look with a matching feather or paw print stencil. The Pirate costume includes skull-and-crossbones or anchor stencil and a pirate hat. Depending on your dog's coloring, you can even add black chalk on the backside, tail and ears. Book an appointment for your pet in our Grooming Salon and we can help you create these colorful "costumes"!