KAYTEE® Ferret Home Plus Small Pet Habitat
Details
https://www.petsmart.com/small-pet/cages-habitats-and-hutches/cages/kaytee-ferret-home-plus-small-pet-habitat-5175797.html
Promotions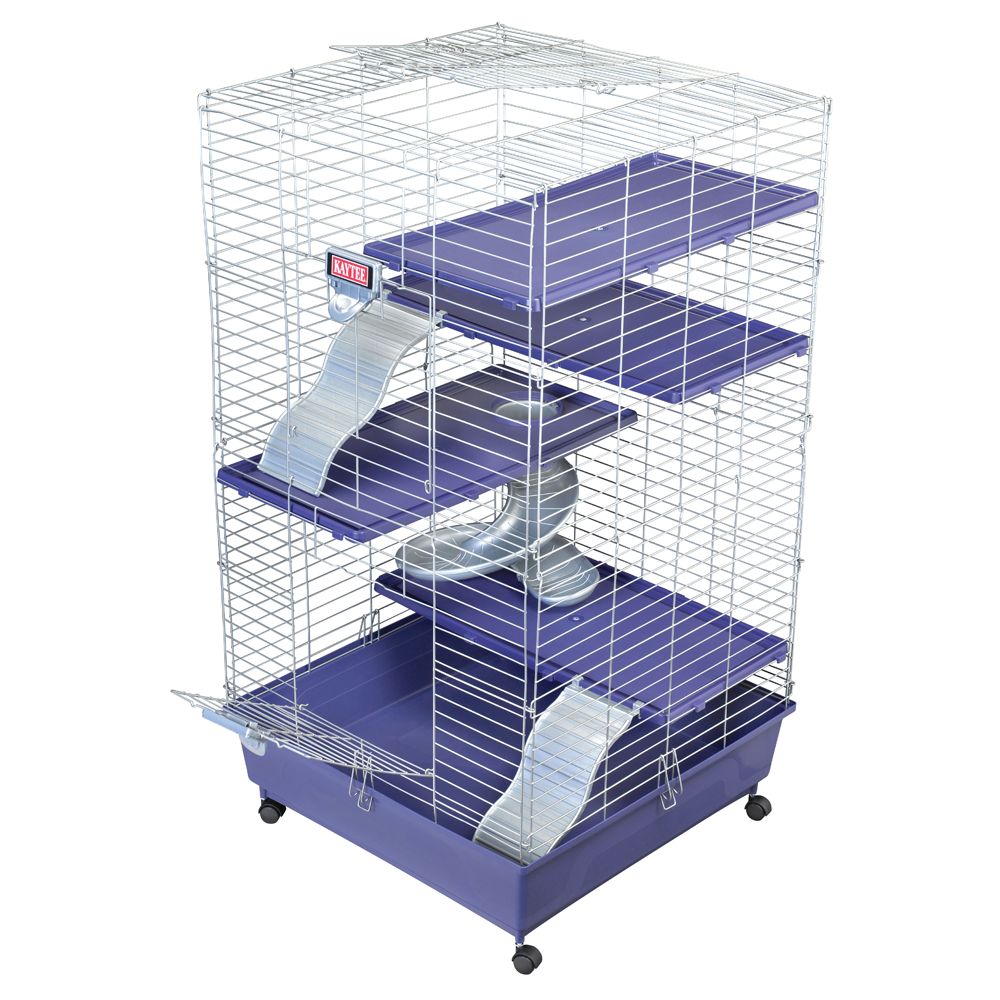 I have had this cage for almost a year. Since I got it I now have three ferrets. Is it enough space for them?
Way to small for even two ferrets,
Date published: 2018-08-19
can I use it for a chinchilla?
Yes, it would work, but we recommend the Kaytee Multi-Level Exotics Cage for a chinchilla. You can find it here: https://bit.ly/2HqqnJ6
Date published: 2018-06-26
Is this cage large enough to house 2 rats?
You shouldn't house rats in this cage as it is meant for ferrets and has 1" bar spacing a rat could easily escape from the cage.
Date published: 2018-04-14
Can female rats use this cage?@can u change the swirling ramp?
We wouldn't recommend this habitat for rats. The bar spacing is 1" & they could escape. This habitat would be better for rats since it has 1/2" bar spacing. https://www.petsmart.com/small-pet/cages-habitats-and-hutches/cages/kaytee-multi-level-exotics-cage-14493.html?cgid=600124
Date published: 2018-03-23
What is the bar spacing on this cage?
The bar spacing is 1 inch.
Date published: 2018-03-06
Would this work for a hamster?
We don't recommend it. The wire spacing it too much & a hamster could escape. We suggest any of the habitats shown here >> https://www.petsmart.com/small-pet/cages-habitats-and-hutches/cages/hamster/?srule=best-sellers&pmin=0
Date published: 2018-10-10
What kinda kind of bedding do you recommend for this cage? (Fleece or wood shavings) 
Any of these would work for a ferret >> https://www.petsmart.com/small-pet/litter-and-bedding/kaytee/ferret/?srule=best-sellers&pmin=0
Date published: 2018-02-13
Would this cage work for a guinea pig
The ferret home is designed for ferrets because it contains multiple levels & guinea pigs don't necessarily need extra ramps & shelves. We recommend one of these habitats for guinea pigs - https://www.petsmart.com/small-pet/cages-habitats-and-hutches/kaytee-ez-clean-guinea-pig-home-plus-14486.html?cgid=600201 or https://www.petsmart.com/small-pet/cages-habitats-and-hutches/kaytee-deluxe-guinea-pig-habitat-44962.html?cgid=600201
Date published: 2018-02-13