Top Fin® bettaflo™ Soothe™ Betta Aquarium
Details
https://www.petsmart.com/fish/starter-kits/top-fin-bettafloandtrade-sootheandtrade-betta-aquarium-5262074.html
Promotions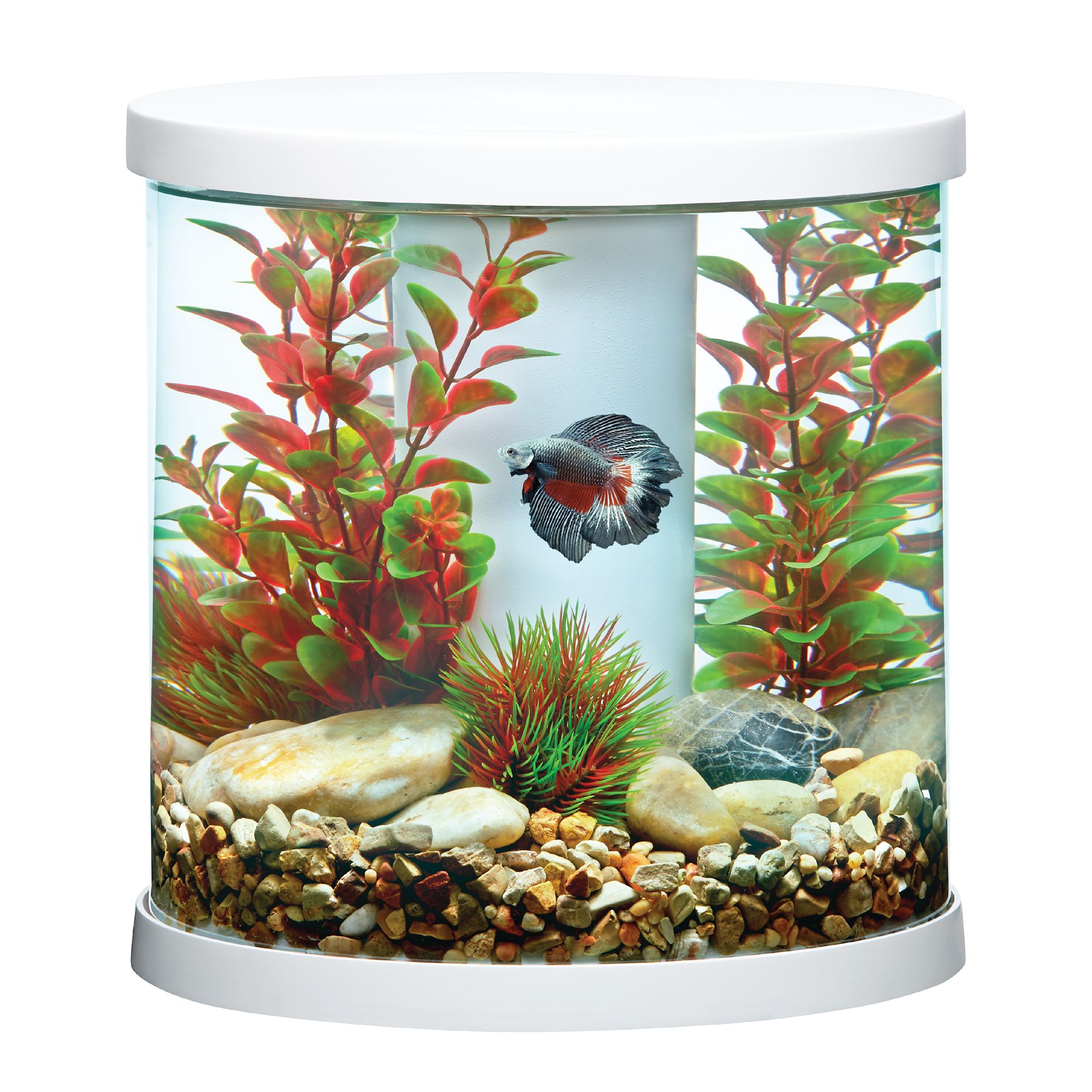 Does a heater come with this tank?
No. I wish
Date published: 2018-11-04
Somebody mentioned getting a more efficient pump. Can anybody recommend a pump that will fit?
I went to an aquarium store and they set me up with a Deep Blue System 20 Pro Sponge for the filter and a Tetra Whisper Air Pump for 10 gallon tank.  The filter sits on the outside of the tank and this solution will give you much more usable space in the tank (assuming you take out the central pillar)
Date published: 2018-10-24
Can you purchase a new filter/pump for a Top Fin 3.5 gallon Soothe Betta tank? My pump worked fine for about 1 year. How hums but moves no water. I expected the pump to last a little longer or at least be able to replace parts.
I went to an aquarium store when my filter/pump started having problems.  I wanted to keep the tank itself because it is glass and I like the look.  I discovered that the large white center pillar that houses the filter and pump is removable and replace it with a 3rd party component system.  This will do 2 things:  Make more useable space for the fish and decor and provide better filtration that can handle a snail for algae and perhaps one other fish. I went with a "Deep Blue System 20 ProSponge" for the filter (13 bucks on the big internet store).  That will sit in the tank itself and is probably half the space of the white integrate pump filter.  Yes, it is black and blue but you can camoflauge it with decor.  Plus, it doesn't require replacement filters -- you just clean the sponge ever 1-2 months.  The other piece is a "Tetra Whisper Air Pump"  for 10 gallon tank (7 bucks at the big internet store) which will sit outside the tank and be connected using plastic tubing.  I was told to be sure to put the pump on a SOLID SURFACE and possibly a thick foam mouse pad to cut down on the noise caused by vibration. Keep the bottom white metal plate so that will protect the silicone seal on the bottom and minimize structural stress. Hope this helps.
Date published: 2018-10-31
Are there any cords to plug in? Where we have our current tank, there's not a good place to plug it in.
Yes, one for the filter and a second for the light.
Date published: 2018-06-27
I own three of these tanks, with bettas in them. What do I do now they're don't have 11 leds like the box says. Hard to find filter cartridges unless you buy the ones marked for 2.5 gallon tank. Plus it's not a true 3.5 gallon tank. What do I do ?
I took the top off and bought a small light from Amazon to clip on this tank. This light has a nice blue light as well and the filter in the middle ends up looking a bit like a fountain. I highly recommend it!
Date published: 2018-06-26
I have a brown film going everywhere in the tank. I keep it clean but right after you clean it, the film comes back. Is the filter causing this because it pulls from the rocks. Everything in it is turning brown. Any suggestions?
The brown film happens because you may have a certain fish. It's an algae and can be eaten by nitrite snails. They are only 2 dollars and require 1 gallon per snail. It's an easy fix. 
Date published: 2018-11-13
How often should I do a water change with this tank? Can I do it less often since it has an under-gravel filter?
Aim for once a week if not more often. The type of filter doesn't matter in a tank this small; waste and toxins will still build up quickly.
Date published: 2018-10-13
Box says 11 led light - How do you change the lights ? I see 3 white/clear led lights, no way to change them? Thank you in advance 
It's poor typography. It actually says "1 1-color LED", not "11 color". It only has white lights.
Date published: 2018-11-13