All Living Things® Rabbit Comfy Getaway™ Small Pet Habitat
Details
https://www.petsmart.com/small-pet/cages-habitats-and-hutches/cages/all-living-things-rabbit-comfy-getawayandtrade-small-pet-habitat-5276633.html
Discounted Price

$76.49
Old Price

$89.99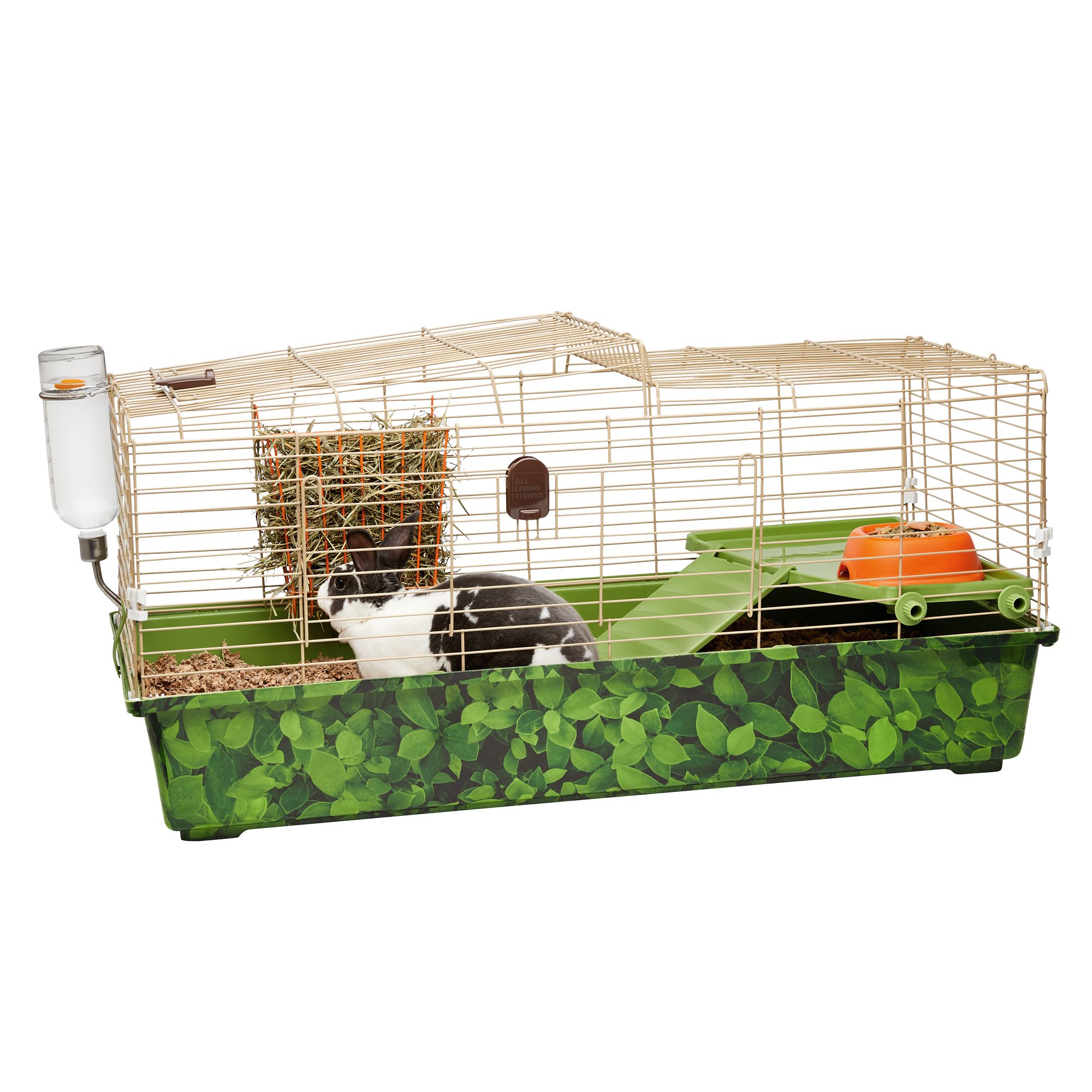 Can this work for a hamster 
no, the wire spacing is 1"
Date published: 2019-07-09
Can I house 2 guinea pigs in this?
Yes you can, i have this for my 2 guinea pigs and they have lots of room to run around! I recommend this cage!
Date published: 2019-05-02
Is the leaf pattern printed on the outside of the tray, or is it more like a wrap that can scratch or come loose over time?
I was told incorrectly by staff that it was printed, which would have been ideal. Sadly it is a wrap that scratches, peels, and comes apart in chunks over time, exposing the green plastic beneath (same color as inside of tray). I love this cage for my 2 guinea pigs, but what most attracted me to it was the appeal of the leaf pattern. Once it starts to peel the only easy, halfway decent looking option is to remove it entirely and settle for using it as a plain color tray. In hindsight I might have thought twice about the purchase or taken measures to prevent damage, like sealing it with a protective layer of clear package tape or clear vinyl. Really disappointing! Other than that the cage is better than any other I've encountered.
Date published: 2019-04-12
Is this cage syrian hamster?
no this is a cage for guinea pigs and rabbits.
Date published: 2018-12-08
Would this cage be ok for a Netherland dwarf bunny?
Yes it would my I just recently got a netherland bunny and this cage and she loves dont get any smaller then this size
Date published: 2019-02-09
How big is the gap between bars?
The wall bars have 1 inch space in between each bar but at the top of the wall there is one and a half inch space between each bar.
Date published: 2018-12-08
where can i found a replacement instructions for the All Living Things Rabbit Comfy Getaway, Small Pet Habitat
is it big enough for 2 male guinea pigs