KAYTEE® CritterTrail Run-About Habitat
Details
https://www.petsmart.com/small-pet/cages-habitats-and-hutches/cages/kaytee-crittertrail-run-about-habitat-5096497.html
Promotions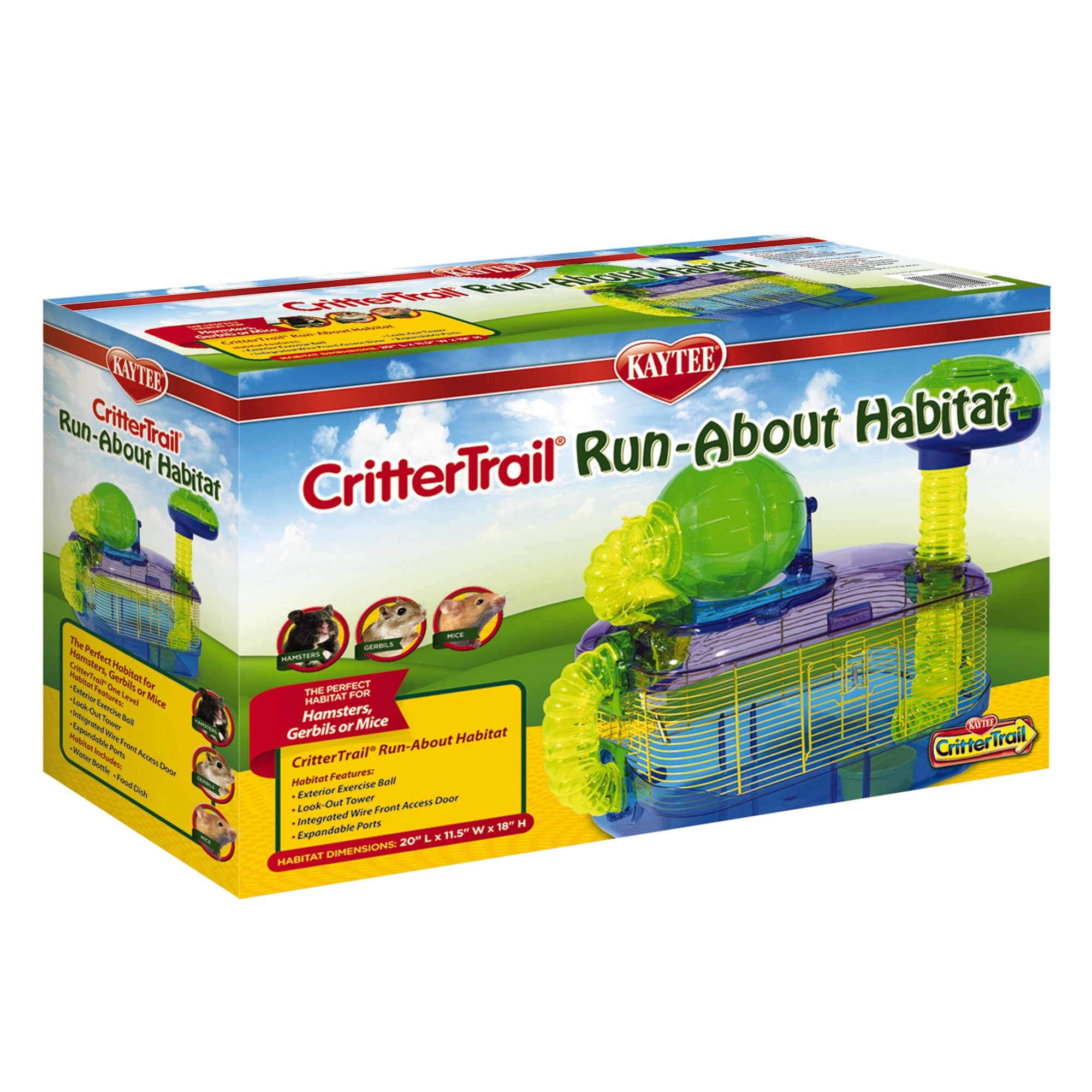 After reading reviews I'm on the fence about purchasing this habitat for our Syrian. He's very smart and currently can escape his kaytee home look out expansion even after I've verified it's securely closed.  Maybe someone from Kaytee can email me? 
Hello there, we'd be more than happy to talk to you about finding the correct habitat! You can reach the Kaytee Consumer Care team at 1-800-529-8331. We look forward to talking to you!
Date published: 2019-02-13
Does the ball come off to be used to roll around on the floor or a different area?
Whoever responded to you at the Kaytee team obviosly does not know anything about the cage. The ball does come off and has a built-in door that slides down. I currently own this cage, and the back clearly states that the ball is detachable.
Date published: 2019-01-21
can i use this cage for a single gerbil?
No. Too small, gerbils cannot have plastic cages, and gerbils should not be kept alone.
Date published: 2018-11-11
Will this cage fit a syrian hamster without it getting stuck?
No, the tubes have gotten my average weight syrian females stuck in the past. The cage itself is too small anyway.
Date published: 2018-11-11
I am thinking about getting a winter white hamster. Most of the reviews said that they used this cage for their Syrian hamsters.Will this cage work as well for a winter white?
No! It's too small for any hamster. Hamsters regardless of species need 450 square inches at the least.
Date published: 2018-11-20
How big is the ball
The diameter is 6.25" diameter and the circumference is 20".
Date published: 2018-11-09
I have two of these cages ang on both the doors have one side were there is a larger gap the the other and I am thinking about getting a dwarf hamster, will it be able to escape?
This habitat is intended for dwarf hamsters, hamsters, gerbils, mice or other like-sized small animals. The bar spacing is 1/4," so a dwarf hamster will not escape.
Date published: 2018-09-29
How big is this cage in square inches?
184 square inches with the outer side attachments removed.
Date published: 2018-09-29