KAYTEE® CritterTrail Run-About Habitat
Details
https://www.petsmart.com/small-pet/cages-habitats-and-hutches/cages/kaytee-crittertrail-run-about-habitat-5096497.html
Promotions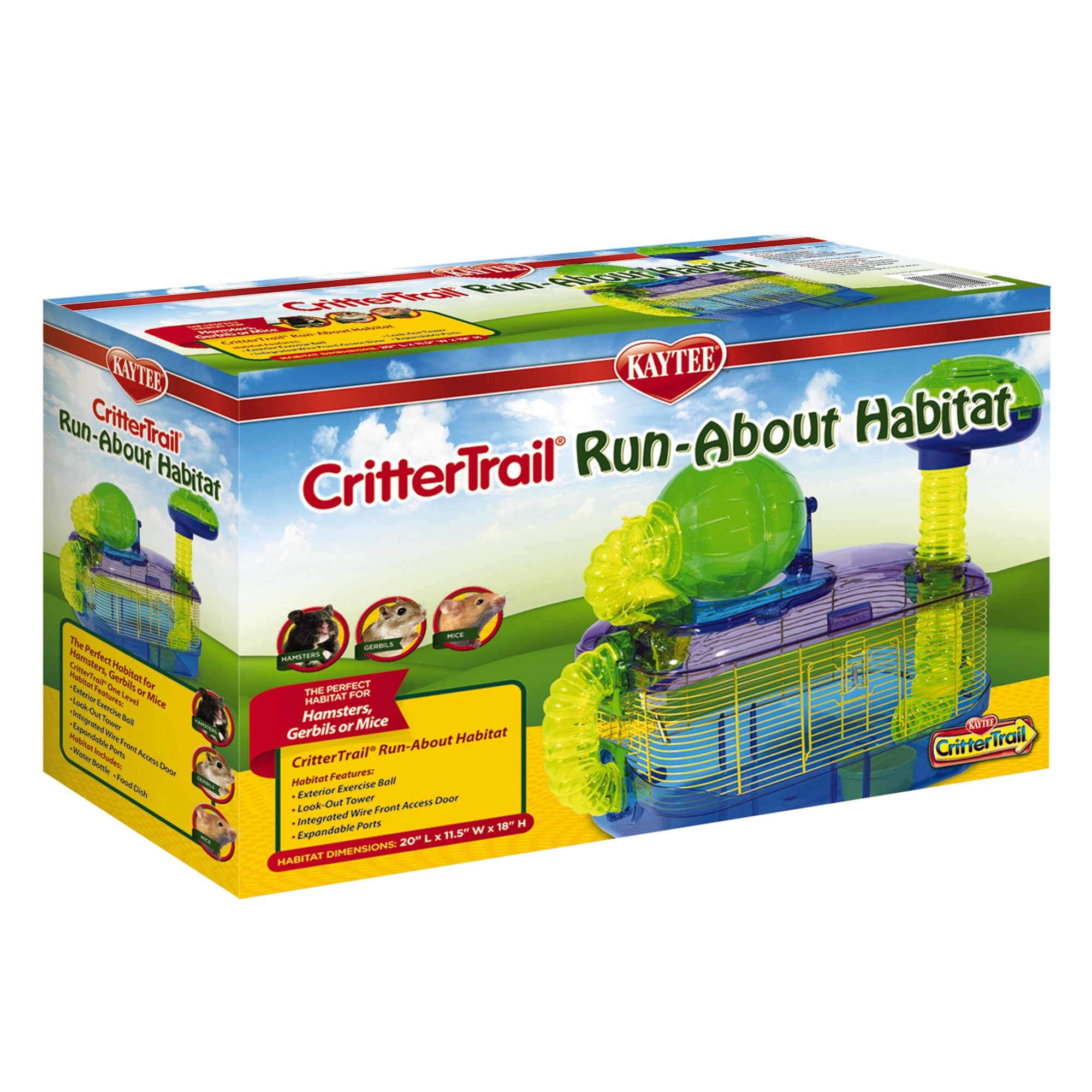 Does the ball come off to be used to roll around on the floor or a different area?
The ball should be left attached to the habitat. The ball does not double as a run about ball and should be left on the cage. It will not work any other way.
Date published: 2018-12-16
can i use this cage for a single gerbil?
No. Too small, gerbils cannot have plastic cages, and gerbils should not be kept alone.
Date published: 2018-11-11
Will this cage fit a syrian hamster without it getting stuck?
No, the tubes have gotten my average weight syrian females stuck in the past. The cage itself is too small anyway.
Date published: 2018-11-11
I am thinking about getting a winter white hamster. Most of the reviews said that they used this cage for their Syrian hamsters.Will this cage work as well for a winter white?
No! It's too small for any hamster. Hamsters regardless of species need 450 square inches at the least.
Date published: 2018-11-20
How big is the ball
The diameter is 6.25" diameter and the circumference is 20".
Date published: 2018-11-09
I have two of these cages ang on both the doors have one side were there is a larger gap the the other and I am thinking about getting a dwarf hamster, will it be able to escape?
This habitat is intended for dwarf hamsters, hamsters, gerbils, mice or other like-sized small animals. The bar spacing is 1/4," so a dwarf hamster will not escape.
Date published: 2018-09-29
How big is this cage in square inches?
184 square inches with the outer side attachments removed.
Date published: 2018-09-29
can you use this cage for guinea pigs
This cage would be too small for a guinea pig. We suggest the CritterHome Habitat for guinea pigs, which you cam find here: https://www.petsmart.com/small-pet/cages-habitats-and-hutches/cages/kaytee-critterhome-habitat-41477.html
Date published: 2018-09-29