Sunbeam® Sensor Egg Cat Deterrent
Details
https://www.petsmart.com/cat/cleaning-and-repellents/repellants/sunbeam-sensor-egg-cat-deterrent-5201283.html
Promotions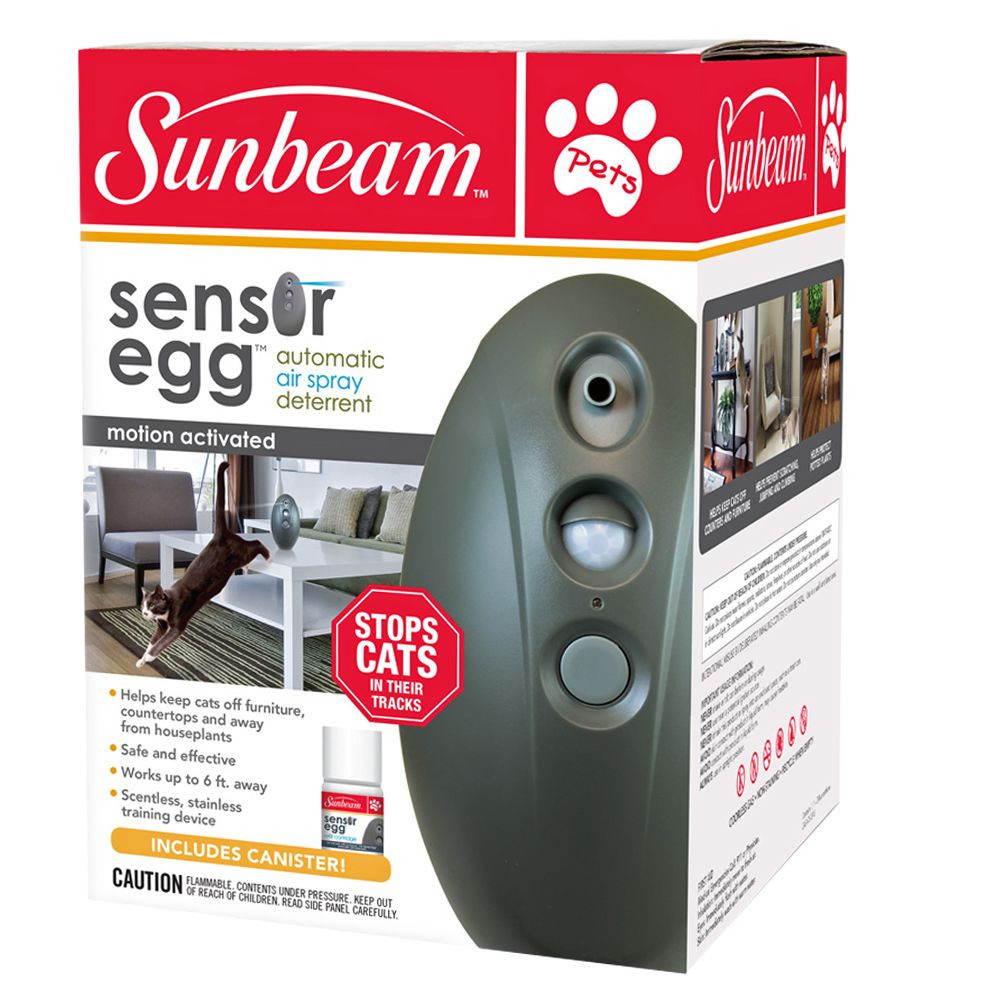 is this product battery op'd... or plug-in household current can it be used outdoors is it safe on a car's finish
It uses 4 AA batteries. I don't know if it would be safe to use outdoors. I don't think it's waterproof, but it might work long enough that your cats get used to what it does and will stay away just from seeing the egg there (my cat learned that if the egg is sitting on the counter, he shouldn't get up there. Even when it doesn't spray, just seeing the egg sitting around will deter him from going near it).
Date published: 2018-12-09
I'm guessing deaf kitten won't be able to hear this correction device?
He may not be able to hear it, but the air sprayed would certainly startle him as long as he's close enough to feel it. It's harmless, but my cat hates it. Might be worth a shot to see how your little one reacts to the puff of air.
Date published: 2018-12-09
Can you use this product around a Christmas tree?
You can use it around anything. The trick is to angle it in such a way (if possible) that it will keep the cat away from the tree, but humans can walk a certain path without setting it off. Sometimes you may have to remove it or turn it off if you are placing presents, for example, or watering the tree. I have found with my cat that if he so much as sees the egg, he stays away from the area, even without setting it off. It only takes a few times before they learn what it does and stay away if they spot it.
Date published: 2018-12-09
Is this product harmful to parakeets? Our new cat is very focused on our bird.
With how sensitive bird respiratory systems are, I wouldn't trust using it around a parakeet... I would just find the budgie a different room to live in until the cat's interest dies down.
Date published: 2019-07-15
Have a 2 yr old kitten that scratches couch. Got him huge scratching post, and those box ones. Got new couch and keeping on porch hoping to find solution. Don't want to freak out my dog and 2 older cats. Would kitten stop coming in lvgrm all together?
Using the info provided in your question I can offer this...the product cannot determine what species activates it's sensors. There is no 'only use on kitten' button.
Date published: 2019-03-12
I want to keep my cat off the kitchen table. Will this spray every time my family sits down to eat? I can't imagine how it would distinguish between a cat and a person!
Simple. Turn. It. Off.
Date published: 2019-04-30
what is the model number for this item
Will this keep cats off our front porch