carefresh® Natural Small Pet Bedding
Details
https://www.petsmart.com/small-pet/litter-and-bedding/litter-and-bedding/carefresh-natural-small-pet-bedding-5223212.html
Promotions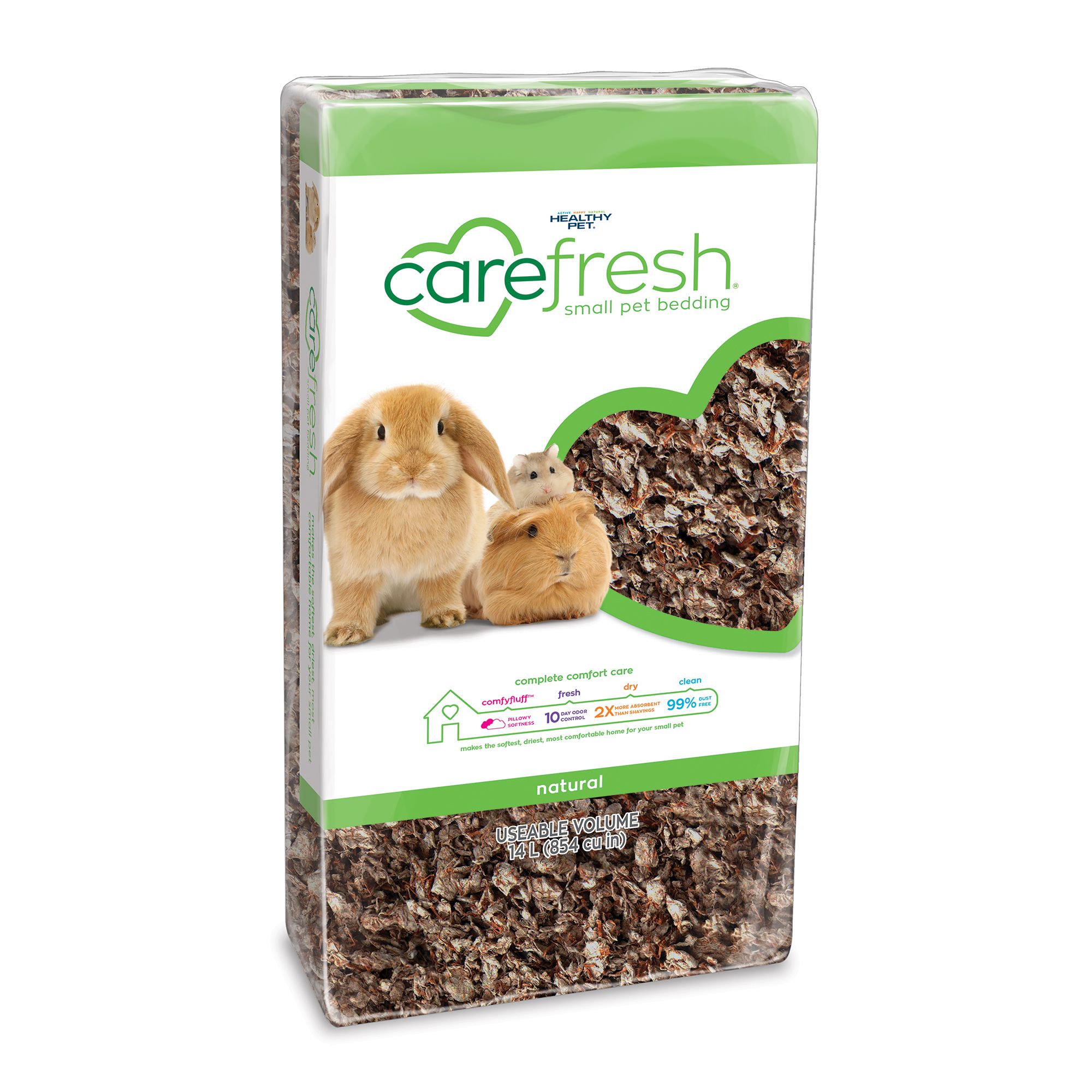 Hi are they gonna release the Halloween or Christmas beddings this year ?? 
Thanks for the question, unfortunately it was decided that the Halloween and Christmas beddings were to be discontinued this year. We do have some reccomendations - for Halloween grab some of our natural and purple colored carefresh bedding to create a spooky set up! You can even through in some grassy green for extra affect, for Christmas you can make it look like it snowed in your small pet's home with carefresh white and add some blue for a little icicle flair, or green to represent a Chritmas tree or wreath! The possibilities are endless!
Date published: 2019-09-16
Is this dust free
Yes carefresh is 99% dust free.
Date published: 2019-03-13
Would this be good for mice and rats?
No!! Not 99% dust free and it contributed to my rats upper respiratory infection. Don't use this!
Date published: 2019-02-08
Will a 60L bag cover 1000 Square inches with at least 2 inches of bedding?
Yes, 50-60L will cover 1-3" for 30x29 (870 square inches) for at least 4 bedding changes, so it will definitely be able to fill 2 inches for a 1000 square inch area, but may not be able to get as many bedding changes.
Date published: 2018-12-05
so i bought 30 l is that 60 l because it doubles?
carefresh bedding is labeled as "expanded volume", meaning that the bag labeled as 30L will expand to 30L and the bag labeled as 60L will expand to 60L.
Date published: 2018-12-04
Why bedding papper is more expensive than toilet papper? 
​We make our paper from scratch– not from post-consumer goods (such as shredded coffee filters or paper towels). You will notice a big difference between carefresh and other products after a few days.
Date published: 2019-02-08
How long does a small pack last for a Hamster?
Depending on your cage size. What I would do is take your cage size (example : 400 inches of floorspace) and the amount of bedding you're gonna put (let's say 2 inches deep) and multiply those together. 14 liters is roughly around 850 cubic inches. So 850 - 800 = 50 cubic inches left. But that's for example. Let's say that is your total. Taking the amount of times you clean your cage each week, then I'm pretty sure you can figure it out.
Date published: 2018-12-05
How many days would a large package last? 
That really depends on the type of animal and how many you have in the habitat as well as the size of the habitat.
Date published: 2018-12-05