Kennyi African Cichlid
Details
https://www.petsmart.com/fish/live-fish/goldfish-betta-and-more/kennyi-african-cichlid-4031349.html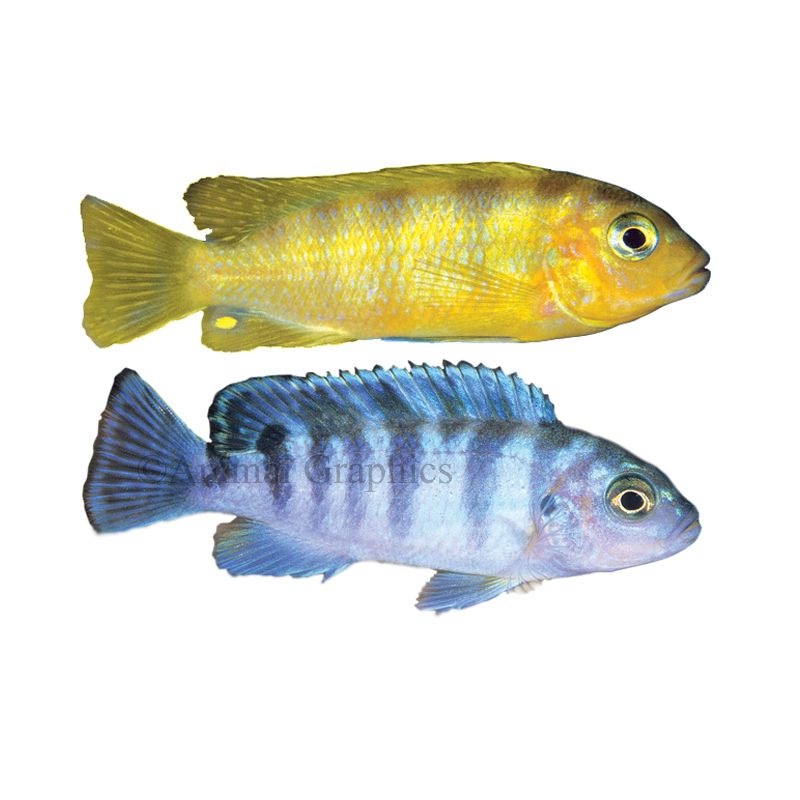 Variations
Please select a variation value to continue
Available only at select locations
not available for online purchase. please check availability at other stores.
Available in-store only
at
Sterling
46220 Potomac Run Plaza
Call 703-444-6500 to check availability
Check Nearby Stores
product highlights
Diet: Flake, Frozen, Spirulina
Maximum size: 6"
Water temperature: 72-82&deg F
Swimming level: Middle
Experience level: Advanced
Tank Setup: 29+ gallons, plus rock and/or driftwood
Note: Pet availability is seasonal. State and local regulations may vary. Pricing may vary by store location. PetSmart stores cannot match the price below for this pet. Ask a store associate for details.
African cichlids are very popular with fish hobbyists because there are so many different types to choose from. There are many species of African cichlids, including the rock-dwelling cichlids from Lakes Malawi and Tanganyika. These active and intriguing freshwater fish come in a range of eye-catching colors and sizes, allowing you to create a diverse, fascinating show tank.
They are generally peaceful with fish of the same size and temperament, but may eat any fish small enough to fit into their mouths. They may also be territorial and aggressive to others of their species. Cichlids are middle-swimmers, so be sure to add some top and bottom swimmers as well. Ask a PetSmart associate to help you choose.
Learn about the Kenyi African Cichlid
Scientific Name
Pseudothropheus lombardoi
Family
Cichlidae
Class
African
Swimming Range
Middle-Bottom
Feeding Habits
Fresh spinach, peas, zucchini and lettuce. Live blood worms, crickets, brine shrimp, mealworms, glass worms and tubifex worms. Frozen beef heart, hi-pro, daphnia, glass worms, blood worms, plankton, brine shrimp and glass worms. Freeze dried and tablet foods also accepted.
Habitat
Lake Malawi Africa: Densely decorate with rocks, clay pots and driftwood. Java Fern and Java Moss are the best live plants for decoration, as they will not be demolished by the cichlids.
Vet Assured™ Promise
All petspurchased at PetSmart are raised under our exclusive Vet Assured program and come with a 14-day satisfaction guarantee. Vet Assured is a program designed by PetSmart veterinarians to improve the health and well-being of our pets. The program sets standards for the care of our pets by our live animal partners and store associates and establishes strict standards for the monitoring and prevention of common illnesses found in pets. PetSmart makes a significant investment in the care of our pets and it is apparent in the quality and comfort of the pets in our stores. However, if your pet becomes ill during this initial 14-day period, or if you're not satisfied with your pet for any reason, PetSmart will gladly replace the pet or refund the purchase price. Please keep your sales receipt and return the pet to the store where it was purchased if needed.
Kennyi African Cichlid
is rated
4.4
out of
5
by
20
.
Rated

3

out of

5
by
Mbunacichlidlover
from
More info
This is a mbuna (rock dweller) cichlid. They are herbavours just like the auratus, johanni, and electric yellow labs. Do NOT feed them meaty foods like bloodworms more than once a month unless you're trying to kill them. They can get malawei (sp?) bloat, which is usually fatal. Yellow is male while the females are blue. The most dominate male will have the least visable striping. It is a good idea to only have one male per tank unless there are tons of places to hide. African cichlids swim everywhere, not just middle, and are very smart and soon to figure out exactly which person in the house is their feeder lol. I hand feed mine almost everyday and they love having their tummies rubbed. Kenya (like many mbuna) are mouth brooders, so if you see a blue female who hasn't eaten in a while and her neck is all puffed out she is carrying babies :D
Date published: 2013-04-13
Rated

5

out of

5
by
SMC87
from
Awesome Fish
I added one of these to be part of my African Cichlid fish tank and couldn't be happier. It is king of the tank and keeps the other fish in line by chasing them and every once in a while it will nip if the other fish challenges him. Very active fish that seems to know when it is feeding time and recognizes the packaging that its food pellets are in. I wouldn't recommend putting this fish in anything less than a 55 gallon tank with plenty of rock cave formations.
Date published: 2013-02-03
Rated

5

out of

5
by
EelMan
from
great fish
when i first got this fish i thought there might be trouble with my other africian cichlids but they get along just great. they have great personalities. this is definatly a fish i would recommend
Date published: 2012-04-22
Rated

4

out of

5
by
NumberTwelve
from
Bought two of these fish, and they have been a good addition to my tank. They have a nice show of color. The two I bought were blue, but after a couple of weeks one of them is turning yellow (which is fine with me). My Kenyis are growing nicely and seem to be very healthy happy fish, they are not all that tolerant of each other but they have plenty of room to avoid confrontation in their 55 gal. tank. I would buy again.
Date published: 2014-05-03
Rated

5

out of

5
by
JefferyL
from
Surprisingly Docile
In my 55 gallon aquarium I have the following fish: 2 kenyi, 1 bumblbee, 1 electric yellow, 1 acei, 1 plecostumus, 3 neon tetra and 3 long fin skirt tetras. Not one fish has been harmed in any way, the cichlids actually have been schooling together and the tetras pretty much do what they want. I thought these were aggresive, and the tetras would have made a nice housewarming gift lol.
Date published: 2016-01-26
Rated

5

out of

5
by
Leo77
from
Great fish!
I have one of these cichlids in my 50 gallon cichlid tank, along with a yellow lab cichlid, a Acei, a fire mouth, a Pleco and a giraffe cichlid. He gets along great with all of them and is a wonderful fish, very entertaining. But definitely do not put this fish with any non cichlids as it WILL be aggressive. His colors are beautiful and he can go from very dark black stripes to all blue in seconds. The only downside is they are very small at my local Petsmart. If you are planning to add one to your cichlid tank make sure the other cichlids in the tank are small too. I ended up getting my Kenyi at the local fish store since they are bigger there. But fantastic, highly recommended fish!
Date published: 2012-10-21
Rated

4

out of

5
by
SirWallSt
from
Like most Mbuna this fish is very intelligent and aggressive. They must have lots of hiding spots or they will challenge just about any other fish in your tank, regardless of size. I've had these guys challenge other fish 3 times larger then they are. If you are going to pair up a male and female beware for WW3 because they will both become dangerous and team up on tank members. Make sure to give them lots of room and try to only keep them with other Mbuna such as Zebra's, Auratus, Johanni etc.
Date published: 2010-08-04
Rated

4

out of

5
by
Malawi101
from
very active
the kenyi cichlid is a very active fish and sometimes territorial with other blue african cichlids and should not be placed with a fish that looks similar like blue with black stripes overall it is very hyper
Date published: 2012-12-04
y_2018, m_8, d_16, h_9
bvseo_bulk, prod_bvrr, vn_bulk_2.0.8
cp_1, bvpage1
co_hasreviews, tv_1, tr_19
loc_en_US, sid_15267, prod, sort_[SortEntry(order=HELPFULNESS, direction=DESCENDING), SortEntry(order=POSITIVE_FEEDBACK, direction=DESCENDING), SortEntry(order=SUBMISSION_TIME, direction=DESCENDING)]
clientName_petsmart