Jack Dempsey Cichlid
Details
https://www.petsmart.com/fish/live-fish/goldfish-betta-and-more/jack-dempsey-cichlid-4031566.html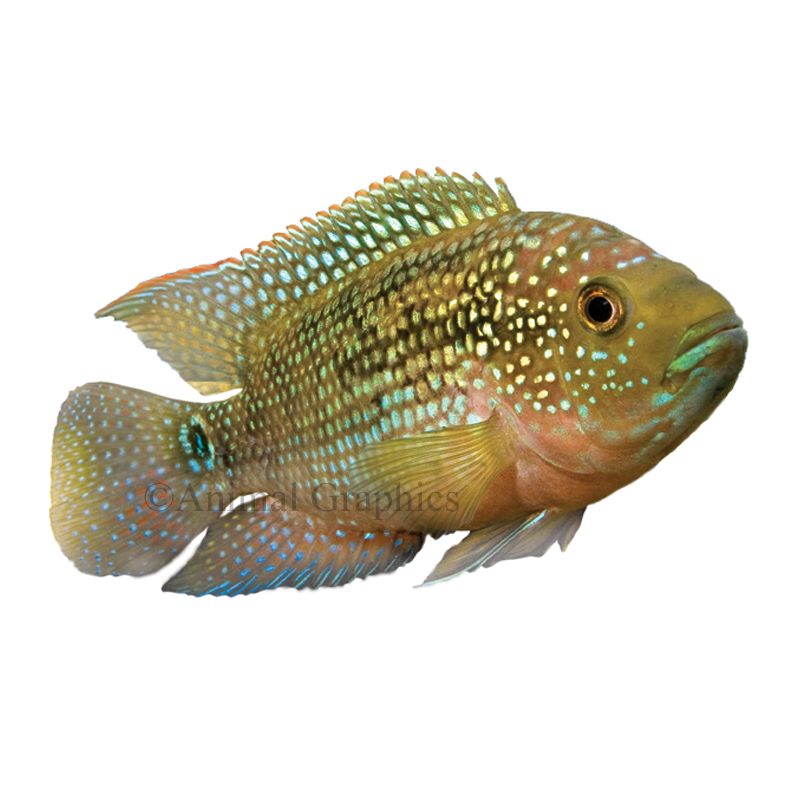 Variations
Please select a variation value to continue
This item is not available for in-store pickup. Check store availability.
product highlights
South American cichlids, which include this Jack Dempsey Cichlid, are a diverse group of fish that are hardy, easy to care for and add spectacular color to their freshwater environment. They are popular among fish hobbyists due to their multitude of species and color options. They are generally peaceful with fish of the same size and temperament, but may eat any fish small enough to fit into their mouths. You will see your cichlids swimming in the middle of your aquarium. To create a beautiful environment, be sure to add some top and bottom swimmers as well. Ask a PetSmart associate to help you choose.
Features: Come in a range of eye-catching colors and sizes
Includes: 1 Fish
Experience Level: Intermediate
Swimming Level: Middle
Color: Variety of colors
Size: Maximum Size 10 in

Feeding Instructions:
Diet: Frozen, freeze Dried

Housing: 40+ gallon tank, Water temperature 72-82 degrees F

Things to Remember

Carnivore
This means they eat mostly animal matter, including prepared foods and fresh, freeze-dried or frozen foods.

Adding Fish
Whether you're just starting your aquarium or introducing new fish into your tank, don't forget to add only 1-3 at a time.

Staple Diet
Choose a cichlid flake or pellet food, or freeze-dried fish foods. Feed according to the directions on the packaging.

Specialty Foods
Cichlids enjoy fresh or frozen bloodworms, adult brine shrimp and glass worms. Always remember to thaw frozen foods before feeding.

Spirulina
Supplement their diet with food containing spirulina, a nutritious type of algae.

Frequent Feedings
For optimum health, feed your cichlids as much food as they will consume in 1-3 minutes, twice a day. You can alternate between regular staple diet feedings and 2-4 meals per week of a specialty food.

Aquarium
Start with a 20-gallon or larger aquarium. A good rule of thumb is one gallon of water for every one inch of full-grown fish.

Decor
Decorate their aquarium with rocks, driftwood, and plants, but be sure to place them on the sides and back of the aquarium so they'll have enough space to swim in the center.

Fish Compatibility
Cichlids should be housed in a semi-aggressive or cichlid-only community aquarium with fish of similar size and temperament.

Note: Note: Pet availability is seasonal. State and local regulations may vary. Pricing may vary by store location. PetSmart stores cannot match the price above for this pet. Ask a store associate for details.

Vet Assured Promise
All pets purchased at PetSmart are raised under our exclusive Vet Assured program and come with a 14-day satisfaction guarantee. Vet Assured is a program designed by PetSmart veterinarians to improve the health and well-being of our pets. The program sets standards for the care of our pets by our live animal partners and store associates and establishes strict standards for the monitoring and prevention of common illnesses found in pets. PetSmart makes a significant investment in the care of our pets and it is apparent in the quality and comfort of the pets in our stores. However, if your pet becomes ill during this initial 14-day period, or if you're not satisfied with your pet for any reason, PetSmart will gladly replace the pet or refund the purchase price. Please keep your sales receipt and return the pet to the store where it was purchased if needed.
Jack Dempsey Cichlid
is rated
4.8
out of
5
by
30
.
Rated

5

out of

5
by
LTCavaliers78
from
Really Cool Fish
Just bought my JD yesterday and named him Neo. I was lucky and very suprised to find an electric blue morph and bought it immediately! I put him in my 75 gallon tank with my three oscars and he does great!:) He never shows agression towards the O's and he is never attacked either. I have been keeping and breeding cichlids for about 5 years now and this is my favorite species besides the oscars. I know that alot of the other fellow breeders and owners are thinking that my tank is way to cramped, but they all get along very well and I haven't had problems but I'm getting another tank very soon. But getting back on track here, JD's are really cool cichlids and are very beautiful additions to an aquarium, they are so full of energy and will always keep you entertained! As an experienced keeper I definitely recommend this fish to any cichlid enthusiast! Thanks for reading!
Date published: 2012-04-10
Rated

5

out of

5
by
Bryce
from
Aggresive fish!
I personally love Jack Dempsey's for their beautiful colors and antics, but these are not for everyone. Dempsey's get huge and get aggressive in cichlid tanks. I have two in my Oscar plus assorted cichlid tank and they love to pick fights. If you have a fish tank with fish under three inches, don't get Dempsey's! Despite the fact that they are aggressive fish, if you have a large enough tank I recommend get one of these amazing fish!
Date published: 2011-07-21
Rated

5

out of

5
by
CrazyPets
from
GREAT Addition to an aggressive tank
I have had a few of these fish over the years... I had one Normal one in a 180 Gallon with other SA Cichlids such as Oscars, Convicts etc. But, A few weeks ago, I was in Petsmart and saw an Electric Blue Morph! I Just COULDN'T Resist! I had the Petsmart employee bag him up for me IMMEDIETLY! When I got him home I began Acclimating him for about an Hour... When I put him in, My other Cichlids were messing with him...(he was a 1/4 of their size!) He just hid in the rocks and NEVER Came out for like a week! Then, he gradually started coming out more and more. Now, he is Boss of the tank! he messes with the Oscars that are TWICE His size! It is VERY funny to watch! He also gets along really well with my original Jack Dempsey! These fish LOVE Attention and the minute I walk in the door he swims over and waits for me! They are VERY human interactive and they all have their own little Personalities! THESE ARE A MUST HAVE FISH FOR EVERYONE!
Date published: 2012-07-08
Rated

5

out of

5
by
Ironhead79
from
Jack Dempsey
This is a great colorful fish.They can get a bit larger than most people think. I had six red belly pirahna and a jack in the same 100 gallon tank for about seven years. The jack kept his own and grew to about 13 inches.He even chased the pirahna around the tank at time's, so beware of what type of fish you put in with them. I suggest that if you want a community tank , with a jack, buy the same size fish and let them grow together.One of the most beutiful fish I have ever owned,and very enjoyable!
Date published: 2010-10-23
Rated

5

out of

5
by
eatingleg4peanut
from
Great Fish, but dont be missinformed
Jack Dempsey's are my favorite Cichlid. I have 2 and have had them for a year, both bought at petsmart. People please do not buy this fish is you have a tank smaller than 50 gallons, and do not buy them thinking you can put them in a community tank and hope it will be ok. They get alot bigger than 4 inches alot faster than 4 yrs, mine are at 10-11" within 1 1/2 yrs. These are aggressive fish, flat out, and they will eat a fish they can put in there mouth. That said, they will not really care about big fish that are not cichlids (LG arowana's, knifefish, pacu (please do not buy a pacu unless you have a monster tank), large cats and so on. They will fight with other cichlids but in a large tank will establish territory and be fine. Great fish!!!
Date published: 2010-05-26
Rated

5

out of

5
by
CrazyOscarFishGuy
from
Beautiful Fish wth a Personality to match!
I bought my baby Jack Dempsey about a week ago and it reminds me of so much of my Oscars back when they were babies. The JD is very energetic, loves to eat the shrimp that I give it everyday. I have it currently in a 43 gallon tank and going to keep it there until it reaches 5 inches before moving it to the 135 gallon pond to live with the 2 big Oscars. If you are looking to keep cichlids, I definitely recommend the Jack Dempsey; they are awesome fish.
Date published: 2012-07-28
Rated

5

out of

5
by
Bubblefishy
from
Great I love Jack Dempseys
I got a jack 9 years ago he was a great fish. He was a pick eater and he wouldn't eat the food the other fish in the tank were eating finally we settled on pellets rather than flakes and we think that made a big difference because he lived to be nine years old if any one decides to get a jack give them pellets and earth worms they are there faviorte snack puls I find it fun to watch.
Date published: 2015-10-01
Rated

5

out of

5
by
SirWallSt
from
Jack Dempsey Cichlid
I purchased my male Jack Dempsey, Ezekiel, from petsmart when he was about 1". He is now 4" and beautiful and has an amazing personality. These fish are very hardy and while not recommended for their health can be used to cycle a new tank. A word of warning however, once these fish spend time in tank on their own for a while good luck putting anything else in there that isn't bigger and of a meaner tempermant. My JD is an assassin and has killed anything thats been put in there from a guppy, my Fiance's idea, to a pictus catfish. He is by himself now and thats how it will stay. After 3" this fish must be moved to at least a 50 gallon tank and he needs 10X GPH filtration. AquaClear is what I use. Favorite food is Hikari Gold Pellets.
Date published: 2010-05-26
y_2017, m_12, d_14, h_21
bvseo_bulk, prod_bvrr, vn_bulk_2.0.3
cp_1, bvpage1
co_hasreviews, tv_0, tr_30
loc_en_US, sid_15265, prod, sort_[SortEntry(order=HELPFULNESS, direction=DESCENDING), SortEntry(order=POSITIVE_FEEDBACK, direction=DESCENDING), SortEntry(order=SUBMISSION_TIME, direction=DESCENDING)]
clientName_petsmart
I have a ciclid about 10 years old and want to sell it will any pet smart take it
Asked by: mr Marty13
y_2017, m_12, d_14, h_21CST
bvseo_bulk, prod_bvqa, vn_bulk_2.0.3
cp_1, bvpage1
co_hasquestions, tq_1
loc_en_US, sid_15265, prod, sort_[SortEntry(order=LAST_APPROVED_ANSWER_SUBMISSION_TIME, direction=DESCENDING)]
clientName_petsmart