Marineland® LED Bright Lighting System
Details
https://www.petsmart.com/fish/heating-and-lighting/lights/marineland-led-bright-lighting-system-5169341.html
Promotions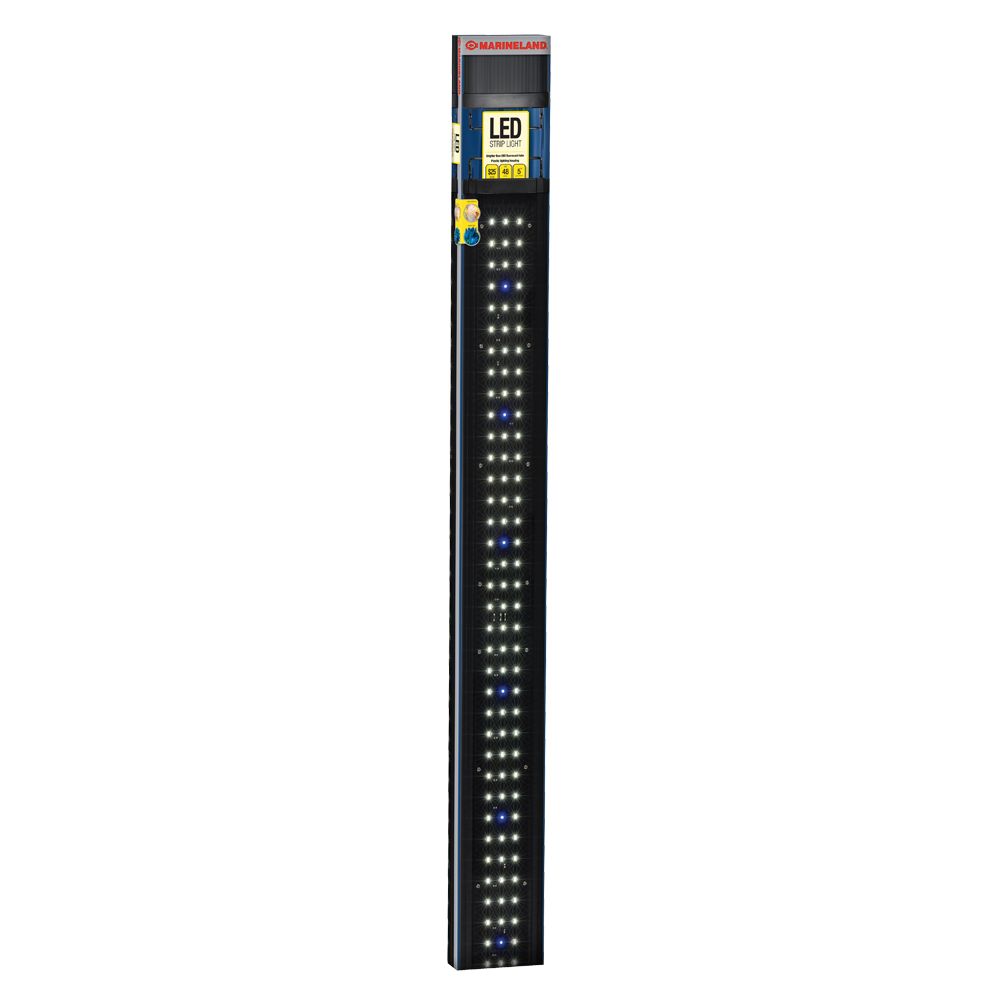 is this light sufficient for live plants
Only for very low light type plants like java fern or jave moss. You can add a Hidden LED to the frame of the tank for brighter lighting that supports live plants.
Date published: 2018-04-03
I have a 20gal tank thats 24 1/4 inches across. Would the 18-24" be enough??? On a bit of a budget and dont want to buy the 24-36" ... Hard to find led hood... Why dont anyome make led hoods? Like normal lightbulb hoods? Glass top cheeper then lights
It will illuminate the tank, but there will be shadowy areas. We do make the Marineland LED Light Hood as well as glass canopies and LED strip lights.
Date published: 2018-01-15
tank is 36 inches across. Would the 24-36 fit or would I need the 36-48.
It would fit, but the light is only 24" long so we recommend the 36-48 which has a 36 inch long light.
Date published: 2018-01-12
Is this light capable of keeping aquatic plants in my 38 gallon Marineland tank alive? I want to make sure my plants are getting enough light. Right now they only have the two hidden LED light strips that came with the tank.
No, this is the same as a single fluorescent bulb. It will definitely help in addition to the two led strips you already have, but it is not 6500K. We make a similar strip light called Advanced LED which has more leds and is twice as bright. It works well for low light to moderate light plants such as anubias, cryptocoryne, java fern, etc.
Date published: 2017-11-30
will the 48 inch fit an 48 1/2 aquarium?
Yes, of course.
Date published: 2017-09-25
will the 48 work on a 48 1/2 tank?
The 48 fits 48 - 60 inch systems. It has adjustable legs, and the light itself is 47-3/4" long.
Date published: 2017-09-20
My aquarium is 48.5" long, which size of light should I go with ? Thanks in advance.
The 48-60 inch would be the one we would recommend.
Date published: 2017-09-12
How many lumens. How are we supposed to compare to other lights?
We do not provide lumens as it is not the best way to quanitfy light intensity. We measure LUX which is a much better value to compare because it measures the lumens per square meter. Lumens is simply total light emitted and does not tell you how bright the light actually is - for example, you can have a higher lumens value but have a dimmer light than one with a lower lumens value because of the way the light is directed. LUX is more accurately telling you the actual brightness of how the light will look in your aquarium. Values are available for LUX simply by calling 1-800-322-1266. We need to know which model light you own.
Date published: 2017-11-11