KAYTEE® CritterTrail Two Level Habitat
Details
https://www.petsmart.com/small-pet/cages-habitats-and-hutches/cages/kaytee-crittertrail-two-level-habitat-5014479.html
Promotions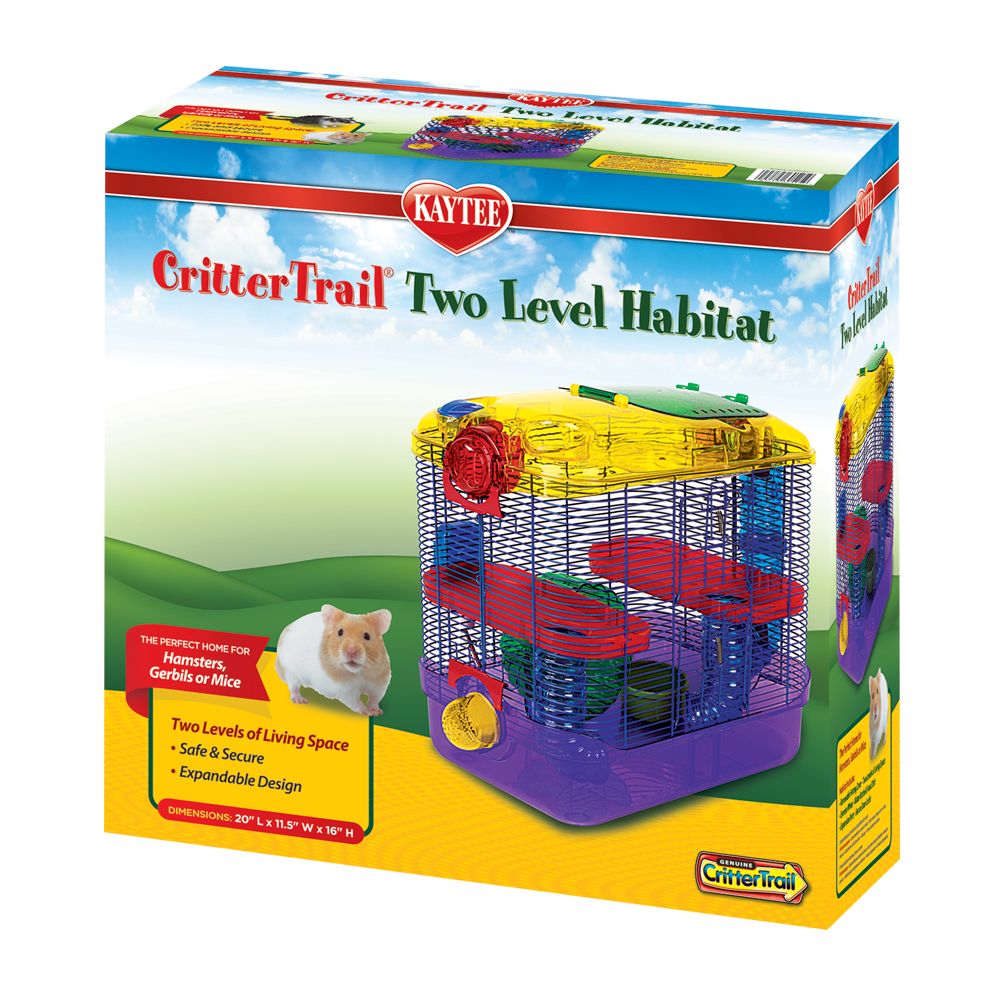 Is this good to house two hamsters?
Sure!
Date published: 2019-04-17
is this good for a short haired hampster or a fancy bear hampster
This would be a great habitat!
Date published: 2019-04-17
Can I fit three mice in here comfortably?
We recommend a larger habitat if you plan on housing three mice together.
Date published: 2019-02-12
Sooo quick Q. I have a Bear Hammy. Adorable as he is, he needs more room. Will he be able to fit in the tubes? What are the chances he will get stuck?
hamsters can fit through anything their head can fit through. as of this cage, i wouldn't recommend it for a bear hamster. i'd look i to creating a bin cage. it's a lot cheaper and a lot more durable, not to mention A LOT bigger! 
Date published: 2019-02-02
Is this good for one dwarf hamster? I am only getting one.
This would be an excellent habitat for your hamster!
Date published: 2019-02-22
Hi I am getting two dwarf hamsters would this cage be okay for the two of them?
Do NOT house dwarf hamsters together unless they are the same gender and have grown up together. Even then, you have to be very careful and watch for any signs of fighting - hamsters are highly territorial, and the ridiculously small size of this enclosure will worsen that even among hamsters who usually get along. The ideal amount of space for a single dwarf hamster is at least 430 sq. inches of uninterrupted floor space, and this is less than 200.
Date published: 2019-03-01
Hi again I have another question what is the wheel size in this cage??
The wheel is 6 inches.
Date published: 2019-01-22
Good for a gerbil?
Yes, the is a good habitat because it has 1/4" bar spacing to prevent gerbil escapes. Since it is a CritterTrail habitat, you can expand the amount of living space by using CritterTrail tubes and accessories to attach to other CritterTrail habitats.
Date published: 2019-02-22