Petmate® Compass Pet Carrier
Details
https://www.petsmart.com/dog/crates-gates-and-containment/carriers-and-crates/petmate-compass-pet-carrier-5193957.html
Discounted Price

$67.99
Old Price

$94.99
Promotions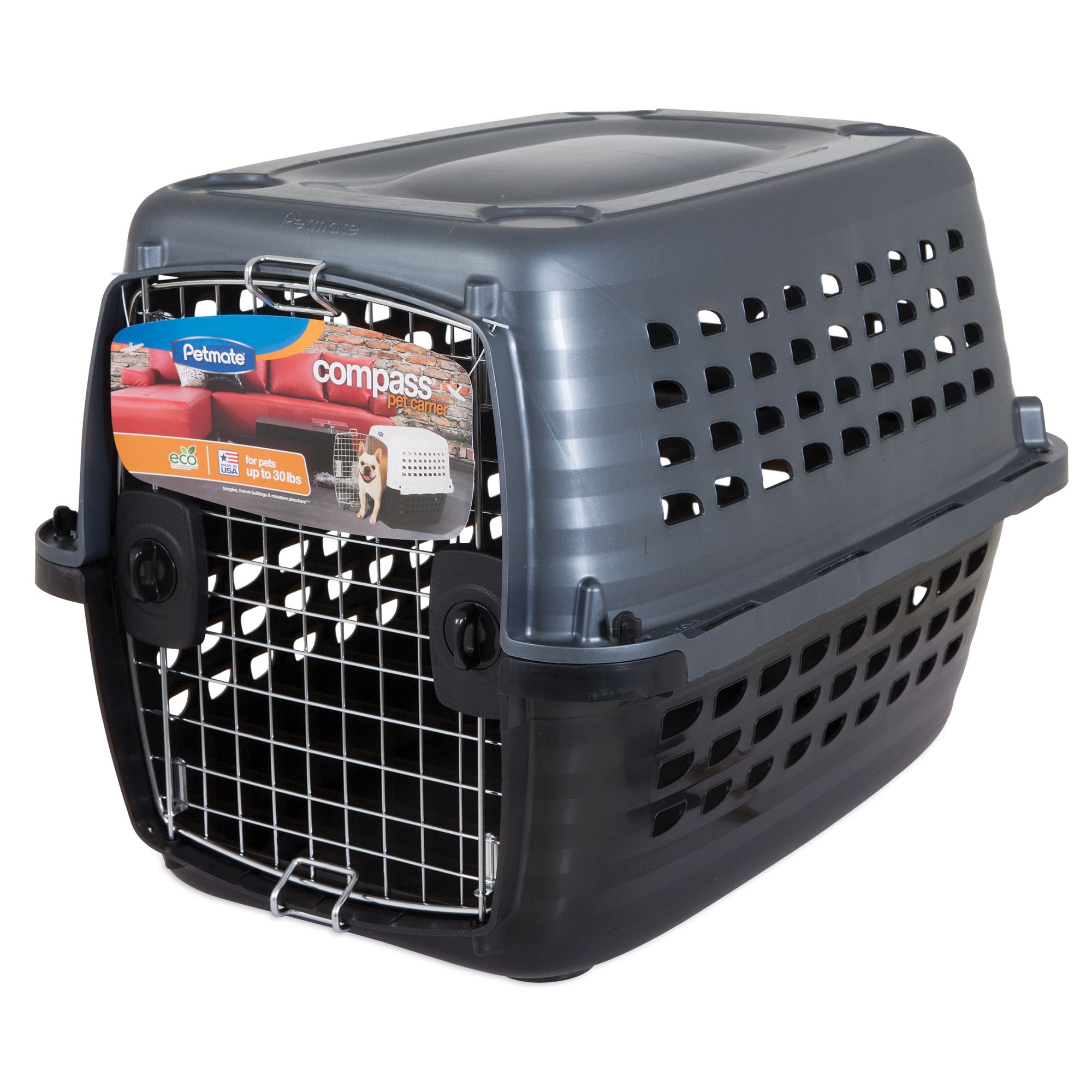 What size is recommended for an English Bulldog
Thank you for your inquiry. It depends on the age and size of your dog. The 28" Compass kennel recommended weight range is 20-30lbs and the dimensions of this unit is: 28" L x 20" W x 19.19" H. We always suggest when in doubt to contact your pet's veterinarian to confer what unit would be the best for your pet. Sincerely, Petmate Consumer Services
Date published: 2019-03-20
Does this carrier have a handle?
Thank you for your inquiry. Unfortunately no, for the safety of the pet the only sizes that come with a handle are the 19" and 24" units. Sincerely, Petmate Consumer Services
Date published: 2019-03-05
What is best size crate for a miniature poodle who will be maximum of 15 pounds and shoulder height of 18 inches max?
Good Day, thank you for your inquiry. The recommended weight range for our 24" Compass kennel is 10-20 lbs and the dimensions 24.6" L x 16.8" W x 15" H. Our 28" Compass Kennel is 20-30 lbs and the dimensions are 28" L x 20" W x 19.19" H. However if you are ever unsure, we recommend to contact your pet's veterinarian. Sincerely, Petmate Consumer Services
Date published: 2019-02-27
I just bought the small carrier for our new puppy who will be traveling in the car to our home. She is a Havanese and only 10wks old. Do you think this will be a sufficient size?
For each size, the recommended weight range is listed. However, if you are unsure we recommend to confer with your dog's veterinarian before purchasing.
Date published: 2019-02-13
Is this crate airline-transport approved?
Good day, We do have kennels that are IATA accepted however Petmate strongly recommends calling the airline and visiting the airline's website in order to get the Carrier's requirements on traveling as each airline has different criteria. Some airline carriers will not accept the kennels with the hardware that have plastic on them which is what we have so you would have to buy the Air Travel kit which includes all metal nuts and bolts. We also recommend for you to get a kennel that will allow the pet to sit, without the pet's ears touching the kennel, turn around and stretch comfortably. Best regards, | Petmate Consumer Services |
Date published: 2019-01-27
How many dogs can fit here ? I have two medium dogs.
We recommend use for only one dog per crate/kennel due to safety reasons.
Date published: 2018-11-27
What size is recommended for border collie puppy that will be around 40lbs full grown?
The 32" Dimensions are 32" L x 21" W x 22.95" H and recommended weight range is 30-50 lbs. The 32" should be sufficient however, we always recommend to consult with your veterinarian.
Date published: 2018-11-02
Can a full grown Golden Retriver fit in this crate?
Depending on the weight, length and height of your pet, we would recommend either the 36" or 40" for this breed of dog.
Date published: 2019-01-27