Petmate® Compass Pet Carrier
Details
https://www.petsmart.com/dog/crates-gates-and-containment/carriers-and-crates/petmate-compass-pet-carrier-5193957.html
Promotions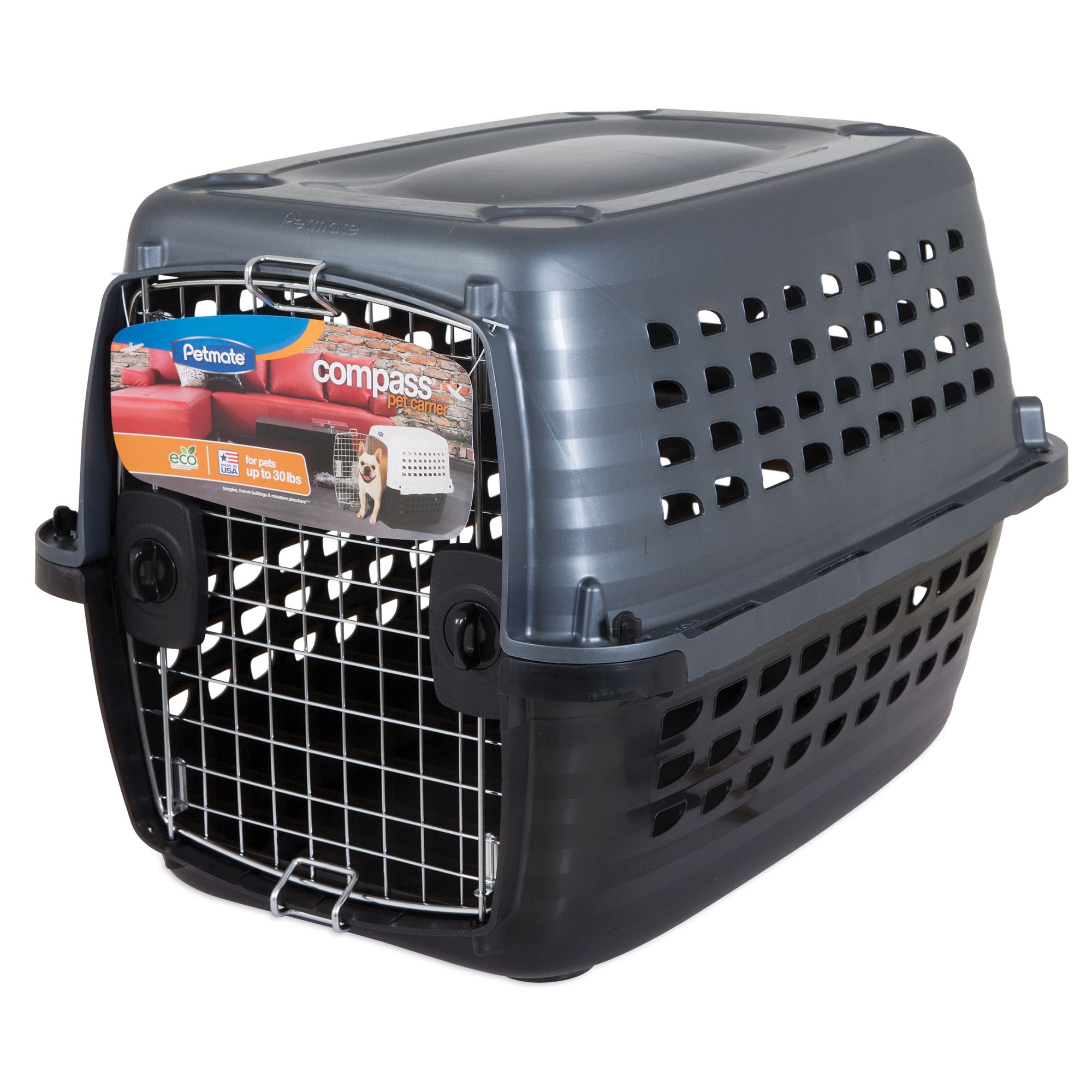 Can a full grown Golden Retriver fit in this crate?
Depending on the weight, length and height of your pet, we would recommend either the 36" or 40" for this breed of dog.
Date published: 2018-05-14
What size for a 28 pound dog .. springer spaniel/ poodle mix? 
For this size dog we would recommend the 32.1" x 21" x 23" Compass.
Date published: 2018-04-02
Hello what is the net weight of the 40" Crate ?
This unit weighs approximately 25 pounds.
Date published: 2018-03-15
What is the best size for my 10 pound yorkie
Since your dog is at the top weight range for the 19", we would recommend going with the 24" size. This would allow room to add bedding, etc.
Date published: 2018-04-22
What size carrier is recommended for an overseas flight from Miami, Florida to Lisbon, Portugal for a dog weighing approximately 55 pounds? What does the carrier weigh?
First, most airlines will not accept the Compass design due to the vent holes located around the bottom section. We recommend purchasing the 36" Sky Kennel Ultra for a pet weighing 55 pounds. This unit is sized for pets 50-70 pounds and has outside measurements of 36" long x 25" wide x 27" high. It is recommended to measure the head to rump length of the pet and from the top of its head to its feet to make sure the pet can fit based on its overall size.
Date published: 2018-06-11
Does this carrier have handles for transportation?
Handles are only available for the 19" & 24" sizes. The 28" thru 40" do not have handles.
Date published: 2018-01-31
What size crate is right for do 12 pounds
We recommend the 24.6" x 16.9" x 15" for pets 10-20 pounds. These are outside kennel dimensions so we advise to check the pets length and height to make sure it will be able to fit.
Date published: 2018-04-22
Is this crate IATA approved? And can you give me an idea of the weight of the dog. My dog is 13 lbs but it is a small coton de tulear. Should I get a small or medium crate
No, the Compass Kennel Series is not IATA . We recommend the 24.5" -medium size for pets in the 13 pound range.
Date published: 2018-02-05