Coastal Pet Products Personalized Dog Collar
Details
https://www.petsmart.com/dog/collars-harnesses-and-leashes/collars/coastal-pet-products-personalized-dog-collar-5173995.html
Promotions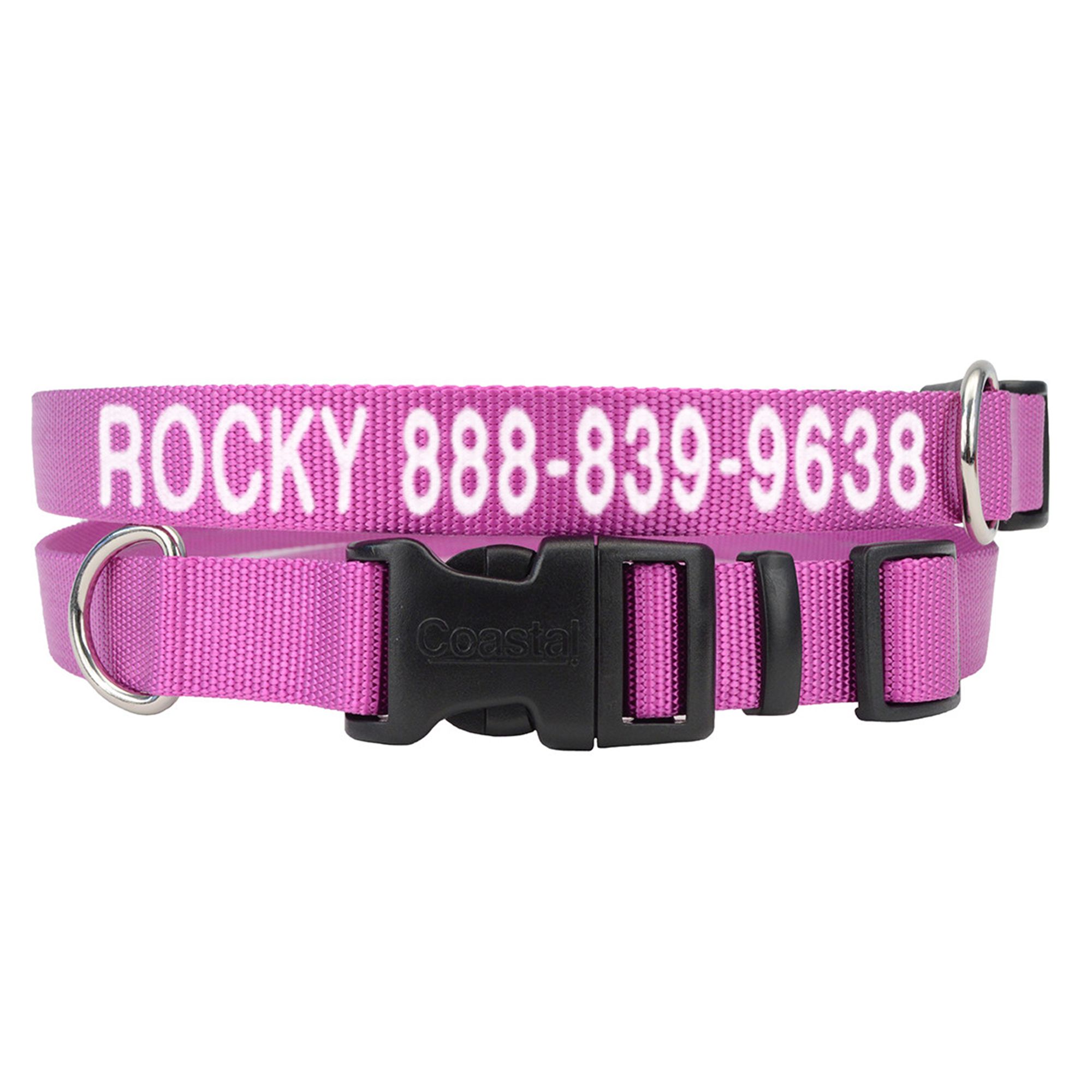 Keep Shopping
Pet Parents Also Bought
this is more of a statement. you really need to define your sizing more accurately. My dog has a 17 inch neck so I purchased the large.  Got it and it is really 25 inches at its max.  Much too long and bulky when shortened to 17. Not usable as it.  
Good afternoon Linda, I am Debbie at Coastal Pet Products. I hope you are doing well. Can you tell me which collar you purchased for your pet please? I cannot help but wonder if there is a collar that would fit your pets neck better and more comfortably. Please get back to me. We may be able to help you find a collar that fits better and is comfortable for your pet. I can be reached at deb.strader@coastalpet.com. I am looking forward to hearing from and helping you. Take care and have a very nice day.
Date published: 2017-12-19
What is the recommended size for this collar for a yorkie of 7 lbs.?
Good morning. I am Debbie at Coastal Pet Products. I hope you are doing well today. Do you know the neck girth size of your pet? If you do not, just measure around the neck and put two fingers flatly between the tape measure and your pet. This will give you the girth size. There are several collars available in our Coastal line of products. (You can see them on our website at www.coastalpet.com) There are also the Lil Pals line and Pet Attire Styles and Ribbon too. If you purchase an adjustable collar, try to get the girth size to about the middle of the adjustment sizes. An example of this would be: Your pets girth is 10". You can select an adjustable collar in the range of 8" - 12". That way the girth size is in the middle so there is more room to adjust it either way with out being too tight or too loose. I hope this information is helpful to you. Please feel free to contact me anytime at either by email or the toll free number 1-800-321-0248 ext. 356. I will be glad to help you.
Date published: 2017-11-17
To what length does the 8 inch collar adjust? To what length does the 10 inch collar adjust? My dog needs a 9 inch collar and I can't figure out which size to order. 
Hello and thank you for your question. The 8" Collar adjusts from 8"-12", and the 10" collar adjusts from 10"-14". I would go with the 8" collar since it will adjust up a few more inches in size. If you still have questions please call us at Coastal Pet at 1-800-321-0248 Ext. 356.
Date published: 2017-09-20