Fruitables® Broth Bowls Cat Food Topper - Chicken
Details
https://www.petsmart.com/cat/food-and-treats/food-toppers/fruitables-broth-bowls-cat-food-topper---chicken-5263685.html
Promotions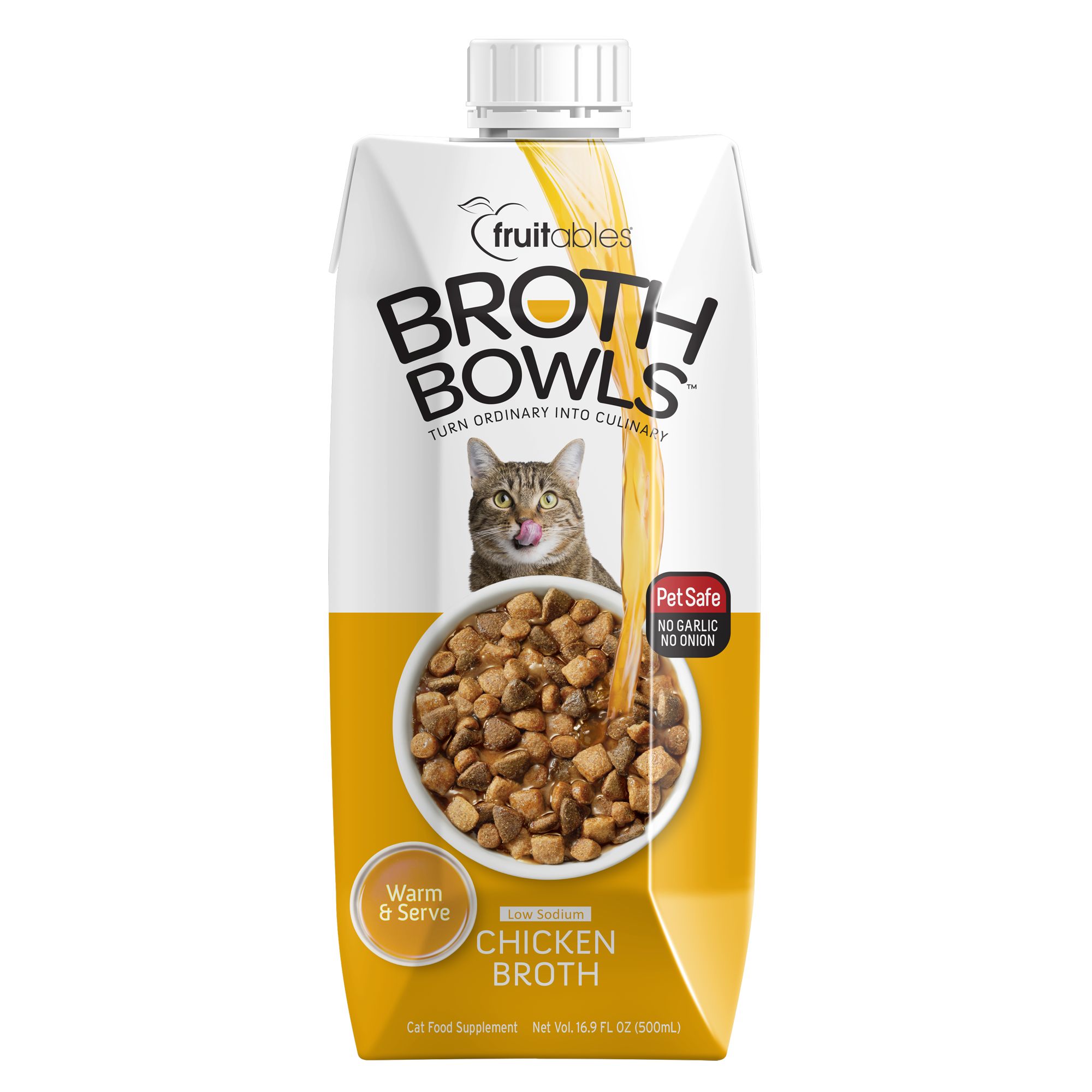 Can this be used for dogs also, to pour over their dry food?
Hello, Yes, this recipe can also be used to pour over dry dog food. We hope your pets enjoy the flavor!
Date published: 2019-02-11
does it contain iron or calcium? I need a gravy that wont interfere with zeniquin.
Hello, Thank you for your purchase of Fruitables Broth Bowls, we appreciate it! There are no detectable levels of Iron or Calcium in our broths. We hope your cat enjoys the meal enhancement!
Date published: 2019-02-01
I have been looking for something that is low in phosphorus to add to my cat's prescription diet (ie: Gravy or broth). Can someone give me the levels please?
Hello, the Phosphorous level is 6.3 mg per 1/4 cup. We hope this is helpful to you!
Date published: 2018-11-21
There needs to be nutritional information provided here.
Hello Cindra813, Thanks for writing about the nutritional content of the Fruitables Broth for Cats. PetSmart controls the product information on their websites, so it may have been an oversight to exclude the following nutritional information: Crude Protein: (min) 1%, Crude Fat (min) 0.5%, Crude Fiber (max) 1%, Moisture (max) 99%, Sodium- (max) 0.09% or about 34 mg per 1/4 cup. Calories (calculated ME): 67 kcal/kg or 1.8 calories per oz. We hope this is helpful to you!
Date published: 2018-11-28
Does this have food chunks in it or is it just broth? I just need a tiny bit of something to sprinkle over my cats dry food to absorb more flavor to entice her to eat it.
Change her kibble.Dry And hard kibble hurts and ruins cats teeth.
Date published: 2018-11-28
How long can it sit out after mixed with dry or wet food? My cat's don't always eat everything upfront and free feed.
Hello, thanks for purchasing Fruitables Broth for Cats! The product can sit out for about 4 hours before it soaks the food and starts to harden, which may impact the palatability of their meal. Also, please refrigerate (up to 10 days) or freeze (in a separate container) the unused portion. The frozen product makes a great cool treat!
Date published: 2018-11-28
How many days to keep in refrigerator?
The product will keep in the refrigerator up to 10 days after opening. Thank you!
Date published: 2018-11-21