HALO® DreamCoat Sensitive Stomach Cat Food - Natural, Holistic Seafood Medley
Details
https://www.petsmart.com/cat/food-and-treats/dry-food/halo-dreamcoat-sensitive-stomach-cat-food---natural-holistic-seafood-medley-5140743.html
Discounted Price

$18.14
Old Price

$20.72
Promotions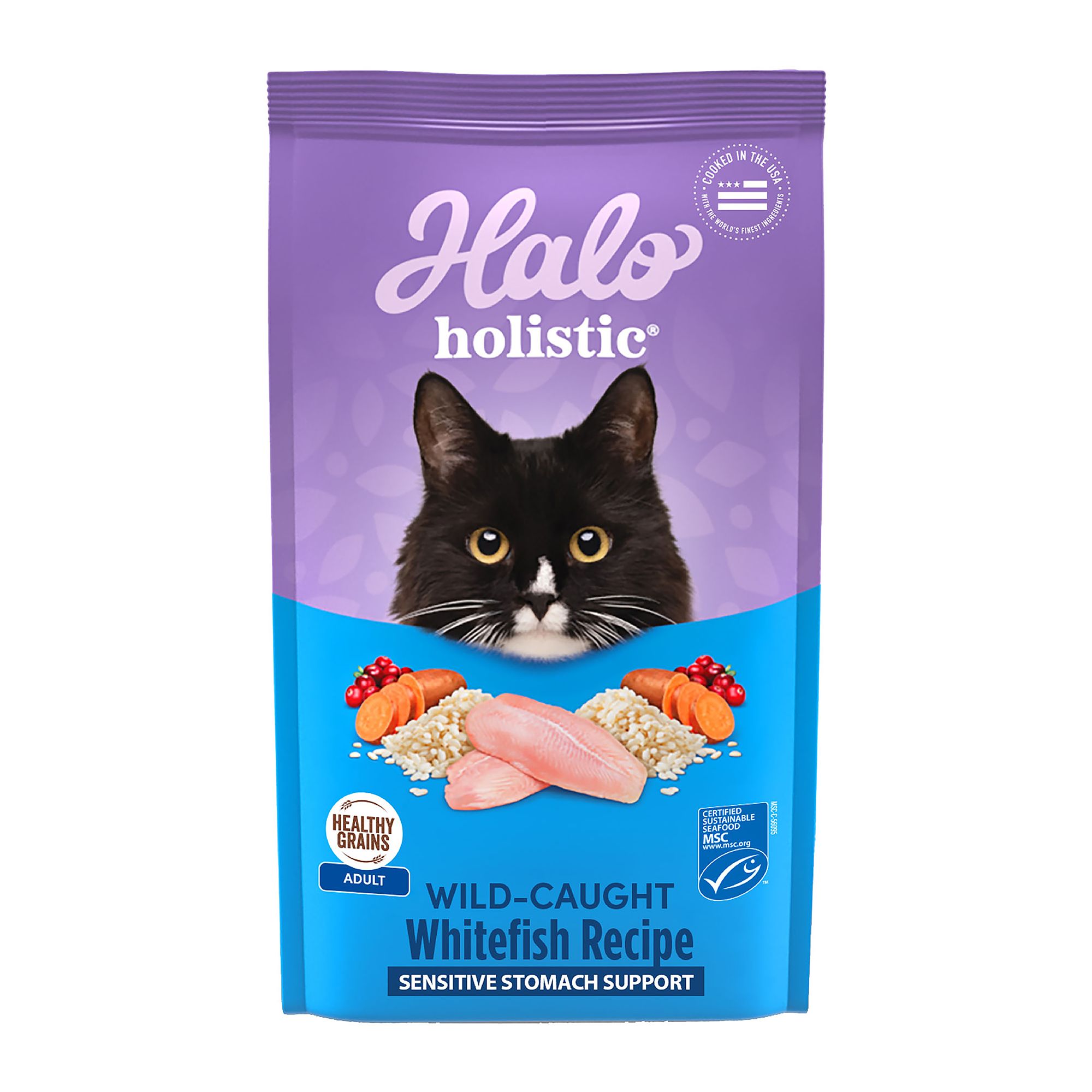 My cat does not have a sensitive stomach and she eats Halo grain free dry food. I want to get her some new flavors like seafood medley and holistic turkey but they both come in sensitive stomach. Can I feed her the sensitive stomach food?
Dear Kittygirl13, Thank you for your excellent question. Yes, you can feed her the Sensitive Stomach recipes. Now, if your little one is strictly indoor then I suggest the Healthy Weight Indoor Grain Free. It comes in both Seafood Medley and Turkey and Turkey Liver recipes. Indoor cat food nutritionally designed for your cat's indoor lifestyle: Protein - If the only thing your cat hunts is the little red dot, then it's important you give him food that has a high level of quality protein, like real WHOLE meat, poultry, or fish, and no "meat meal," like "chicken meal" or "fish meal". •Halo's high-quality, real WHOLE meat, poultry, and fish recipes provide a complete and balanced diet with all the essential amino acids indoor cats need. Digestibility - For your cat's sake—and your own—he needs a diet made with highly digestible ingredients. This will reduce his stomach discomfort and litter box odor. •Halo uses real WHOLE meat, poultry, and fish because it's more digestible than "meat meal" of any kind. Caloric intake - The activity level of an indoor cat is very different from a cat with limitless outdoor terrain to cover, so your indoor cat's food needs to be formulated for a more sedentary lifestyle. •Halo's indoor cat recipe has fewer calories, as compared to other Halo adult cat recipes, to keep your cat at a healthy weight. Essential fatty acids - Indoor cats need fat. Unlike humans, who use carbs, cats turn fatty acids—especially omega 3s—into an energy source, and they're important for keeping your cat's skin and coat healthy. •Halo provides beneficial omega fatty acids to promote healthy skin and a lustrous coat. Palatability - Indoor cats have the luxury of being finicky at meal time and they can be particular about the size and texture of their kibble. •Halo knows what cats prefer, pleasing even the pickiest eaters by always using real WHOLE meat, poultry, or fish—never "meat meal" of any kind. Meat - As obligate carnivores, cats need meat and moisture in their diets. •Halo uses real WHOLE meat, poultry, or fish, and offers assorted wet diets to feed alone or in combination with dry food. Also, on the back of the bag it shows you how to feed in order to maintain the weight or if he needs to lose a bit of weight. Hope this helps, if you need any other information feel free and contact us directly at 1-800-425-4256. Halo, Purely for Pets 6/26/18.
Date published: 2019-03-15
I've read the ingredients of all the dry food. What makes the sensitive stomach version special?
Dear Gigi702, thank you for your question. Besides the novel proteins such as Chicken, Guinea Fowl, Quail and Rabbit, the Halo grain free sensitive stomach cat food is made with dandelion, barley grass, and parsley, which provide antioxidants and support easy digestion. Barley Grass - aids digestion by improving the production of hydrochloric acid in the stomach. Dandelion - promotes digestion and balances the natural and beneficial bacteria in the intestines. Parsley - besides also been a great antioxidant it is also improves the digestion. If you have any other questions, feel free to contact Halo directly. Halo, Purely for Pets 6/5/18. Hope this helps.
Date published: 2018-06-18
Where is the food manufactured?
Thank you for your question. Halo recipes are manufactured in the USA. If you have any other questions, please feel free and call Halo at 1-800-426-4256. Halo, Purely for Pets 4/25/18.
Date published: 2019-03-24