Petmate® Replendish® Pet Waterer
Details
https://www.petsmart.com/cat/bowls-and-feeders/food-and-water-bowls/petmate-replendish-pet-waterer-5216352.html
Discounted Price

$11.95
Old Price

$16.99
Promotions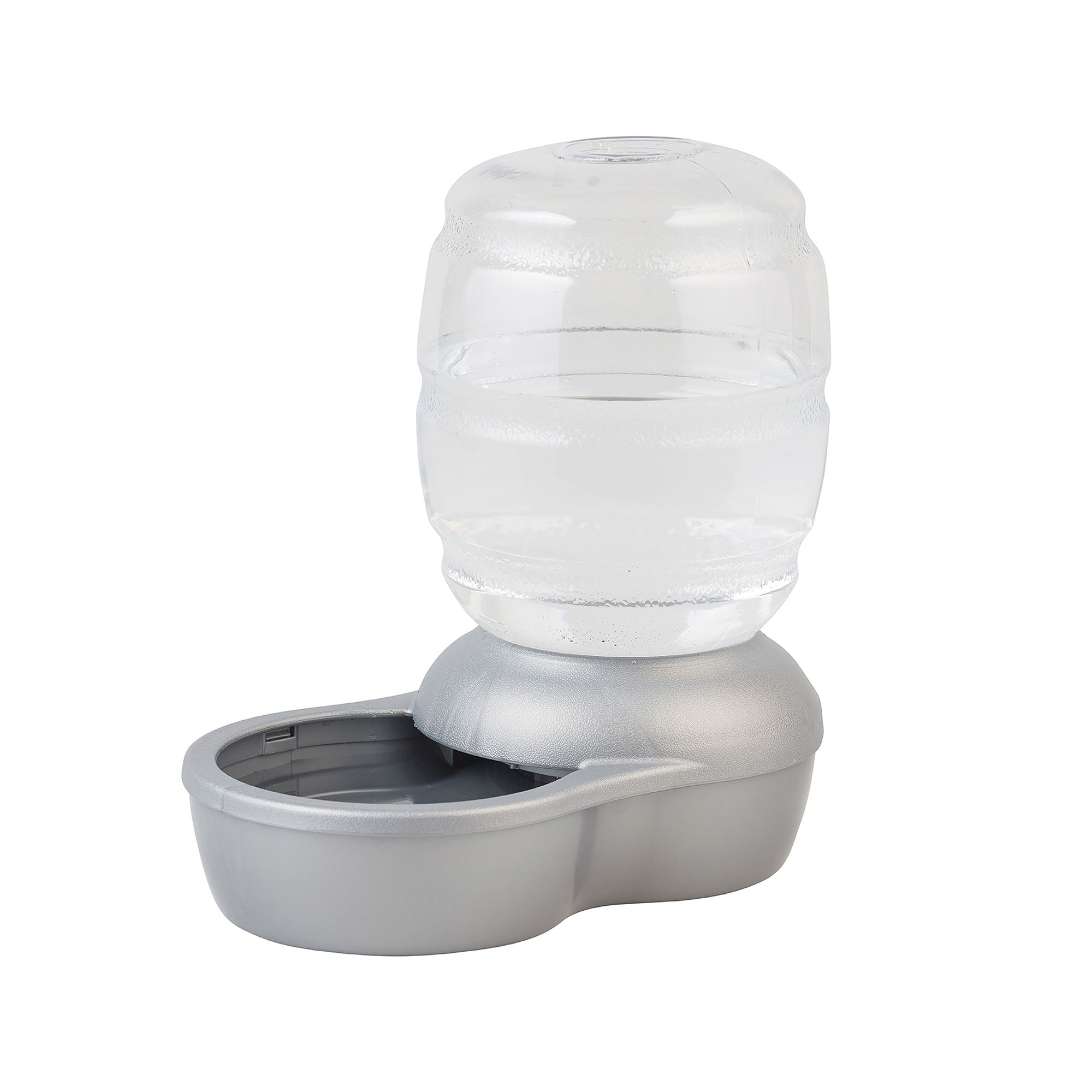 How many days does water usually last for 2 cats
Thank you for your inquiry. Unfortunately, that is very hard to estimate as each cat is different and some cats water intake is more or less than others. Also, it depends on the size waterer you have. We would recommend to confer with your cat's veterinarian to get a more precise answer as they have examined your pets and know your pets. Sincerely, Petmate Consumer Services
Date published: 2019-03-21
How often do you need to change the filter? 
When it looks like it needs it.
Date published: 2018-11-29
Is this healthy for my cat had one already and it's ok but becomes dirty after sometime, cat drinks a lot of water. Should I replace it with anew one?
Clean it with dish washing liquid in hot water like you would a bottle, not in the dishwasher unless you turn the heater off.
Date published: 2018-10-09
What causes the residue on the water reservoir AND the dish? I do not use tap water; I use spring water. Tap water has too much chemicals. I cannot get them clean. Will this product prevent that residue buildup?
That's why I won't give spring water to my cats. Clorinated water also stays fresh longer because it has less bacteria all things considered, and run through a filter, it tastes better. Just saying.
Date published: 2018-10-09
Would this be too big for a kitten to drink from? I have a 6 week old kitten who likes to stand in the water side of his dish to eat and then tries to drink the droplets that are left after he gets done lol
For now, just use a smaller bowl for water. Kitty will eventually grow and be able to use a larger water dish.
Date published: 2019-02-06
What kind of filters do you use for this water dish.
The filters can be found with the following link on Petsmart website. Item #5161516. https://www.petsmart.com/cat/bowls-and-feeders/food-and-water-bowls/petmate-replendish-pet-waterer-replacement-filters-6214.html
Date published: 2018-04-30
Water bowl does not fill properly. Stops filling bowl and reservoir is still three quarters full. 
Make sure the plastic covering is removed from the filter that is used with the waterer. If this step has been done, then unscrew the black just slightly to release the pressure. This allows the unit to breathe and will usually create bubbles in the bottle when done. If these steps do not help then contact the manufacturer at consumerservices1@petmate.com for further help.
Date published: 2018-10-09
Does the water refill thru the top or do you have to unscrew the water holder and turn it upside down to refill?
Because this is a gravity driven unit, the bottle will need to be removed from the base and then refilled from the bottom. There is no lid for the top.
Date published: 2018-10-09