PetSafe® Drinkwell® Platinum® Pet Fountain
Details
https://www.petsmart.com/cat/bowls-and-feeders/automatic-feeders/petsafe-drinkwell-platinum-pet-fountain-5118027.html
Promotions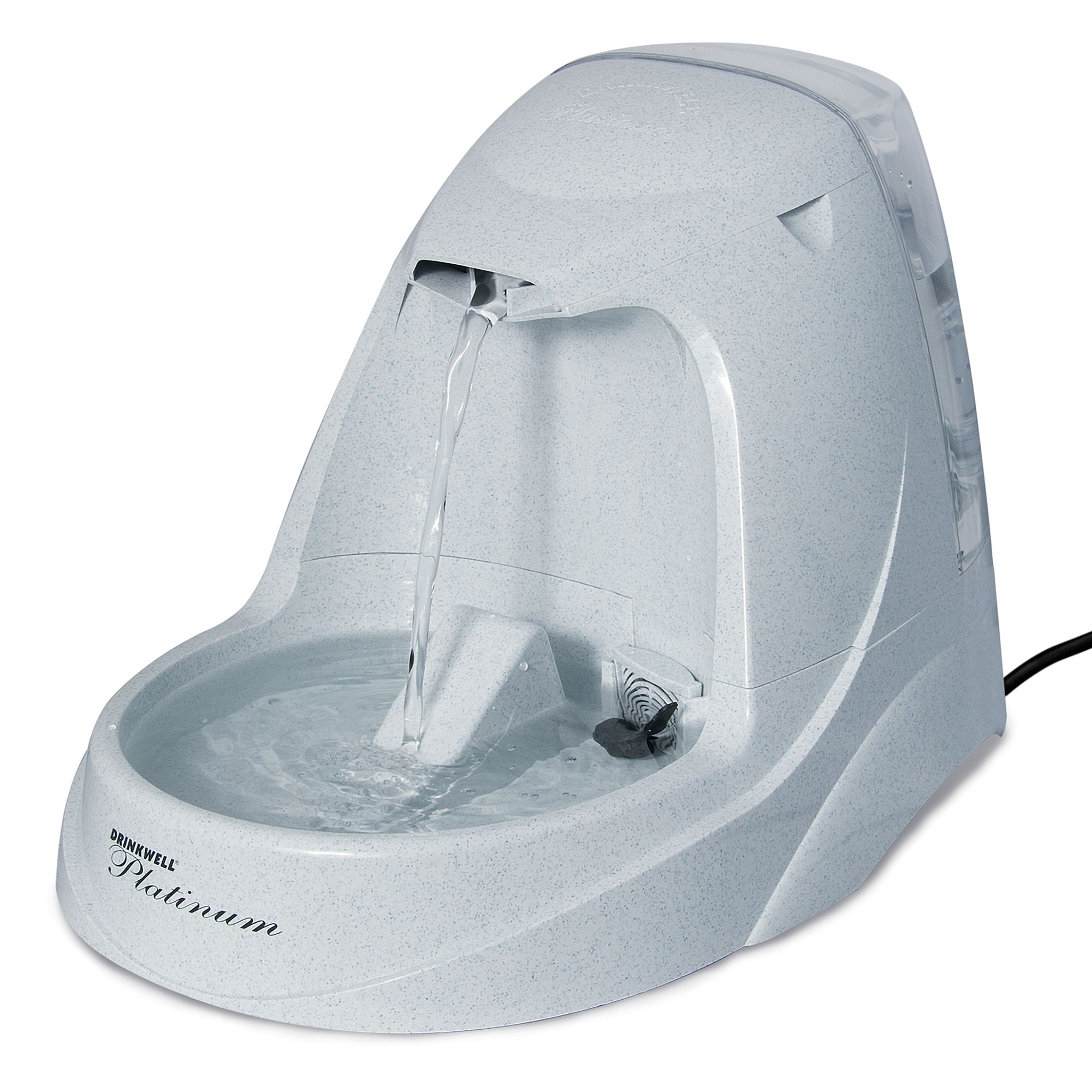 How big is it?
Great question, Michael! Our Drinkwell Platinum Fountain measures 10" High x 10½" Wide x 15¾" Deep.
Date published: 2019-01-25
mine is leaking, would you know why
Oh no! We are terribly sorry to hear that your fountain is leaking. Please know this is certainly not what we expect from this product and we are happy to help you get to the bottom of this. Give us a call when you can at 1-800-845-3274 for warranty and product assistance.
Date published: 2018-12-01
Hello, how long before you need to refill water in back reservoir? (fountain would be used by one cat). Thank you
Depends on your cat. But with one cat I would say it won't run out between cleaning cycles which should be at the very least every 2 weeks. I then clean the unit and install fresh water from my Reverse Osmosis system. I change the filter once a month or every 2 cleaning cycles. Don't be lazy cleaning the unit. It does get slimy and your cat won't like to drink out of it. So please don't overlook the cleaning and refreshing of the water.
Date published: 2018-12-17
Does this run continuously, or do you need to unplug it at night?
It runs 24/7. Had mine for 4 years and the only time I unplug it is for cleaning the unit.
Date published: 2018-11-27
Why does it overfill the bowl and then run out all over the floor?
It does that to mine as well but only if you let the reservoir go down to about 1/4 capacity. For some reason it then lets all the water into the bowl and it runs over. If you keep the reservoir filled this will not happen.
Date published: 2018-11-27
How often should the filter be changed?
Hi Shaquana, great question! We recommend changing the filter every 2-4 weeks depending on use.
Date published: 2018-06-12
use of this water dispenser after one month of recycling the same water, the water and container get slimy. how do you prevent this.
Hi there, thank you for your question! To prevent the water and unit from getting slimy, you will need to fully disassemble the fountain and pump and clean each piece thoroughly. Additionally, using a 50/50 solution of vinegar and hot water to clean the system will help.
Date published: 2018-12-17
I got this several months ago, and my cat loves it. Today the water suddenly drained out of the plastic jug in the back. making the floor sopped. What went wrong?
We're sorry to hear about the issue you've run into with your fountain, Kathy! This issue is typically caused by damage to either the reservoir itself or the reservoir cap. Because the reservoir regulates the amount of water that is dispensed into the bowl by using the water/air pressure inside the reservoir, damage to it can affect that pressure and cause more water to be dispensed than necessary. Make sure to check both of these parts carefully for any small holes or cracks on it. If you find any damage, or you do not but the problem persists, please give us a call at the number 1-800-732-2677 and we will be more than happy to help out!
Date published: 2018-03-05