K&H Manufacturing Outdoor Heated Cat House
Details
https://www.petsmart.com/cat/beds-and-furniture/heated-beds/kandh-manufacturing-outdoor-heated-cat-house-5173156.html
Promotions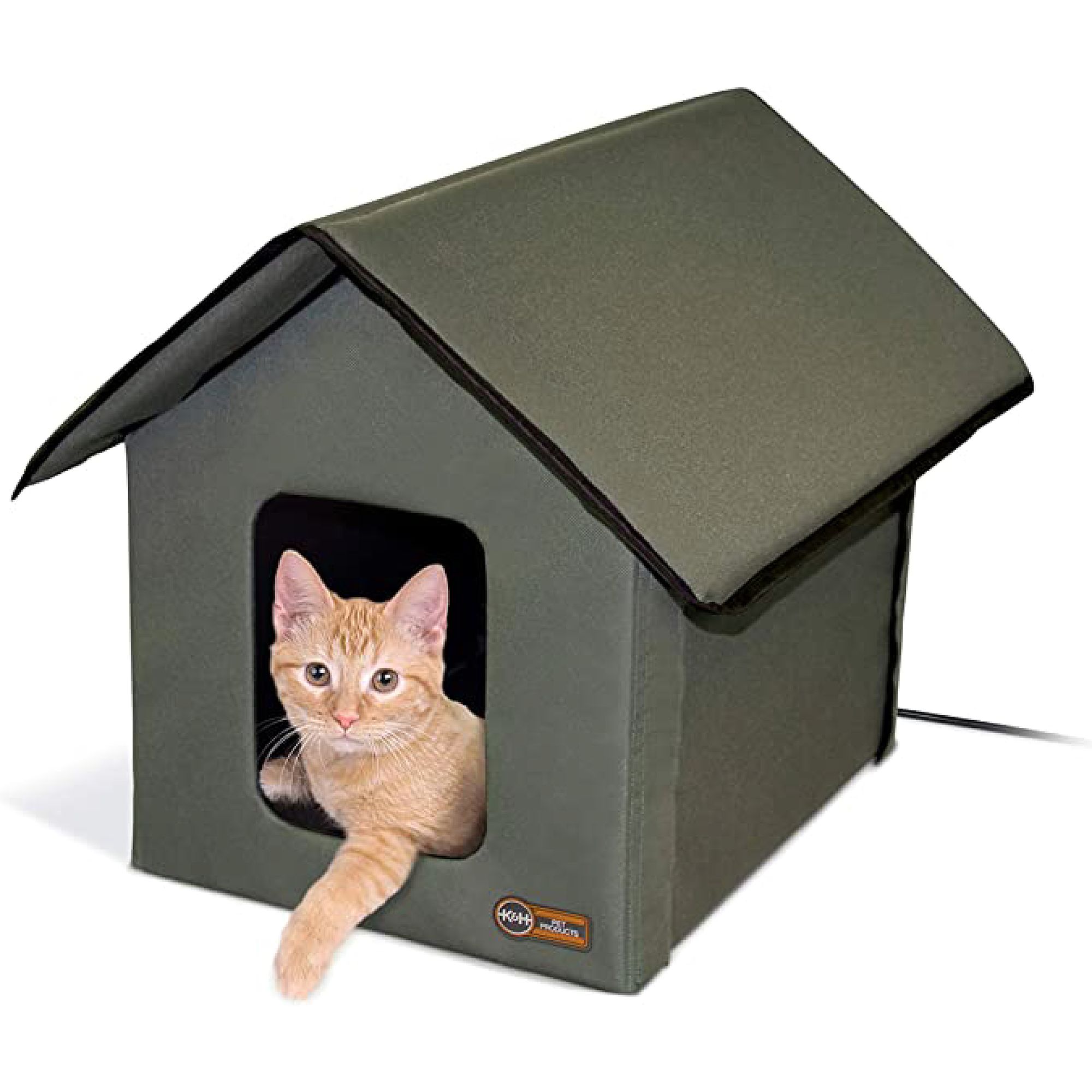 What are the dimensions of this?
The dimensions of the entire house are 22" L x 18" W x 17" H. The sleeping surface dimensions are 18" L x 14" W.
Date published: 2018-11-14
What are the size dimensions of this cathouse.  It doesn't even say anywhere in description 
Dimensions: 22" L x 18" W x 17" H Sleeping Surface Dimensions: 18" L x 14" W
Date published: 2018-11-08
Can you safely use straw with this house?
Sawdust and wood shavings are very combustible and we would never advise using them in conjunction with any type of electrical or heated products. Please keep the pad separate from areas that contain combustible materials.
Date published: 2018-11-02
If an extension cord is not advised then why isn't there at least two cord size options in case a 5.5 ft cord isn't long enough???
MET requires that all manufacturers put the extension cord statement "Do not use with extension cord" on every item that is MET listed by UL 499 standards. This is because they cannot test every extension cord on the market in conjunction with our products for safety. Also, MET suggests that an extension cord it not recommended as a permanent fixture and should only be a temporary solution when using any electrical product. Temporary use of a UL listed cord is fine, consult your electrician for the proper cord for your application.
Date published: 2018-11-13
We have had our three K&H cat houses for 6 years for our feral cats. We have loved them (so have they). Today,the circuit breaker has been tripping. How long do they last before needing to be replaced?
The life of the Outdoor Heated Kitty House will vary based on many factors such as how they are being used, how often they are used, how they are stored, and the conditions in which they are used and stored. Have you tried plugging them into another outlet that is on a different circuit to make sure that the houses are the cause of the breaker tripping? Also inspect the pads and cord for any exterior damage as this can cause the breaker to trip. If you have further questions feel free to contact us at 1-877-738-5188.
Date published: 2018-11-02
What happens if this cat house gets wet? I have a partially covered back porch. Is it okay for this house to sit directly on the porch? Or does it need to be elevated? Thanks! 
Our outdoor heated beds and pads are water-resistant. We understand that pets collect snow and water from being outdoors. Our products are designed to be used safely with pets, even when the pet is water-soaked. The bed should not be placed where there is a potential for standing water from heavy rain and the product should not be immersed in water.
Date published: 2018-10-27
What is that made of?
The walls are made of 600 denier nylon with a vinyl backing. The cover for the heating pad is made of faux fleece.
Date published: 2018-10-19
How is this outdoor cat house heated? Thanks
The K&H Outdoor Heated Kitty House is heated using a Lectro-Soft Outdoor Heated Bed in the floor of the house. The heated pad is designed to warm to your pet's normal body temperature when your pet lies on the pad. This heated pad will keep your kitties toasty warm, even at temperatures below zero. The Lectro-Soft Outdoor Heated Bed is MET Safety listed and requires electricity, so you will need to plug it into a standard outlet.
Date published: 2018-11-06