Top Fin® Revival Waterfall Desk Aquarium - 5 Gallon
Details
https://www.petsmart.com/fish/starter-kits/top-fin-revival-waterfall-desk-aquarium---5-gallon-5253371.html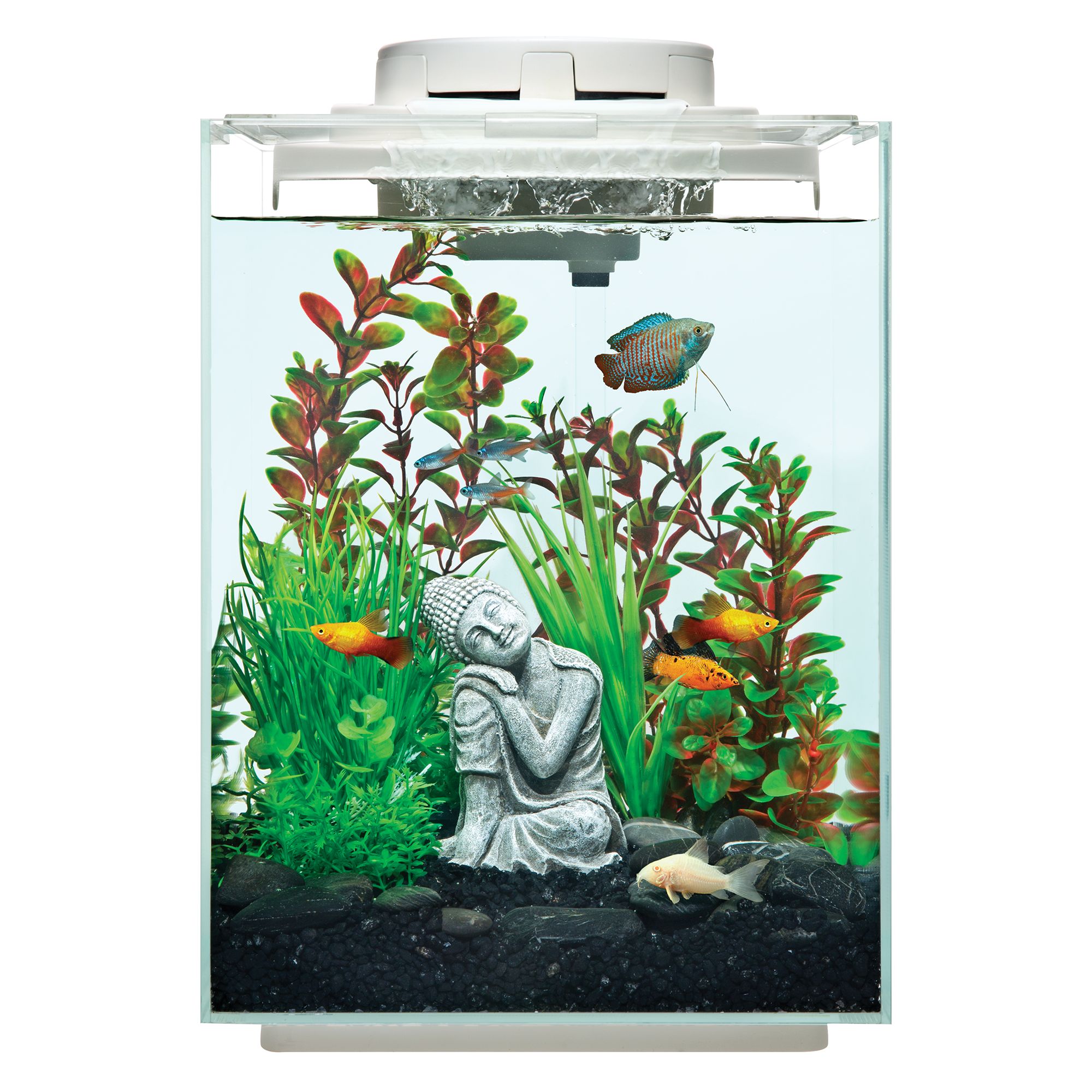 Can anyone recommend a way to lower the flow of the waterfall?
While looking at the front of the tank You can slide the pump to the left for less flow or slide it right so the water flows faster, not many people will figure it out. But i have it down all the way and the water stays clear longer
Date published: 2019-04-04
Is the waterfall flow too strong for a betta?
Yes it is. I had to baffle it with bio media mesh bag and even then it is too strong for my short finned female. I have a sponge filter setup on the way to replace the current filter.
Date published: 2019-02-14
Has anyone else struggled with the pump being incredibly noisy? It is very disruptive and I'm considering returning the tank for a new one. It's pretty obnoxious and I've had it less than a month. 
You may need to prime the pump in the filter by pouring water directly into the pump area on top.
Date published: 2018-12-30
How do you adjust the flow of water. I have a betta and thought this tank had that feature so my betta will be happy. The water flow is too much.
Add sponge material to the filter intake this will reduce the water uptake and flow.
Date published: 2018-12-05
how do you plug in the led light? mine doesnt have an outlet plug in.
There should be a separate cord with a flip switch in a small cardboard box that plugs into the light cord.
Date published: 2018-11-24
Is the LED light water proof or resistant? I just go this tank and the light underneath is getting wet and dropping from condensation. If it isn't there is design flaw in the tank and I'll need to take other precautions.
I'm not sure but my lights still working. The lights in my tank are totally submerged in water.
Date published: 2019-04-20
Does this tank need to be plugged into an outlet?
Yes. The combination pump and lights would chew through batteries in a hurry.
Date published: 2018-05-18
Can a buy a replacement filter pump for this aquarium?
I did not like the filtration. Bought a small exterior Tetra pump that was excellent. My betta came to this tank from a six gallon rectangular tank.  I got this tall tank for him so he would experience how to dive. He loved it. He seemed to measure the height of the tank by going from bottom to top with his nose pressed to the wall. After a few days exercise that seemed to make him tired I moved him to his regular home. My betta likes the filtration in his home tank. He swims back and forth through the bubbles. He was not interested in the waterfall that has no bubbles. The waterfall tank needs a screen for bettas.  
Date published: 2018-11-24