Bamboo
Details
https://www.petsmart.com/fish/decor-gravel-and-substrate/live-plants/bamboo-5122173.html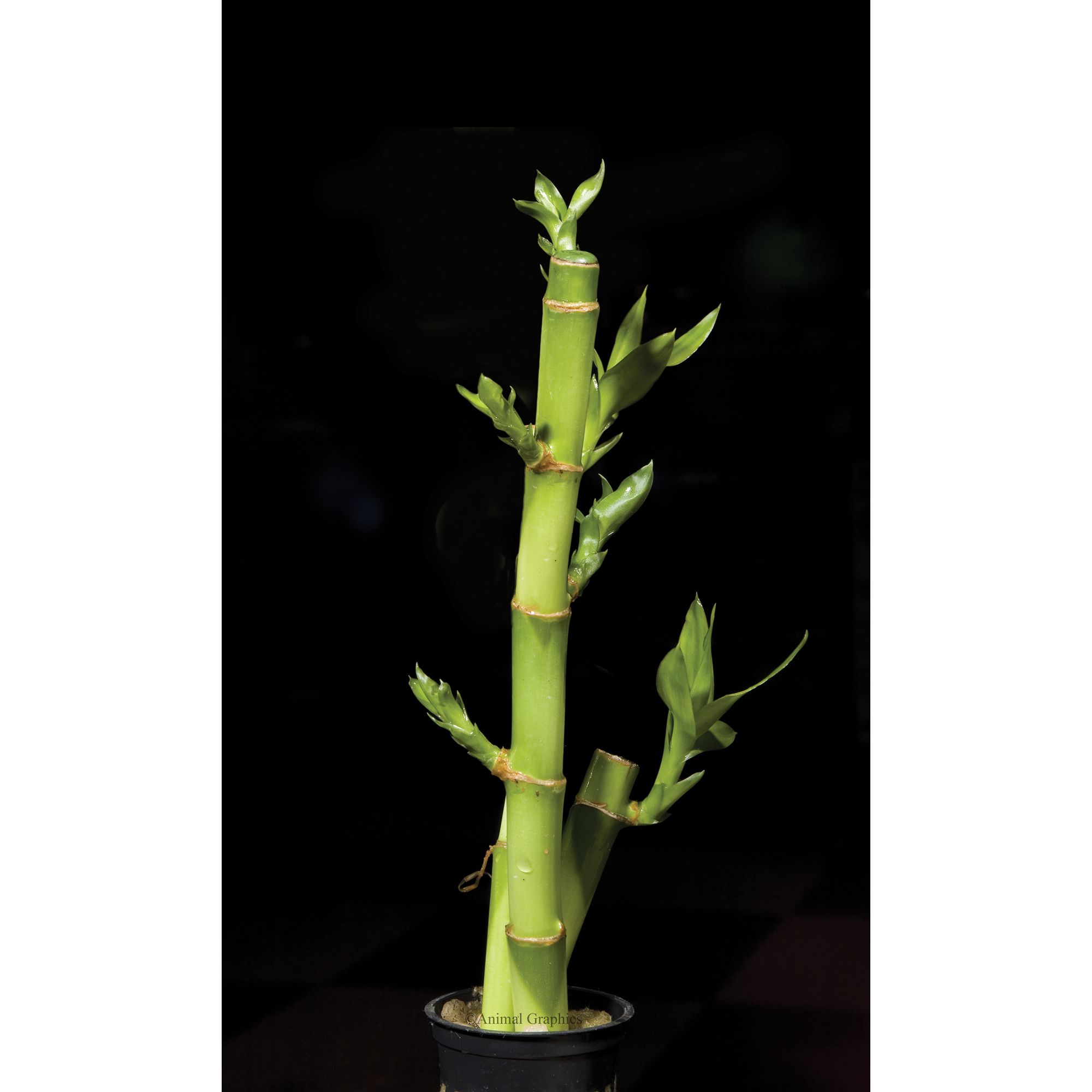 Available only at select locations
not available for online purchase. please check availability at other stores.
product highlights
A species of Dracaena, Bamboo can survive in many indoor conditions, but indirect lighting is best as direct sunlight can cause the leaves to turn yellow and burn.
Semi-aquatic
Maximum height: 5'
Shrubby, with slender stems
Tank placement: Background
Water temperature: 59-80° F
Ideal aquarium size: Large
Can grow fully or partially submersed
Note: Plant availability is seasonal. State and local regulations may vary. Pricing may vary by store location.PetSmart stores cannot match the price above for this item. Ask a store associate for details.
Although it grows better in soil, Bamboo is often is sold with its roots in water, which makes it suitable for growth inaquariums or fishbowls containing Betta fish. The water in which Bamboo grows should be completely changed every two weeks;bottled water or de-chlorinated soft tap water are recommended. Bamboo does best in bright, indirectlighting and in temperatures from 59-80° F (15 °C-26 °C).
*While safe for Fish, Bamboo is toxic if ingested by dogs or cats!
Clinical signs:
In cats: dilated pupils, abdominal pain, increased heart rate and drooling.
In both cats and dogs: vomiting, depression, inappetence, drooling, loss of coordination, and weakness.
Things to remember:
Water temperature:
Semi-aquatic plants require a tropical community aquarium with water temperatures ranging between 59-80º F (15-26º C). Usean aquarium heater to maintain water temperature.
Adding plants:
Whether you're just starting your aquarium or introducing new plants into your tank, make sure to add only one or two plantsat a time.
Lighting:
Most tropical plants require sunlight each day, year round. The duration and consistency are essential for plants to thrive.Natural aquariums must be equipped with the means to provide 12 hours of simulated sunlight each day.
Plant fertilizer:
Fertilizer should only be added according to the dosage instructions on the label, and only when needed (as in the case of awater change). Plants will grow best if fertilized moderately and regularly after water changes rather than given larger quantities of fertilizer on a less-regular basis.
Fish, amphibians and plants:
Toads and frogs are highly recommended for a natural planted aquarium- terrarium. Depending on the depth of the water and sizeof the amphibians and water temperature certain species of fish can be added.
Water changes:
Test water weekly to assess water quality. It is recommended that 10% of youraquarium water be changed per week. At the very least, 25% of your aquariumwater should be changed per month. For optimal health, regular water changes not only prevent the undesirable accumulation of excess nutrients, but also remove excess nitrates and waste products of the fish and plants.
Aquarium placement:
Place your aquarium in a low-traffic area, away from direct sunlight and drafts.
Planting your natural aquarium:
Foreground plants: Usually stay very short and help fill in the front part of the aquarium.
Middle ground plants: These plants grow anywhere form 4-10 inches tall.
Background plants: These are the fastest-growing and tallest plants.
Things to watch for:
Poor growth
Brown spots on leaves
Plants appear weak, pale green to yellow, stems have few leaves
Plants cease to grow and die off
Stem plants have long internodes and small leaves
If you notice any of the signs described above, check your aquariumwater quality and consult an in-store Aquatics Specialist.
Keep Shopping
Pet Parents Also Bought
Bamboo
is rated
4.6
out of
5
by
12
.
Rated

3

out of

5
by
BettaBettaBoy3
from
Good hardy plant. Gave me snails
This is a great plant for people who are new to live plants because it is very low maintenance. However I have recently had some problems out of it. The first problem I had with it was it gave me snails. Personally I didn't want snails in my tank so I was displeased with this. It also added parasites to my tank. Now, i'm not 100% sure it was this plant but I have a good feeling. Before I added this to the tank everything was fine. It was an un-cycled, newly set up tank ( I was just beginning to cycle it) and I had not had any fish or other live plants in my tank before. So the only explanation I could come up with was they came from the bamboo. Though, if you want this plant don't let my experiences with it discourage you.
Date published: 2014-12-31
Rated

4

out of

5
by
justkeepswimming33
from
Beautiful, but gave me snails
The title pretty much says it all. I guess that technically it wasn't labeled "snail-free" since it was in a tank with several other bamboo stalks, but because I didn't see any on the plants I just sort of assumed. It hasn't even been a week though, and I have a handful of baby snails, and there's probably more on the way.. :-/ But it is lovely, & it looks great with my betta. :)
Date published: 2014-10-22
Rated

4

out of

5
by
Kathy1239
from
Very Good
I had this plant for a year and it flourished stayed green and sprouted new leaves. It was a great plant until I moved it to a different tank and it turned yellow and died. This is a very good plant but it should stay in the same tank for its life, from my experience.
Date published: 2013-09-15
Rated

5

out of

5
by
mybettarox
from
Awesome Little Plants!!
Today I went to petsmart and bought a bamboo plant for my male betta, Tully, and he loves it!! He is still kinda exploring it but so far it's great. Plus it makes my one gallon tank look awesome. It's really hardy & you don't need to get anything for it. You just push it into your gravel (or sand) and let it do all the work! The water in his tank already looks a bit clearer! It is a pretty good price too! I would reccomend this product to anybody no matter what kind(s) of fish you have :) Pros: Price, hardy, pretty, easy to care for Cons: Absoulty none!!!!!
Date published: 2012-07-19
Rated

5

out of

5
by
Happybuyer
from
Good plant for small tanks
These plants are nice little plants that look good in tanks. i have one onf these in my fish tank. The fish love it! I always see them swiming aroud it in a cricle in a little line. Most of the fish hang around it for most of the day. It can make any tank look natural, nice, and lots of fish like it. Also it doesnt take up alot of space, just a little small line of space. Overall it is a nice attatchment to any tank.
Date published: 2012-07-17
Rated

5

out of

5
by
EA5000
from
Great underwater plant!!
I love bamboo as it's the one plant that can handle neglect and mostly thrives on it! I set up a new 40 gal guppy tank and I have filled it with only bamboo stalks and a moss ball. Bamboo does great underwater and looks awesome with bright colored fish swimming around it! I recommend bamboo for someone who wants live plants but doesn't want to deal with having to trim dead leaves off and dirty water! Bamboo is strong and EXTREMELY clean!! Best plant there is! Only downside is it grows UP! lol literately.
Date published: 2012-10-28
Rated

5

out of

5
by
BettaBettaBoy2
from
Looks great
( I'm bettabettaboy ) i could not post more than one post on this so i had to do this. I just went and got some bamboo a few weeks ago and it looks great although the store i got it in cut them really short. They really look good and my betta has been looking at them alot.
Date published: 2012-02-18
Rated

5

out of

5
by
FishDaddy
from
Solid Plant for Your Tank
I have had bamboo plant for years. It started as a single plant and have since sprouted around 15 plants. Some are 4 to 5 feet tall. When I started a new tank, I used two medium size plants (18 inches) to give a nice natural look to the tank. I prefer mature bamboo over younger plants but I do have a new bamboo in my smaller tank. Mature bamboo has some nice long leaves that give your fish some good cover from the lights. I see my Dwarf Gourami "hover" under the leaves when he wants some shade. If you have snails, they like bamboo too as it can hold them without impacts. It is a good hardy plant for tanks. It will allow you to easily up-root it when you want to rearrange the tank. Overall, a low maintenance plan too.
Date published: 2013-02-25
y_2018, m_3, d_18, h_1
bvseo_bulk, prod_bvrr, vn_bulk_2.0.7
cp_1, bvpage1
co_hasreviews, tv_0, tr_12
loc_en_US, sid_15148, prod, sort_[SortEntry(order=HELPFULNESS, direction=DESCENDING), SortEntry(order=POSITIVE_FEEDBACK, direction=DESCENDING), SortEntry(order=SUBMISSION_TIME, direction=DESCENDING)]
clientName_petsmart