Oxbow Essentials Adult Rabbit Food
Details
https://www.petsmart.com/small-pet/food-treats-and-hay/food/oxbow-essentials-adult-rabbit-food-5134287.html
Discounted Price

$10.62
Old Price

$10.99
Promotions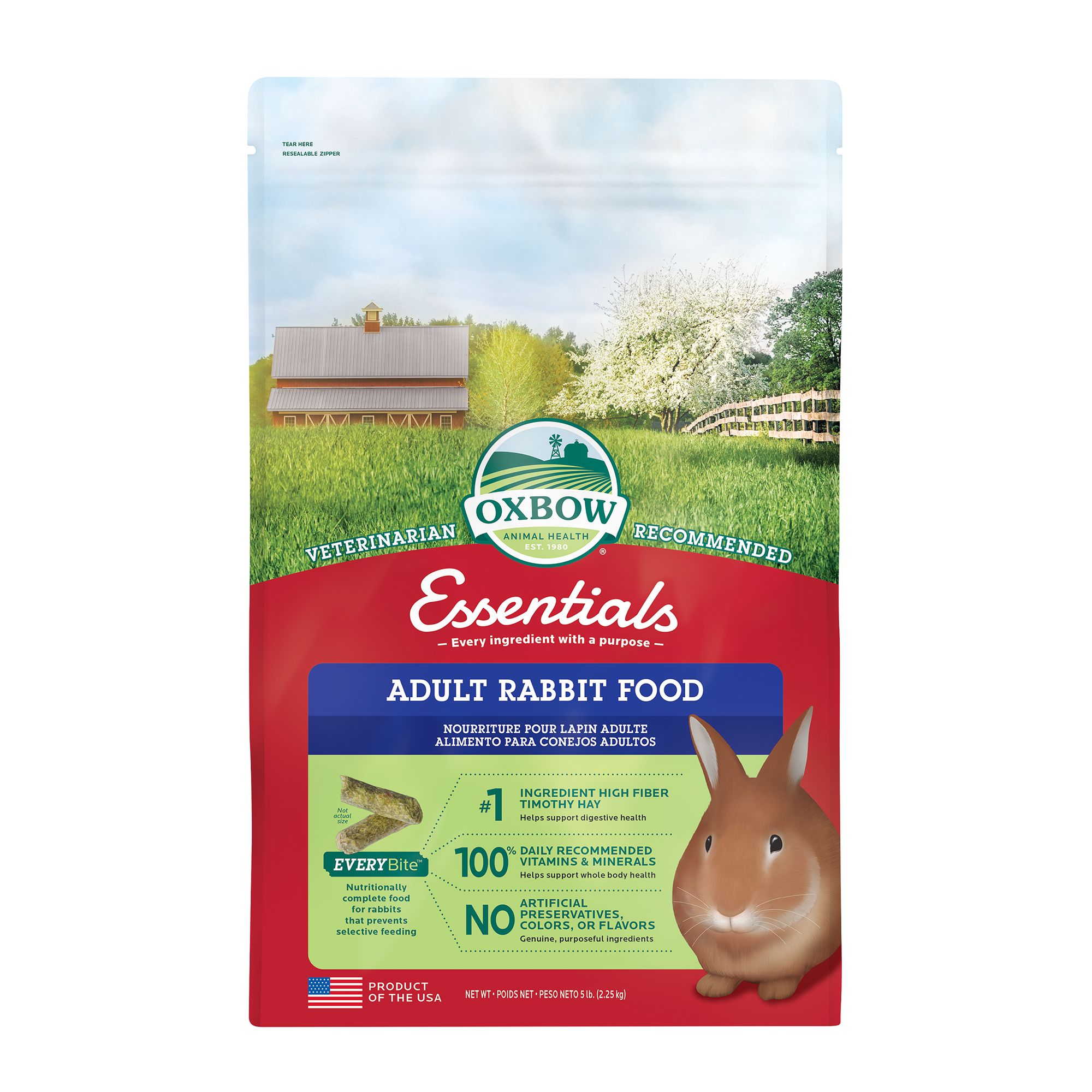 How long will one bag feed two 2 pound rabbits for?
I have 4 bunnies 2lbs.each and a small bag last 2 months.
Date published: 2019-02-28
I have been feeding our rabbit the All Living Things rabbit food since day one. Should I be switching to the Oxbow Adult rabbit food? His doctor said he is a little pudgy. He will be 2 in December. 
If your rabbit is over 1 year old, then they should be eating a rabbit food that is Timothy hay based.  A lot of the ingredients in the All Living Things rabbit food can cause weight gain in a rabbit older than 1 year and I would definitely recommend the Oxbow Adult Rabbit food for your bunny.  Make sure to follow directions and only feed the rabbit the recommended dose provided on the bag.  And as long as your rabbit has access to unlimited Timothy hay and water, and has a large enough space to run, then when you add this food to their diet in the recommended dose, they should be able to get to a healthier weight.  This advice is based on my personal experience, and it would be highly advised that you talk this over with your rabbit savvy vet before changing the food or anything else.  You will need to introduce the new food slowly, otherwise you could cause gastrointestinal issues.  Make sure to research the proper way to do this or ask your vet for recommendations on how to to proceed.  
Date published: 2019-01-31
WHY am I completely unable to add any items to my Autoship order? It seems to be since my most recent phone call to you. I have tried several times now on different days in case there was a system issue. Now I'm getting very frustrated.