Feliway® Classic Starter Kit
Details
https://www.petsmart.com/cat/dental-care-and-wellness/treatments/feliway-classic-starter-kit-5278083.html
Discounted Price

$35.99
Old Price

$39.99
Promotions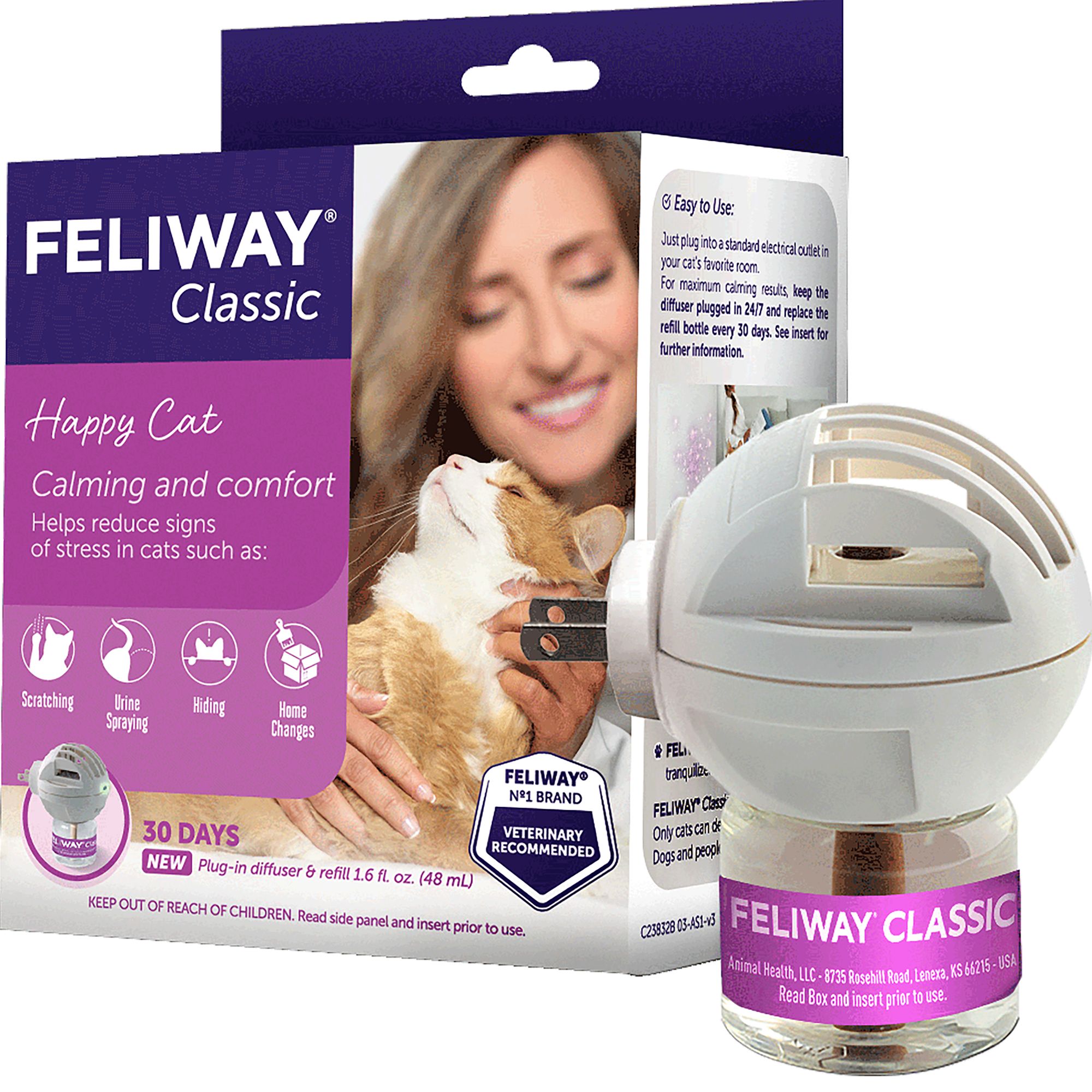 My cat is psycho. She will attack my leg by biting and scratching. What can I do to stop this
There was a season 2 episode of "My Cat From H3ll" specifically about that, if you're able to watch it on the Animal Planet app. Might help, might not, but it's worth trying.
Date published: 2019-06-04
Just got a stray cat.At first he ate and everything at work. I also have another male cat at home. So now I notice that the stray cat does his peeing in the morning like outside of the box. And following my other cat, excessive meows
First I can't stress enough about bringing him to the vet to see if there is anything medically wrong with him. Second, it could be the litter your using. Do you have one or two litter boxes? Each cat needs their own. I have a rescue and the only thing she likes is the non clumping litter and since that make's her happy, I'm happy. Happy cat, happy home. Have you done a proper introduction with the two cats? If not, I would ask your vet on how to do it. I have noticed that the different websites give different information. I still feel that he should be brought to the vet. I would also use another pet carrier so that he doesn't get anymore stressed out with the scent of the other cat. Have you noticed if he is fixed and if he is, does his ear have a small piece missing? Many states have catch and release programs where they will catch feral cat's and have them spayed or neutered, then return them to their colony. This way they know that the cat is already fixed. If he doesn't have a piece of his ear missing, he could be either lost or abandoned. Years ago, I took in a feral (he had a small part of his ear clipped off) cat that wasn't doing well out side. If I didn't take him in, he wouldn't have lasted another winter outside, It took him a long time for him to get use to being indoors however it was worth it. Again, please take him to the vet to make sure he's healthy.
Date published: 2019-05-05
I have five cats.  All strays at one time. Four are males, one female.  The female does all her bowel movements and wetting outside of the box. Been to the vet-no physical problems. She used box at one time.  Have five boxes.Clean everyday.Out of choices?
I had this problem with our old kitty who has since passed away at 22. She lived with my mom but when my mom passed she came to live with me and refused to use a litter box after having used one for 15 years. I tried different litter, different locations, different boxes with no luck. Fortunately she still went in the same area so I just put down puppy pads there and it worked ok. Not optimal, but ok. I used corn starch to keep the smell down.
Date published: 2019-01-02
my cat is very nervous and we think he has anxiety because he licks and scraches his fur till their isnt and left . do you think the feliway for cats wikll help
If he is a male, could be helped by this. I would try also some drops in your cat food, of Rescue Remedy by Bach Flowers. It is used for humans and animals, doesn't have any side effect. I use any time my cats are in destress or fear and it works wonderful!
Date published: 2019-01-16
Wished I'd heard about this product when I first got the cat couple of years ago. Wondering if this is something you always have to refill or if after using it for a set amount of time it's not needed
How well does it work?  Does it hurt them anyway?  Would it hurt baby's?
Our cat Dexter will spray on things that have a weird small like something that may have set out in the garage or my husbands greasy clothes how to stop him we clean it up as soon as we find it