Simple Solution® Disposable Dog Diapers - 12 Pack
Details
https://www.petsmart.com/dog/training-and-behavior/potty-training/simple-solution-disposable-dog-diapers---12-pack-5098690.html
Discounted Price

$9.99
Old Price

$14.95
Promotions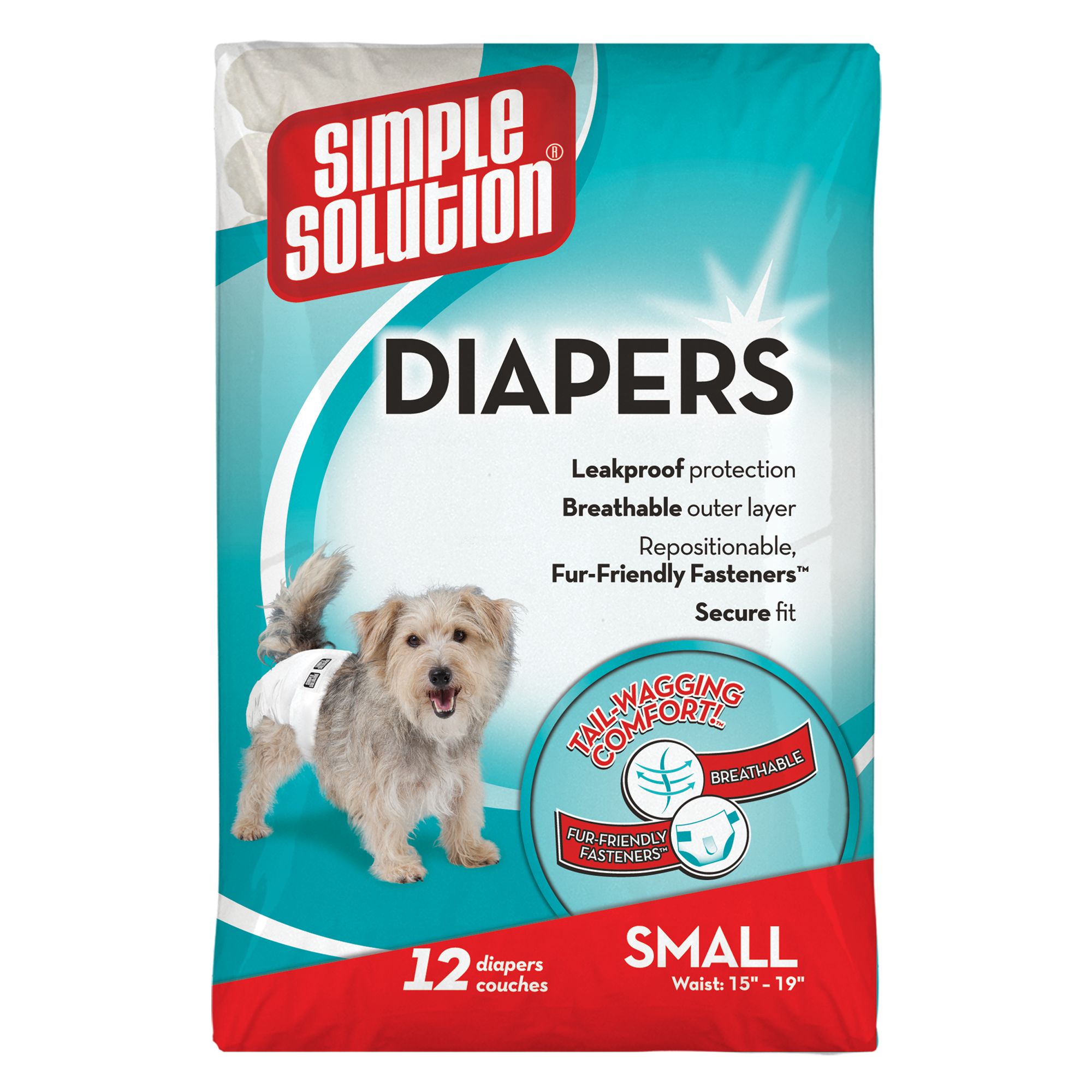 I have a21 pd pug what size would she wear
My Pug weighs 18-19 lbs and because she is longer than most Pugs, she wears a Large diaper (or X-Lg if they're out of Lg). Most Pugs are stout and Med is probably too tight. Plus you want   to make sure diaper gets over their hips to fasten around waist, and that is most likely with Large. 
Date published: 2019-01-23
How do you keep diaper from slipping off dog 
The diapers are made to fit special for them. Also they make cloth ones and covers as well. They come with suspenders and Velcro, not all come with suspenders or Velcro but the best ones do. In my humble opinion. I hope this helps.
Date published: 2018-11-10
Please explain sizes!!
X-Small: 4-8 lb dogs with 15-18 inch waists Small: 8-15 lb dogs with 15-19 inch waists Medium: 15-25 lb dogs with 16.5-21 inch waists Large: 35-50 lb dogs with 18-22.5 inch waists X-Large: 50-90 lb dos with 18-23 inch waists
Date published: 2019-02-05
I would like to order the dog diapers that come in different colors..... please tell me what I need to do to get these diapers
what weight is size xs for?
What size dog uses small diapers?  How many pounds?
My dog is 15 years old and needs diapers. She weighs 16 lbs,so which size should I buy for her.
What size diaper would fit a female miniature dachshund?