PetSafe® ScatMat Pet Training Strip
Details
https://www.petsmart.com/dog/training-and-behavior/training-and-behavior-accessories/petsafe-scatmat-pet-training-strip-5087381.html
Discounted Price

$44.95
Old Price

$44.99
Promotions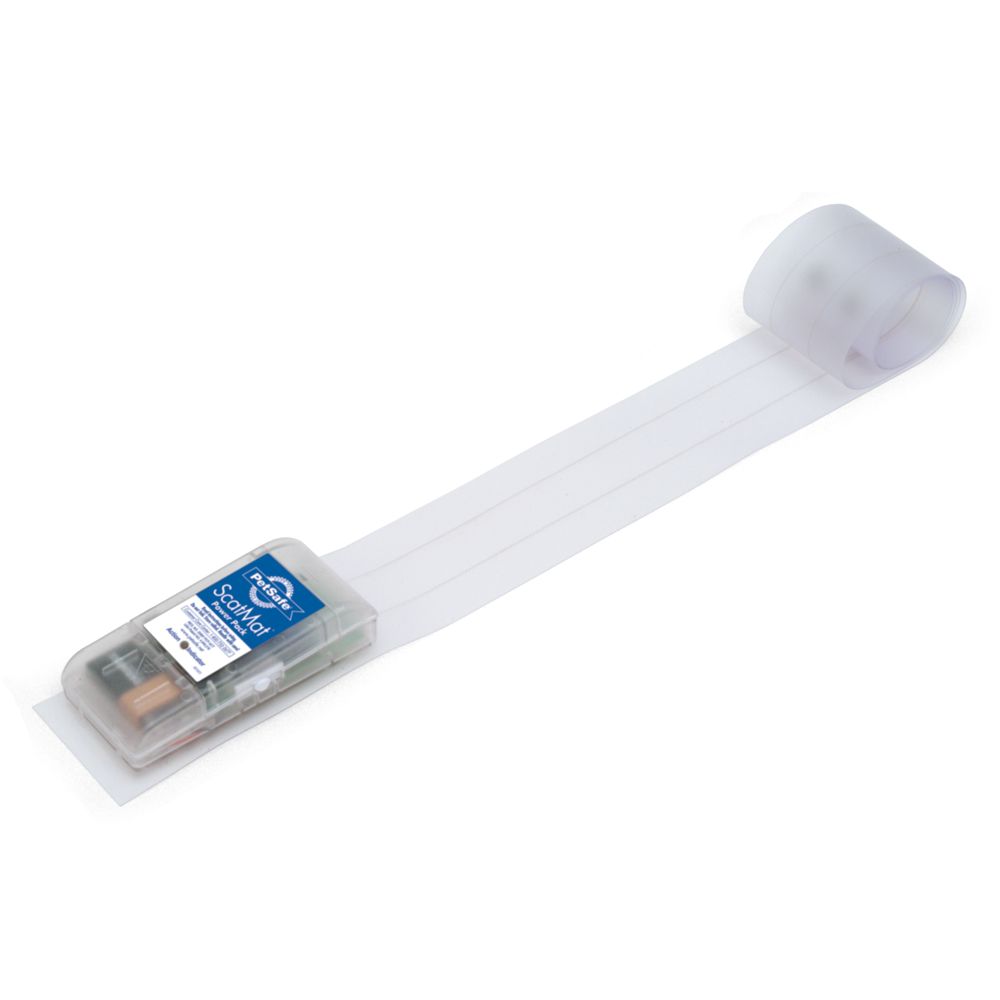 Do these strips have to be attached to the bigger mats or do they work on their own for smaller areas?
Thank you for your great question, Tina! This ScatMat comes with its own power pack so it works entirely on its own and it doesn't need to connect to any other may.
Date published: 2019-07-19
Could I safely place this under my dishwasher at the edge? I have a cat small enough to fit under the dishwasher and my kitchen has too much entrance space to block off the kitchen itself, so is it safe that close to the dishwasher?
What a great question! As long as the mat does not come in direct contact with any large metal appliances, you may use it in your kitchen.
Date published: 2019-02-08
Can the strips be connected to increase the length using just one controller or does each strip require it's own controller?
Thank you for your question! You will be able to run up to 3 mats total using one power pack when using the extension mat cords. For more information on our ScatMats, please feel free to give us a call at 1-800-732-2677.
Date published: 2019-03-04
Will this stop a dog from running out the front door?
Hi Jennifer, thank you for your question! Your pet must make contact with at least two of the wires inside the mat to receive a correction. If your pet runs through too quickly, or tries top jump over the mat, it is possible he or she may not receive a correction. To find the best deterrent options for your situation, we'd be happy to speak with you and learn a little more about what you might need for your home. For further assistance, please reach out to our Customer Care Team at 1-800-732-2677.
Date published: 2019-02-07
Is it safe for kids?
Great question, Tara! Please know that this mat delivers a mild static stimulation which is safe for you and your pets to use. Static stimulation is similar to the sensation you would feel if you scooted your feet across carpet while wearing socks before touching a metal doorknob. While this sensation is in no way harmful, it can be very surprising and we do recommend to keep the mat out of reach of children.
Date published: 2019-01-25
Could this go on top of a dresser at the edge of it? Our 4 month old kitten recently, has started jumping up there. That seems to be the only places we catch him, if so could we keep everything else that's on top as long as it's not metal?
Our ScatMat can certainly go on top of your dressed with an edge. Additionally, non-metallic objects could be placed on the mat. However, we don't recommend using any static training until your kitten is at least 6 months old. From what you've described though, one of our Pawz Away® Pet Barriers may be a more suitable deterrent. If you could call us at 1-800-732-2677, we'd be happy to help choose what would work best for your and your kitten!
Date published: 2019-02-07
Could this be used on a windowsill? Our dog sees a squirrel through the window and has scratched the wood jumping on the windowsill trying to get at the squirrel.
What a great question, Melissa! You can certainly use this ScatMat Strip in a windowsill.
Date published: 2019-02-07
Can another strip be added to the strip or can only the extension mat be added I need to cover a door way that's approximately 72 inches I like the idea of the thin strip versus the wide pad
Hi Jamie, thank you for your question! You can certainly add an additional strip size ScatMat to the original strip size ScatMat without issue.
Date published: 2019-02-03