PetSmart
Start typing, then use the up and down arrows to select an option from the list


top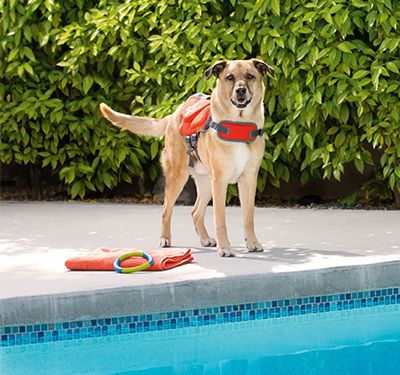 DOG / health & care
Safety Tips for Pets During a Heatwave
The summer heat brings all sorts of fun adventures for pet parents and their furry friends. There are more walks and outdoor activities, more time in the water and the sun in the sky, shining down its warmth. With all of this fun also comes some things that pet parents need to be aware of to help protect their four-legged best friend. The fun summer sun can also present some dangers to your pet, from hot pavements to heat strokes in dogs.
Common Summer Heat Dangers for Pets:
Learning some of the typical summer heat dangers can help you prepare and protect your pet during the year's hottest months. Some of the most significant challenges pets face during high outdoor temperatures include:
Hot Cars:

Hundreds of dogs left in cars die from heatstroke every year. According to the American Veterinary Medical Association, even with the windows cracked, an 85°F (30°C) day can cause the inside of a car to get up to 120°F (48°C) in just a half-hour. Pets can suffer from heatstroke, occurring at a body temperature of 103°F (39°C). This is extremely serious as it can lead to organ failure or death.

Under no circumstances should a dog be left in a car unattended. In some states, it's even against the law to leave your pet in the car.

Dehydration:

Panting is how dogs cool down. Excess panting during a heatwave can cause a dog to become dehydrated quickly. Dehydration is extremely dangerous to your pup.

Overheating/Heat Stroke -

As we mentioned earlier, being left in a car can lead to heatstroke in dogs/pets. Heatstroke can happen anytime your dog's body temperature reaches more than 103°F (39°C). Their body temperature can climb when they're left out in the sun too long with no shade,

when the A/C goes out in your house, or even on walks that take place when it is too hot in the mid day or afternoon. This is especially a concern for brachycephalic breeds (dogs with pushed in faces like bulldogs, pugs etc.) that are more prone to overheating.

Paw Burns:

Man-made surfaces like pavement or concrete can become extremely hot under the sun's heat. Surfaces like asphalt tend to be dark in color and draw in heat, often making them much hotter than the climate itself. On an 80°F (26°C) day, the pavement can reach temperatures as high as 125°F (51°C). As you can imagine, this can quickly become a danger to your puppy's paws.
What to Do if Your Dog Overheats
Call Your Vet -

Call

an emergency

veterinarian ASAP. Complications from heatstroke can be fatal. If your vet doesn't do emergency visits, always be prepared by becoming aware of your local emergency vets.

Look for Signs of Distress -

Signs that your pup may be experiencing heat stroke or signs of distress include excessive panting, difficulty breathing, near unconsciousness, weakness, increased heart rate, bloody diarrhea, vomiting and/or seizures.

Get Them Out of the Sun -

Start your car to cool it down so that you can take your pup to the vet. Get your dog out of the sun so their body temperature can start to decrease.

Cool Them Down -

While your car cools down, gather supplies to help lower their body temperature on the way to the vet. Try spraying your pup with cool water and placing cool (not cold) water-soaked towels on your dog's head, neck, feet, chest and abdomen.

Cool water is not a cure, so remember

to move quickly as getting your pet to the vet as quickly as possible is the most important task.
Your vet is the best resource for helping your pup recover from a potential heatstroke. The most important thing you can do for your pup is to pay special care and attention to them when they're spending time in the heat and sun so that they never have to experience heatstroke in dogs.
Pet Care During a Heat Wave:
There are plenty of ways to prevent heatstroke in dogs, keep them hydrated and protect their paws during hot weather. Follow these safety tips for pets during a heatwave, making sure to consult with your vet about any other tips or dog supplies they might suggest to help keep your pup safe.
Don't Leave Them in the Car -

While you might love bringing your pup with you on car rides and errands, you must leave them home on hot days unless you can take them with you when you get out of the car. If your destination doesn't allow pets, leave them at home. Doing this will make sure your pet isn't exposed to the dangers of hot cars.

Provide Fresh/Cool Water -

To prevent dehydration, make sure your pup has access to a

dog bowl

with fresh water. To help keep them cool, try adding ice cubes to their water or giving them a block of ice they can lick and sit by. Remember only to give your pup ice cubes in moderation. It's also important to note that there can be too much of a good thing, including water. Pet parents should make sure they're monitoring their pup's water intake to know if they're getting too much or too little. Consulting with your veterinarian is the easiest way to know what amount of water is best for your pup during a heatwave.

Give Them Breaks From the Sun -

We get it, your pup probably loves spending time outside despite the heat. Even so, they need to come inside for lots of breaks from that sun so they can regulate their body temperature. It's better to do short bursts of time outside (10-15 minutes), giving them a break to cool down in between. Try offering them a

cooling dog bed

in their

dog crate

to give them an oasis to relax in during their break. Be sure to monitor your pup with the cooling bed to make sure it is suitable for them.

Limit Exercise/Change Exercise Time -

To avoid your pup overheating due to exercise in the high temperatures, limit the amount of time they spend exercising. If your pup loves walks, do so first thing in the morning, when the pavement has had the entire night to cool down. Consider also purchasing

dog booties

to protect their paws from the hot pavement.

Play in the Grass -

Natural surfaces are often much cooler than the pavement. Limit your dog's outdoor activities to grassy areas.

Buy a Doggie Pool -

There are mini pools you can buy especially for your pup so they have a place to cool off. Put this pool in a shaded area to make sure the water doesn't get too hot.

Use Dog Sunscreen -

There's also sunscreen that is made especially for dogs to help protect their skin from the sun. Apply this to your dog's skin by following the instructions on the container to help them.
Talk to your veterinarian to learn more about ways to prevent heatstroke in dogs and protect your pup during a heatwave. Information in this article isn't intended to diagnose, treat or cure your pet and isn't a substitute for veterinary care provided by a licensed veterinarian. For any medical or health-related advice concerning the care and treatment of your pet, contact your veterinarian.