top

CAT / fun & fashion
Grumpy Cat Tells All
The Perma-Frown Feline Superstar On Life, Grumpiness and Her New PetSmart-Exclusive Line of Toys
What's the most ridiculous thing you've ever read about yourself online?
I once read that I cared. COMPLETE FABRICATION.
Were your parents grumpy? Where does your grumpiness come from?
The rest of my family is annoyingly content. I suppose true grumpiness comes from within.
Have you ever NOT felt grumpy? If so what were the circumstances?
If it's ever happened, I'll never admit it.
You're an author, fashion designer and movie star, what made you want to get into the world of pet toys and décor?
The pet world seemed way too fuzzy and happy. I decided it was time to shake things up a bit.
Your Grumpy Cat collection is available exclusively at PetSmart. What does that mean to you as the designer and spokesperson?
It really is something terribly special. As a "spokescat" I feel tremendous pressure to create something that the pet world has never seen before.
If you were shopping at PetSmart, where would we most likely find you?
Probably snacking on some Friskies underneath a display.
What innovations were you hoping to bring to the market that no one else has?
I was hoping for the first drone for cats but was told it was a liability. I had to settle for cutting edge humor, and an equal appeal for humans and pets. Meh.
What do you know about your fellow felines that helps you develop products that make them pounce and purr?
I'm an Everycat. I can tell what a cat wants just by looking in their eyes. I also read a lot of fan mail.
How do you feel about cats and even dogs taking naps on a pillow shaped like your face?
I'm supportive of anything that helps pets be lazier. Even dogs.
Did your brother Pokey test any of your new products?
Yes, Pokey loves it all. He's always my "focus cat."
How did your brother get his name Pokey?
I believe it came from all the cactus he played in as a kitten. The cactus always won.
"

If I created a signature Grumpy perfume, what would it smell like? Despair.
Which one of your toys holds your interest for the longest amount of time?
Whichever one I decide to take a nap on. Some of them double as excellent pillows in a pinch.
Which is the best product to give as a hostess gift when visiting a home with a cat?
The only polite thing to do is to buy one of each
Why does your line include dog toys? Doesn't your dog toy say, "dogs are idiots?"
I know there are a lot of grumpy dogs out there who deserve a good toy too. And a lot of them might agree with the quote anyway.
If your collection becomes a huge success, will you finally be happy?
Definitely not. No matter how much success I have, I can always find plenty of things to be grumpy about in the world.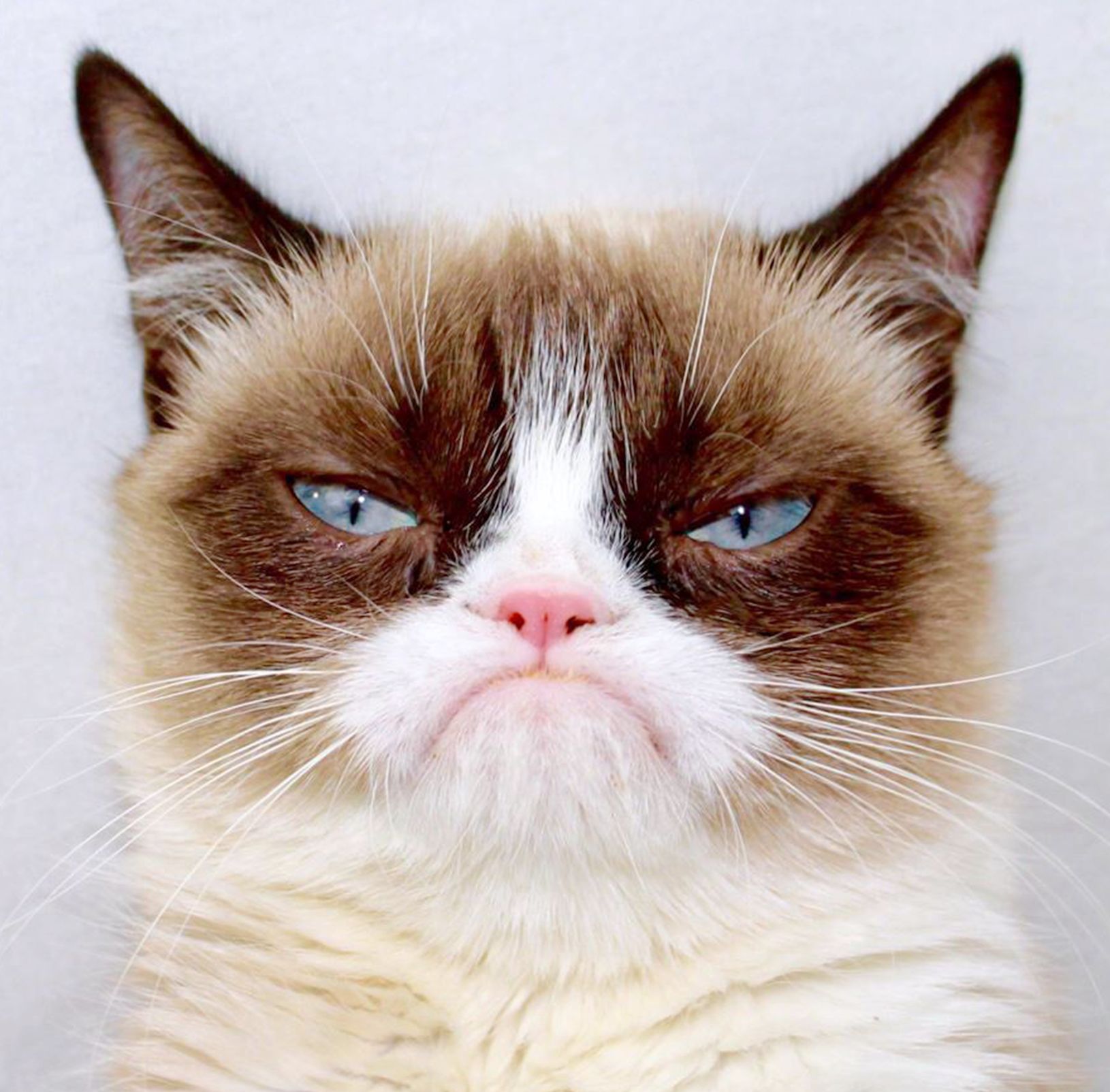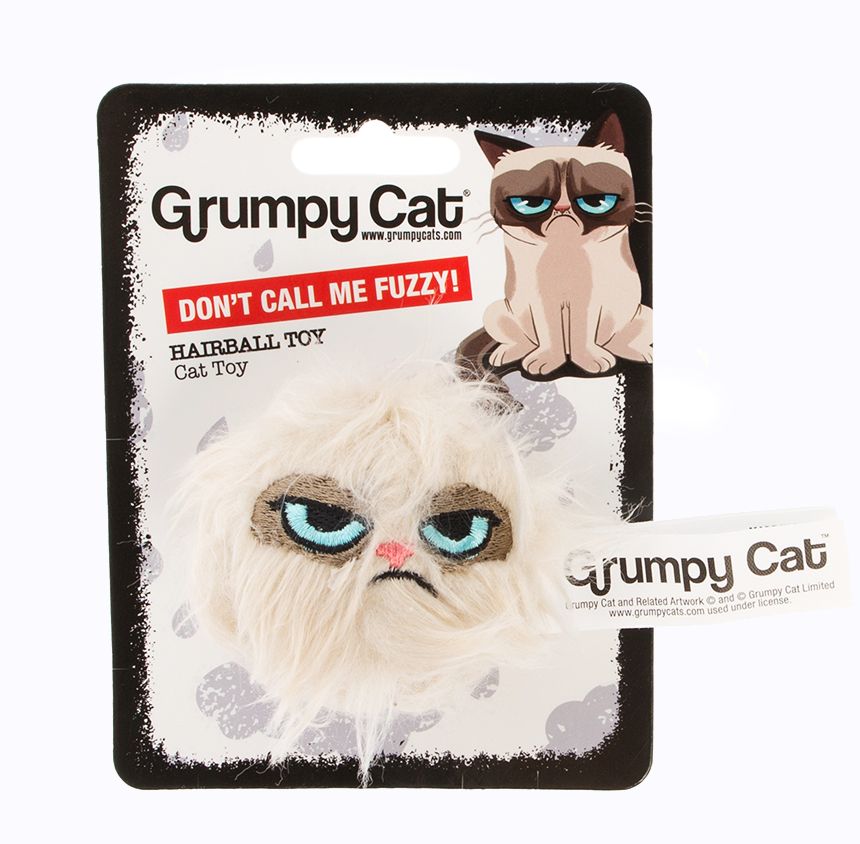 Grumpy Cat's iconic expression can be found across her product line. It's the frown that will make you smile.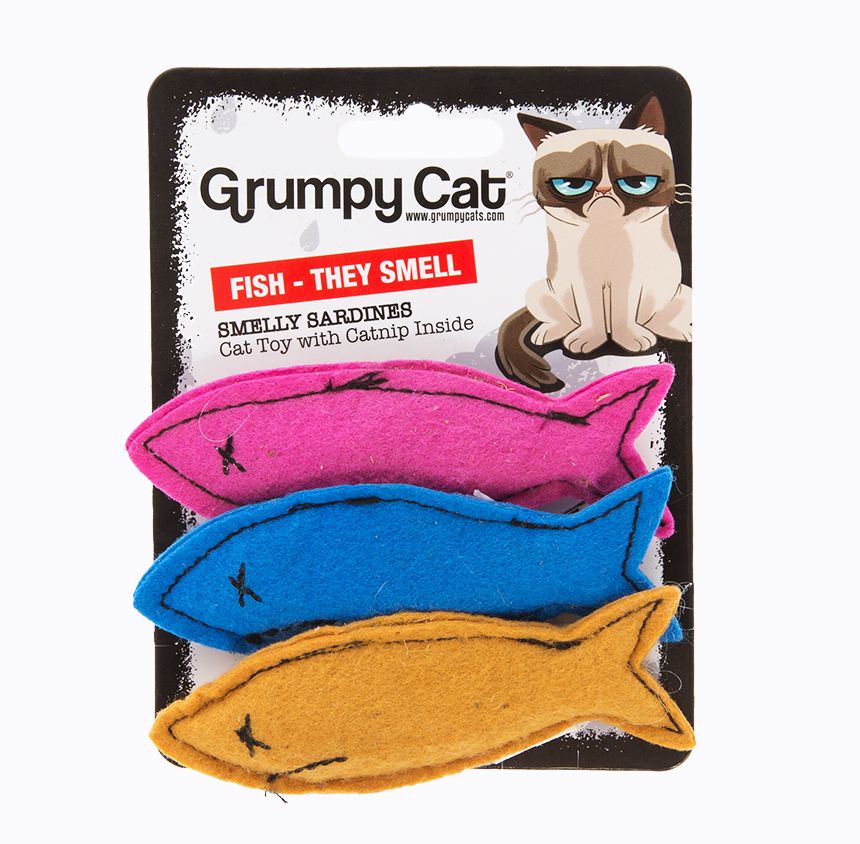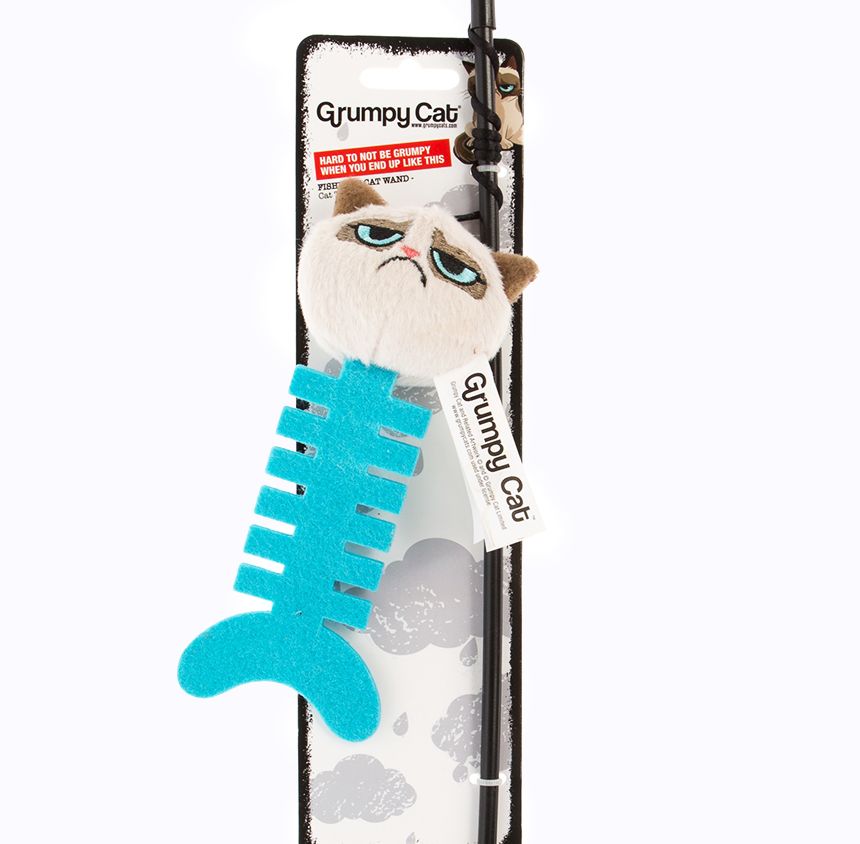 Walk us through your new collection.
I've got a whole live of excitingly awful products being released exclusively at PetSmart.
The Grumpy Cat Fur Ball Toy
Cats can't get enough of this one. They get to bat around an extremely furry Grumpy Cat with a rattler inside. Cats roll it around for hours and it only makes me somewhat dizzy. Just don't call me fuzzy.
Grumpy Cat Nasty Mouse
Nasty Mouse lives in my house, and now he gets his own cat toy! He's velvety soft, filled with catnip, and when you give him a squeeze he crinkles. Exactly like the real Nasty Mouse!
Grumpy Cat Lemon Balls
When life gives you lemons, throw them for you cat. They've got rattles inside, they're colorful and fun. Wait a minute, I hate fun.
Grumpy Cat Plush Cucumber
Here's a cucumber that's finally a little less surprising than the real thing. It's filled with catnip and crinkle, so cats will be jumping for joy.
Grumpy Cat Catnip Cigar
Isn't it time you congratulated your kitty? Well just in time, is this plush, catnip filled cigar for all of your cat's celebrations. Personally, I celebrate nothing.
After success in so many fields, what's your next in your plan for world domination?
I won't rest until there is a frown on the moon.
We hear you like to sleep during the day. Do you ever get that rush of kitty energy we like to call the "zoomies?" What happens when you're revved up?
Any energy I do have I save up for the nighttime. It's better to walk around and cause trouble when the humans are asleep.
When you're on the road, what are your diva-esque demands in the green room?
I make them paint it black.