Rasbora Heteromorpha
Details
https://www.petsmart.com/fish/live-fish/goldfish-betta-and-more/rasbora-heteromorpha-4031638.html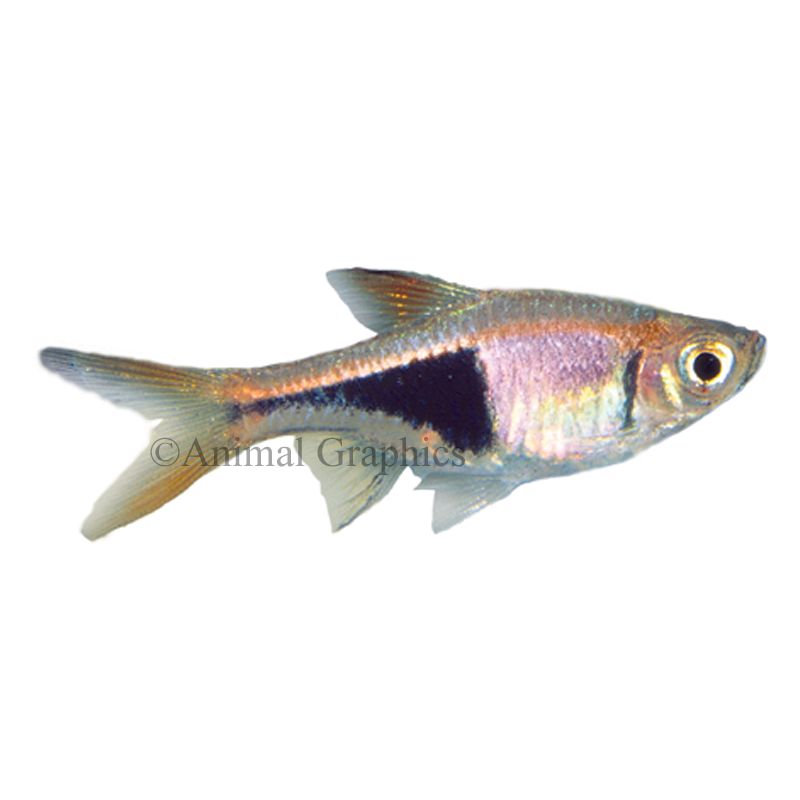 Variations
Please select a variation value to continue
This item is not available for in-store pickup. Check store availability.
product highlights
Diet: Flake, Frozen, Freeze-dried
Maximum size: 2"
Water temperature: 72-82&deg F
Swimming level: Top
Experience level: Beginner
Tank Setup: 10+ gallons, densely planted
Note: Pet availability is seasonal. State and local regulations may vary. Pricing may vary by store location. PetSmart stores cannot match the price above for this pet. Ask a store associate for details.
Danios can share their aquarium with other community aquarium fish of similar size and temperament. Instead of plants, they eat aquatic crustaceans, worms and aquatic insect larvae. Danios are schooling fish and like to swim in groups and should be kept with three or more other fish of the same species. You will see them swimming in the middle of your aquarium. To create a beautiful aquarium environment, be sure to add some top and bottom swimmers as well. Ask a PetSmart associate to help you choose.
Learn about the Rasbora Heteromorpha Danio
Common Name
Rasbora Het
Other Common Names
Harlequin Rasbora, Red Rasbora
Scientific Name
Rasbora heteromorpha
Family
Cyprinidae
Community
Docile
Feeding Habits
Live tubifex worms, blood worms, brine shrimp and glass worms. Frozen plankton, vegetable diet, beef heart, brine shrimp, glass worms and blood worms. Freeze dried and flake foods are also recommended for occasional use. Not a picky eater, but needs a balanced diet from all the categories listed above.
Compatibility
A very peaceful schooling fish that should be kept with other small peaceful schooling fish.
Habitat
Singapore-Thailand: Densely planted aquarium with live plants, rocks and driftwood.
Breeding
Vertical edge of the black triangle pattern on the body points forward on the male and is straight on the female.
Additional Comments
Rasbora Hets have an average life span of 5 years.
Vet Assured™ Promise
All pets purchased at PetSmart are raised under our exclusive Vet Assured program and come with a 14-day satisfaction guarantee. Vet Assured is a program designed by PetSmart veterinarians to improve the health and well-being of our pets. The program sets standards for the care of our pets by our live animal partners and store associates and establishes strict standards for the monitoring and prevention of common illnesses found in pets. PetSmart makes a significant investment in the care of our pets and it is apparent in the quality and comfort of the pets in our stores. However, if your pet becomes ill during this initial 14-day period, or if you're not satisfied with your pet for any reason, PetSmart will gladly replace the pet or refund the purchase price. Please keep your sales receipt and return the pet to the store where it was purchased if needed.
Rasbora Heteromorpha
is rated
4.7
out of
5
by
25
.
Rated

5

out of

5
by
FishyHobby
from
Great, easy, fun fish!
I bought 4 of these fish over 2 years ago and they are still very healthy. I have them housed with fancy tail guppies, mollies, danios, platy's, Threadfin rainbows, loaches, and one bristle-nose pleco. The Rasboras are happy as a quad. They leave the other fish alone as long as they are left alone by the other fish. I have seen on a few occasions a curious guppy go and pick on them and they will chase them off, but have never seen them pick on other fish. Highly recommend for beginner fish people, these guys actually survived a water crash recently and they showed no sign of distress, unlike the other fish in the tank. They do enjoy big open areas to cruise around. I have a rather "tall" tank and these guys prefer being middle tank swimmers. Fun to watch especially when you have a group of them.
Date published: 2013-09-03
Rated

5

out of

5
by
HermitCrabAddict
from
Amazing Fish
I have a small school of Rasboras and they're amazing fish! They are docile, beautiful and moderately active. I just wanted to note that the PetSmart care guide for these fish states the lifespan as 5 years, but I have had one of mine for 8 years. These fish are very hardy! Overall, they're an excellent addition to any tank.
Date published: 2012-10-15
Rated

5

out of

5
by
MariannaB
from
Peaceful Fish
These are great fish. Fun to watch and very peaceful. They haven't bothered anything in my aquarium and are fine with my betta. Their movement is smooth and they are not as hyper as other small fish. Their coloring is much nicer than is shown in pictures.
Date published: 2011-06-08
Rated

5

out of

5
by
VinScully
from
One of my Favorites.
These fish are my favorite community schools. They are very active and full of personality. IMO one of the coolest features about this fish is that they also have distinct individual features and personalities, so it's easy to recognize and keep track of each fish.
Date published: 2013-06-28
Rated

4

out of

5
by
Melian
from
mid-top swimmers
These are fun little fish. Mine are mostly in the upper areas of the tank and adds an attractive addition to my aquarium. These little guys are jumpers though and I have lost several to their suicidal tendency. Keep a lid on, imo, with more than 6, as the numbers drop they can get nippy towards each other. I will find a lid for my odd aquarium and happily buy more of these guys.
Date published: 2016-01-03
Rated

5

out of

5
by
Tiggy204
from
Great Schooling fish
I have 10 of these guys in my 20 gallon aquaruim and they seem very happy. The more the marrier with schooling fish. These guys swim around the whole tank and explore on their own, since I don't have a large fish they feel safe. For anyone that wants to get these fish, I recommand a school of 5-6 or more. Keeps them from hiding.
Date published: 2014-01-06
Rated

5

out of

5
by
tmccue89
from
Great little schoolers!
These little guys are a great beginner fish that are pretty hardy and can really bring some life to the tank. While I mention they are a hardier fish that can live through some of the learning curb suffered by most beginning enthusiasts, it is also best to not make the rookie mistake of only keeping a 1 or 2 of them. These are shoaling fish that are much happier in a group of 6+. Not only will a group of this size make the fish happier and in turn healthier, it is much more entertaining and impressive watching a group of them swim throughout your tank together. Personally I have 7 of these guys in as a mainstay of my 25 gallon tall tank community, and it is always fun watching these guys swim around in unison. They really love to put on a little show as many times I can catch them across the room just chilling and staying still, but when I come over closer to watch them it is playtime! As for care the temperature stated is good on this page, I personally try to keep between 78-80 in my tank. These guys are pretty adaptable to you tank parameters but try not to go on extremes with you pH and keep it between 6-7.5 and they should stay more than happy.
Date published: 2013-06-15
Rated

5

out of

5
by
NikNak56923
from
Awesome fish!
I have a school of 5 rasboras and have had them in a 10g with two red honey gouramis for about a month now. All 5 are healthy, active and get along great with all their tankmates. Most of the time they stay together in pairs or as a group, so I'd definitely recommend getting at least 5-6 to make them more comfortable. I noticed the description also says they are "top swimmers", but mine seem to spend an equal amount of time in the bottom, middle, and top areas of the tank. They're awesome fish and I'd definitely recommend them!
Date published: 2013-06-21
y_2017, m_12, d_13, h_24
bvseo_bulk, prod_bvrr, vn_bulk_2.0.3
cp_1, bvpage1
co_hasreviews, tv_0, tr_25
loc_en_US, sid_15281, prod, sort_[SortEntry(order=HELPFULNESS, direction=DESCENDING), SortEntry(order=POSITIVE_FEEDBACK, direction=DESCENDING), SortEntry(order=SUBMISSION_TIME, direction=DESCENDING)]
clientName_petsmart
can they live with male betta fish
Asked by: rince3
Yes, they are one of the best tank mates to put with bettas
Answered by: KenKen123
Date published: 2017-11-25
I was reading online these are the most compatible fish to place with Bettas. Because they live in the same habitat side by side, is that true?
Asked by: Nicole_0114
I have a MALE BETTA who coexist HAPPILY with 6 RASBORAS, 6 FEMALE GUPPIES, 6 NEON TETRAS , 2 ALBINO CORY CATS, a SNAIL, and an ALBINO PLECO
Answered by: SUNSHINESISTER
Date published: 2017-11-25
y_2017, m_12, d_13, h_24CST
bvseo_bulk, prod_bvqa, vn_bulk_2.0.3
cp_1, bvpage1
co_hasquestionsanswers, tq_2
loc_en_US, sid_15281, prod, sort_[SortEntry(order=LAST_APPROVED_ANSWER_SUBMISSION_TIME, direction=DESCENDING)]
clientName_petsmart