GloFish® Cosmic Blue Tetra Fish
Details
https://www.petsmart.com/fish/live-fish/goldfish-betta-and-more/glofish-cosmic-blue-tetra-fish-5223698.html
Promotions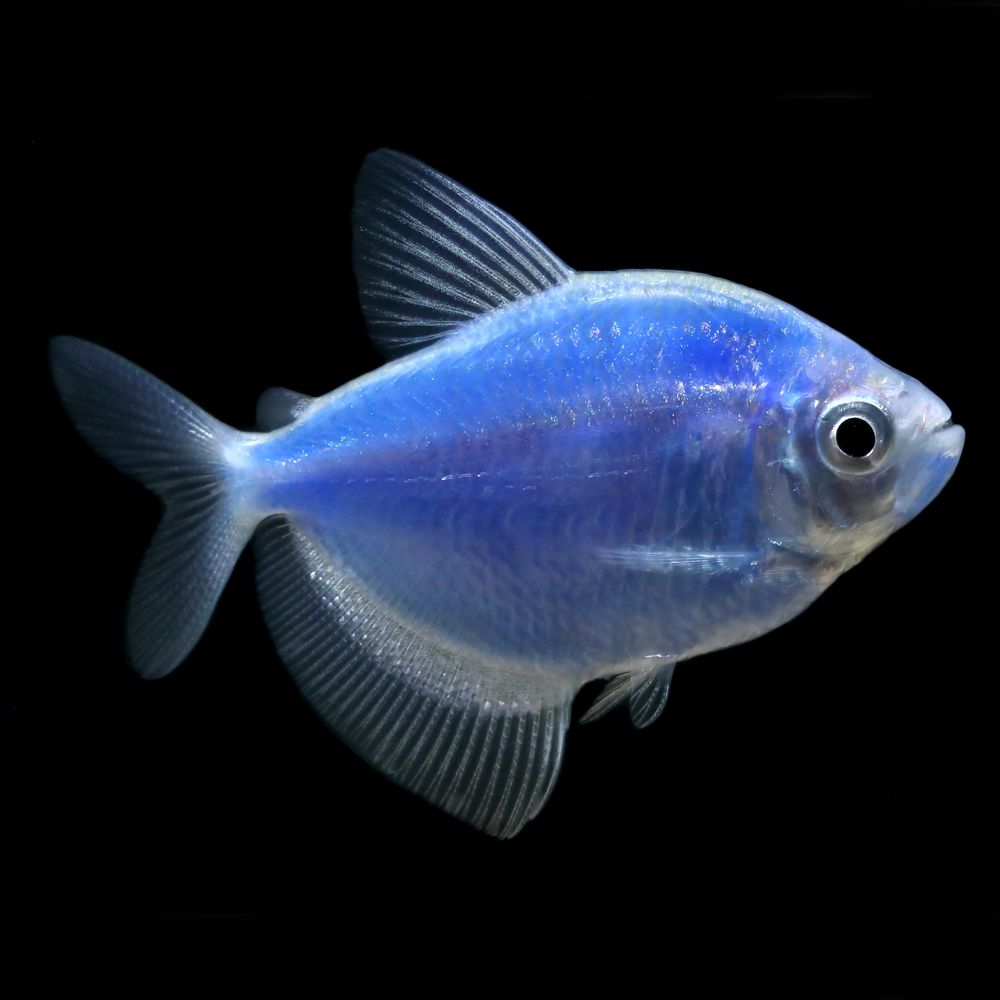 Variations
Please select a variation value to continue
This item is not available for in-store pickup. Check store availability.
Would these fish go well with a Green Lantern Platy or two?
Depends on the size of your tank. If you have 29gallons+ yes. You will need a school of the tetras though (3 or more minimum).
Date published: 2019-02-04
Do they need salt water
no they dont
Date published: 2019-02-05
I want to get a "blue" colored fish. I have all other colors besides blue. Can this fish live peacefully with other freshwater fish that are not glo fish?
This is a fish that needs to be in a school, and if the tank is large enough and you have compatible fish, this is good for you.
Date published: 2019-02-04
So I was wondering if I get this fish if it can fit in a 3.5 gallon enchant aquarium and if so if it can live with a Buenos Aires tetra in the same tank 
Good rule to keep is, 1 gallon per inch of fish. Also, this type of fish is a Tetra so it should live peacefully with other Tetra's as well. Good luck!
Date published: 2019-02-04
Would glofish be able to live in a 2 gallon tank? And would the delta guppy be able to live in a 2 gal. Also?
Definitely not. The only thing that can be comfortable in a 2 gallon would be a small group of shrimp, or maybe some sort of snail. Even bettafish need 2.5 gallons. Tetras need list of space to move, they're very active. And they shouldn't be kept with small fish with flowy tails (ex. guppies) because the tetras can rip and tear at the fins. 
Date published: 2019-02-04
What is the temperature that these fishes need their water to be? 
My 6 glo tetras are happiest at 77 degrees, you should use an aquarium heater. 
Date published: 2019-02-04
Can live fish be shipped to my house?
Sometimes yes, but it appears here doesn't do so.
Date published: 2018-01-29
Are the glofish compatible with other fish? Especially other neons?
Yes very much so they like other fish even other species as long as they are small. I'm glad you asked before doing it.
Date published: 2019-03-31