Fantail Goldfish
Details
https://www.petsmart.com/fish/live-fish/goldfish-betta-and-more/fantail-goldfish-4032307.html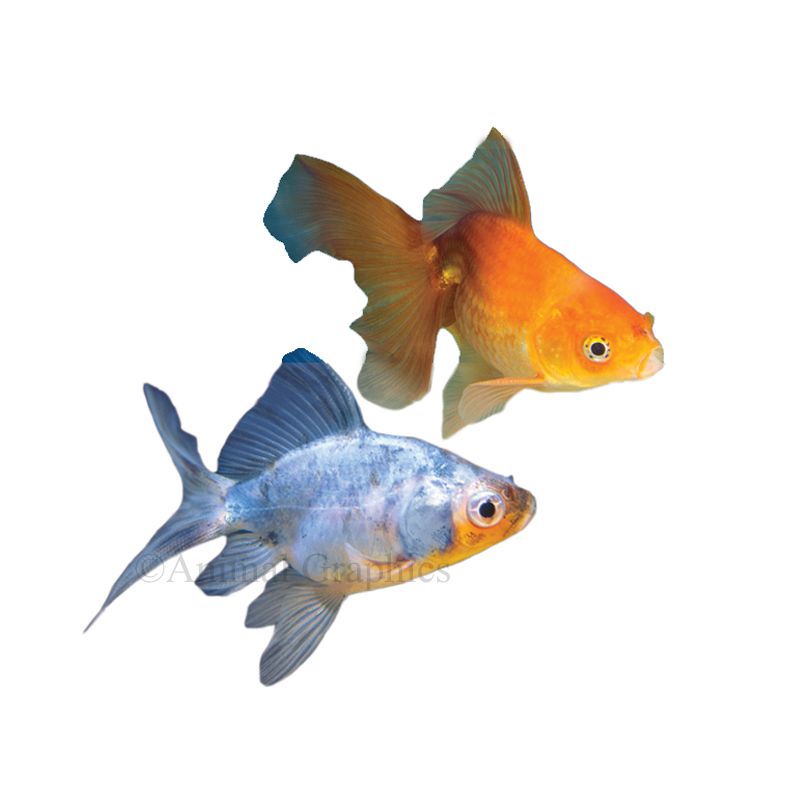 Variations
Please select a variation value to continue
This item is not available for in-store pickup. Check store availability.
product highlights
Diet: Flake, Pellets
Maximum size: 6"
Water temperature: 64-75&deg F
Swimming level: Middle
Experience level: Beginner
Tank Setup: 29+ gallons, lightly planted
Note: Pet availability is seasonal. State and local regulations may vary. Pricing may vary by store location. PetSmart stores cannot match the price above for this pet. Ask a store associate for details.
Thinking about adding a goldfish to your family? You're not alone! Every year millions of people enter the wonderful world of Pet Parenting by starting with one of many species of goldfish. Goldfish are hardy, fascinating fish that are fairly easy to care for, which makes them one of the first choices for kids and classroom pets.
Unlike tropical fish, goldfish will live in a wide range of water temperatures. Most goldfish are peaceful and schooling fish that mix well with other goldfish. They come in a variety of striking colors with fascinating features like telescoping eyes and a veiltail. They are best suited for a larger aquarium with lots of filtration (e.g., outside power filter). The minimum aquarium size for two adult goldfish should be 29 gallons.
Learn about Fantail Goldfish
Omnivores
Fantail goldfish will eat both plants and tiny, living creatures like small aquatic crustaceans and aquatic insect larvae.
Middle swimmers
You will see these fish swimming in the middle of your aquarium.
Aquarium fish only
Never put fantail goldfish into a pond environment. They are at a distinct disadvantage with predators as well as other types of goldfish and koi.
Staple diet
Choose vegetable-based flake and pellet foods. Sinking foods are recommended to prevent gulping air during eating. Feed according to the directions on the packaging.
Supplements
To boost the overall health of fantail goldfish, supplement their diet with plenty of fresh vegetables, such as zucchini, romaine lettuce and peas.
Décor
Decorate their aquarium sparsely with driftwood or rockwork, but be sure to leave a large, open area in the center of the aquarium for swimming. Since goldfish will eat live plants, opt for plastic plants instead.
Gravel
These fish prefer fine gravel or sand substrate on the bottom of the aquarium. Since goldfish sift through the sand in search of food, larger grains of gravel may become lodged in their throats and can be difficult, if not impossible, to remove.
Vet Assured™ Promise
All pets purchased at PetSmart are raised under our exclusive Vet Assured program and come with a 14-day satisfaction guarantee. Vet Assured is a program designed by PetSmart veterinarians to improve the health and well-being of our pets. The program sets standards for the care of our pets by our live animal partners and store associates and establishes strict standards for the monitoring and prevention of common illnesses found in pets. PetSmart makes a significant investment in the care of our pets and it is apparent in the quality and comfort of the pets in our stores. However, if your pet becomes ill during this initial 14-day period, or if you're not satisfied with your pet for any reason, PetSmart will gladly replace the pet or refund the purchase price. Please keep your sales receipt and return the pet to the store where it was purchased if needed.
Fantail Goldfish
is rated
4.7
out of
5
by
66
.
Rated

4

out of

5
by
fishiefriends
from
Adorable
Fantail goldfish are full of personality. They can get very chubby, which is cute in my opinion. I would recommend 10-20 gallons for each fancy goldfish. If you have the space, and are looking for goldfish, fantails are the way to go! They come in TONS of colors. The ONLY thing I don't like about fantails (and all goldfish) is that they need so much space, since they get 6+ inches. Overall, they are awesome, fun to have and very cheap for such a hardy fish!
Date published: 2014-01-26
Rated

4

out of

5
by
Bluerobot13
from
Cute little fish
I love mine! It's name is Mango. She's kind of a mix of ryukin and fantail, in my opinion. She gets along great with Comet and Luna. (Before you get mad at me for having a comet and a fancy together, I'll tell you that I make sure she gets fed fine!). Make sure you have at least 10 gallons, more is definitely better. Mine is 36 gallons. Great fish as long as you have the space.
Date published: 2013-08-06
Rated

5

out of

5
by
VTHokieFishKeeper
from
Excellent Idea
I kept a betta in the past who was beautiful, but he would throw a fit and stop eating for a week when I cleaned his tank or transported him home for school breaks, so I decided to get something that was cute, colorful, and well known for eternal hunger! I bought just one but he looked lonely, so I went back the next day and got another one. Best idea ever. They stick to each other like glue, even when they sleep! It's been two months now and they are healthy as ever. The only issue I've had so far is that the second one I got is prone to swim bladder issues. The first one has floated once or twice, but the second one floats every time he eats. I've started feeding peas (which they LOVE) and I'm looking into sinking pellets for them, but it's something that you should know they are prone to.
Date published: 2013-10-17
Rated

5

out of

5
by
LILYEATSLIPSTICK
from
Cute
I got one a few hours ago. I let him/her aclimate for 15/20 minutes. I put him/her in my marina cool7(wich i have a review on) Mine is all orange, and I expected my fish to be skittish at first for the first 1-5 days,but my fish only really hid for about 5-20 minutes, but when I fed my fish, he/she almost ate out of my hand! A perfect pet for anyone that is a good animal caregiver. Also,My Fish's name is JAWS.
Date published: 2014-12-29
Rated

5

out of

5
by
biggy34
from
Very nice fish.
These are one of the more common goldfish people buy for fish tanks. The fantails need a little more of a warmer water than standard goldfish, but an indoor tank between 68 to 76 degrees will be fine. I have on now, and owned several in the past. The fantails make a nice addition to goldfish tanks, but should be careful about adding them to tropical fish tanks. The fantails also get abused in that way. I think most people enjoy them. They need a diet of flake and blood worms to keep them from getting swim bladder.
Date published: 2013-11-02
Rated

5

out of

5
by
Stonewoot
from
great fish
I know some people say gold fish are not cute, that is totally not true with the fantails! there colors can be very vibrant and you will love watching there tails awesome motion underwater!
Date published: 2013-11-18
Rated

5

out of

5
by
PetReviewer
from
Wonderful, happy, cute fish!
I have two fantail goldies (Sherlock and Watson) from Petsmart and they're the cutest, happiest fish I've ever had. They're very interactive and like to bop around their tank. They're very hardy and I've been able to heal them from multiple ailments, one of which I've heard is usually fatal to fish. One thing you need to know about goldfish is that they grow big. Fantails should have at the very least a 10 gallon tank. Goldfish also are not very compatible with other fish. They are coldwater fish and are usually too messy for other fish to survive. They also live a long time, so be careful what you're getting into before you buy a goldfish!
Date published: 2013-04-02
Rated

5

out of

5
by
AgentCheese
from
Awesome fish!
I've had my fantail goldfish for about six months. I went to the pet store looking for a betta, but I saw this little guy and he looked just like a typical goldfish. I like all goldfish, but this one looked a lot more natural than the ones with the growths on their heads or the crazy colours. He was little, and orange. I fell in love with him! I kept him in a small container (one gallon+) that my boyfriend had bought for me when I bought a betta in the past, but is now in a 5 gallon tank with a few little friends (a baby ranchu, and 2 little algae eaters) until I can set up my 29 gallon tank which I have already purchased, but is still in the box. This will be set up once my room has been redone. :) For being kept in such a tiny container without a filter, just regular water changes, he has done very well! I would recommend this fish to anyone who wants a hardy goldfish, but wants something a little more fancy than just a common, or feeder goldfish. :)
Date published: 2013-01-30
y_2018, m_1, d_19, h_6
bvseo_bulk, prod_bvrr, vn_bulk_2.0.6
cp_1, bvpage1
co_hasreviews, tv_0, tr_66
loc_en_US, sid_15212, prod, sort_[SortEntry(order=HELPFULNESS, direction=DESCENDING), SortEntry(order=POSITIVE_FEEDBACK, direction=DESCENDING), SortEntry(order=SUBMISSION_TIME, direction=DESCENDING)]
clientName_petsmart
is a fantail goldfish easy to take care of
Asked by: random
No, this is one hard fish to take care of. I had 4 die after a few days, would not recommend. Get a green anole, they are a way better deal for the price
Answered by: rodloger16
Date published: 2018-01-13
How big is a small size Fantail when bought from store?How big can it grow in a small glass jar?Does it grow as the glass gets bigger? How many gallons 1 Fantail need?Where did this fish come from?Can 2 fantail be place in the same place and be separated?
Asked by: Fishy wonder
y_2018, m_1, d_19, h_6CST
bvseo_bulk, prod_bvqa, vn_bulk_2.0.6
cp_1, bvpage1
co_hasquestionsanswers, tq_2
loc_en_US, sid_15212, prod, sort_[SortEntry(order=LAST_APPROVED_ANSWER_SUBMISSION_TIME, direction=DESCENDING)]
clientName_petsmart