Fancy Goldfish
Details
https://www.petsmart.com/fish/live-fish/goldfish-betta-and-more/fancy-goldfish-4032741.html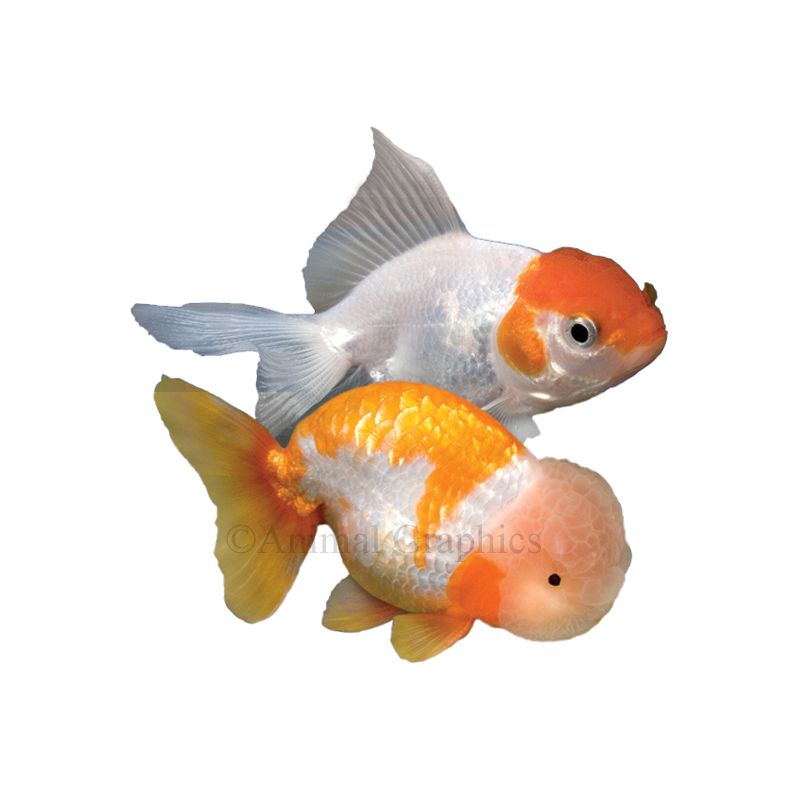 Variations
Please select a variation value to continue
This item is not available for in-store pickup. Check store availability.
product highlights
Diet: Flake, Pellets
Maximum size: 6"
Water temperature: 64-75&deg F
Swimming level: Middle
Experience level: Beginner
Tank Setup: 29+ gallons, lightly planted
Note: Pet availability is seasonal. State and local regulations may vary. Pricing may vary by store location. PetSmart stores cannot match the price above for this pet. Ask a store associate for details.
Thinking about adding a goldfish to your family? You're not alone! Every year millions of people enter the wonderful world of Pet Parenting by starting with one of many species of goldfish. Goldfish are hardy, fascinating fish that are fairly easy to care for, which makes them one of the first choices for kids and classroom pets.
Unlike tropical fish, goldfish will live in a wide range of water temperatures. Most goldfish are peaceful and schooling fish that mix well with other goldfish. They come in a variety of striking colors with fascinating features like telescoping eyes and a veiltail. They are best suited for a larger aquarium with lots of filtration (e.g., outside power filter). The minimum aquarium size for two adult goldfish should be 29 gallons.
Learn about Fancy Goldfish
Omnivores
Fancy goldfish will eat both plants and tiny, living creatures like small aquatic crustaceans and aquatic insect larvae.
Middle swimmers
You will see these fish swimming in the middle of your aquarium.
Aquarium fish only
Never put fancy goldfish into a pond environment. They are at a distinct disadvantage with predators as well as other types of goldfish and koi.
Staple diet
Choose vegetable-based flake and pellet foods. Sinking foods are recommended to prevent gulping air during eating. Feed according to the directions on the packaging.
Supplements
To boost the overall health of fancy goldfish, supplement their diet with plentyof fresh vegetables, such as zucchini, romaine lettuce and peas.
Décor
Decorate their aquarium sparsely with driftwood or rockwork, but be sure to leave a large, open area in the center of the aquarium for swimming. Since goldfish will eat live plants, opt for plastic plants instead.
Gravel
These fish prefer fine gravel or sand substrate on the bottom of the aquarium. Since goldfish sift through the sand in search of food, larger grains of gravel may become lodged in their throats and can be difficult, if not impossible, to remove.
Vet Assured™ Promise
All pets purchased at PetSmart are raised under our exclusive Vet Assured program and come with a 14-day satisfaction guarantee. Vet Assured is a program designed by PetSmart veterinarians to improve the health and well-being of our pets. The program sets standards for the care of our pets by our live animal partners and store associates and establishes strict standards for the monitoring and prevention of common illnesses found in pets. PetSmart makes a significant investment in the care of our pets and it is apparent in the quality and comfort of the pets in our stores. However, if your pet becomes ill during this initial 14-day period, or if you're not satisfied with your pet for any reason, PetSmart will gladly replace the pet or refund the purchase price. Please keep your sales receipt and return the pet to the store where it was purchased if needed.
fadfadsdd
Fancy Goldfish
is rated
4.6
out of
5
by
22
.
Rated

5

out of

5
by
Nickawsome666
from
VEry good fish
I have two gold fish a oranda and a pearl scale they are awesome fish they might say for beginners but I would say no because there very messy they produce lots of waste and I do about 25% water change ever weak to make sure there ammonia lvl are down and they wont get red lines on there tails which means there water is dirty.
Date published: 2016-05-17
Rated

5

out of

5
by
Nani87
from
Beautiful Oranda
I eyed this beautiful fish for a couple months before shelling out the $30 for him. I've had him a couple weeks now and he is healthy and friendly as could be. I absolutely adore him. The pictures were taken in store a couple weeks before I brought him home.
Date published: 2016-12-07
Rated

5

out of

5
by
dbeasleyphx
from
Orandas are COOL!
Fancy Goldfish (Orandas, Moors, Ryukins, Fantails) are pretty, fun and a real stress reliever. They are social and not competitive for space as are most other fish. Their beautiful flowing fins and funny way of moving is a wonderful departure from nervous, territorial tropicals, cichlids, oscars, etc. Aggressive fish always go after each other, but not Orandas. Orandas love to play in the bubbles. They will suck air off of the surface and get their bellies full of air (usually resulting in infected bladders and death), so always soak their food in tank water (so it sinks) and give them shelled peas, cucumber slices, fresh spinach leaves... all of which they love. I have five large orandas and 2 algae eaters in my 90 gallon tank, Aqua Clear 110 Filter and a powerhead to keep the bubbles and circulation going.
Date published: 2011-02-13
Rated

5

out of

5
by
SassyGirls
from
These two are my favorite goldfish
I have a calico oranda and a oranda-bubble eye hybrid. They are both very dear to me. I bought them both at Petsmart and very pleased that I did. I have wanted a calico oranda for the past two years. Went to my local pet store, saw one, but opted not to get it. Luckily I was able to fine one at Petsmart. My calico was on the higher end of price, but worth every penny. He is so beautiful. I saw him the first time I went to Petsmart. I didn't have enough money and I was on a mission to buy something else that day. So I promised myself that if it was still there the next month I'd buy it. Sure enough it was, and I jumped at the chance. Well I debated with myself and my mom for a good half hour in the store. He is the crowning jewel in my tank, I love to watch him swim. He's just so beautiful. My oranda/bubble hybrid is a shock to me. I bought what was labeled an oranda that had orange and black on it (black is fading btw). It wasn't until it started growing that I realized that something is off with it. I thought its eyes were just weird. But as it got bigger I recognized those as bubbles. I had a oranda-bubble eye fish on my hands. I honestly have never heard of those two breeding. As he gets bigger, I monitor him to make sure his eyes are doing fine. So far so good (I have next to no experience with bubble eye fish). I don't know how he'll fair as he gets older. I'm hoping for the best though. Fancy goldfish need bare minimum 20 gallons. Add 10 gallons for each new fish. They're dirty/messy so expect a lot of cleaning. Double up on filtration. They are worth it, if you are prepared.
Date published: 2013-07-20
Rated

5

out of

5
by
fishiefriends
from
Amazing
I absolutely love my fancy goldfish. I have a ranchu and a crown pearlscale. Right now they are small, but they'll definitely grow. These are my favorite ones in all of my tanks. They're so unique. The ranchu swims very funny, and I love it. These fish are a great choice if you want a cold water tank, but you can find amazing ones for less money too. Mine did not cost the $32 that it says on here. They'll live a long time if you know what you're doing though! Fancy goldfish are very hardy fish. I've never had one die in my 4 years of fish keeping. You do have to watch out for swim bladder though. These guys get it very easily. Make sure to buy sinking food, or soak their food before feeding it to them. Also you can feed them peas and other vegetables, which will also help to prevent swim bladder. Overall these are amazing fish and I highly recommend them to anyone with a cold water tank large enough for them.
Date published: 2014-02-05
Rated

5

out of

5
by
Lschinaia
from
Orandas, Hardy Goldfish
My very first goldfish was an Oranda. As a kid I thought goldfish didn't live very long, BUT with proper care my Goldie lived for 10 years. I knew then that Orandas are one very hardy fish. They are not for everyone, they can be very large growing to 8 or 12 inches, and be a little messy. But if you are looking for a long lived and adaptable fish, think Oranda. They can take wide range of tanks, PH, and water quality. They are just great little fish. The other breeds have internal deformities from poor breeding or suffer from bloat, and not swim well. Orandas are the cross between fancy goldfish and sleek faster goldfish. If they are not overfed they can swim gracefully. I have two now... one is 3 and one is 7 (yes I count their birthdays) just as pretty as the day I bought them.
Date published: 2012-07-03
Rated

5

out of

5
by
Beau22
from
Beautiful fish, great personality! :)
Love these guys, they have the most adorable little faces & so much personality :) Would definitely reccommend!
Date published: 2013-01-06
Rated

5

out of

5
by
Lyssa111
from
Theyre Amazing!
I love my fancy goldfish!! I bought an Oranda and Lionhead from Petsmart and it was the best decision. To begin, these fish have great active personalities, they recognize you and have great characters. In addition, they are HUGE. They last about 10 years if kept healthy. I would recommend these, they are worth the price! They're gorgeous. As a side note: Although they are hardy fish, be sure to read up on the tank sizes for them. They will not grow or be the healthiest they can be if their environment is too small. Also, they are prone to swim bladder disease and other sicknesses if you're not careful.
Date published: 2014-07-02
y_2018, m_1, d_18, h_7
bvseo_bulk, prod_bvrr, vn_bulk_2.0.6
cp_1, bvpage1
co_hasreviews, tv_1, tr_21
loc_en_US, sid_15213, prod, sort_[SortEntry(order=HELPFULNESS, direction=DESCENDING), SortEntry(order=POSITIVE_FEEDBACK, direction=DESCENDING), SortEntry(order=SUBMISSION_TIME, direction=DESCENDING)]
clientName_petsmart
Do these ever go on sale?
Asked by: StacieF
Very rare occasions,PetSmart puts these fancies on sale for about 15.99. However, exactly when is unknown.
Answered by: Hb93
Date published: 2017-12-13
Hello how many large fancy goldfish do you have in the you have any Calico ones and are you able to send any pictures she was
Asked by: Marvindenver
y_2018, m_1, d_18, h_7CST
bvseo_bulk, prod_bvqa, vn_bulk_2.0.6
cp_1, bvpage1
co_hasquestionsanswers, tq_2
loc_en_US, sid_15213, prod, sort_[SortEntry(order=LAST_APPROVED_ANSWER_SUBMISSION_TIME, direction=DESCENDING)]
clientName_petsmart