Crowntail Betta
Details
https://www.petsmart.com/fish/live-fish/goldfish-betta-and-more/crowntail-betta-5107695.html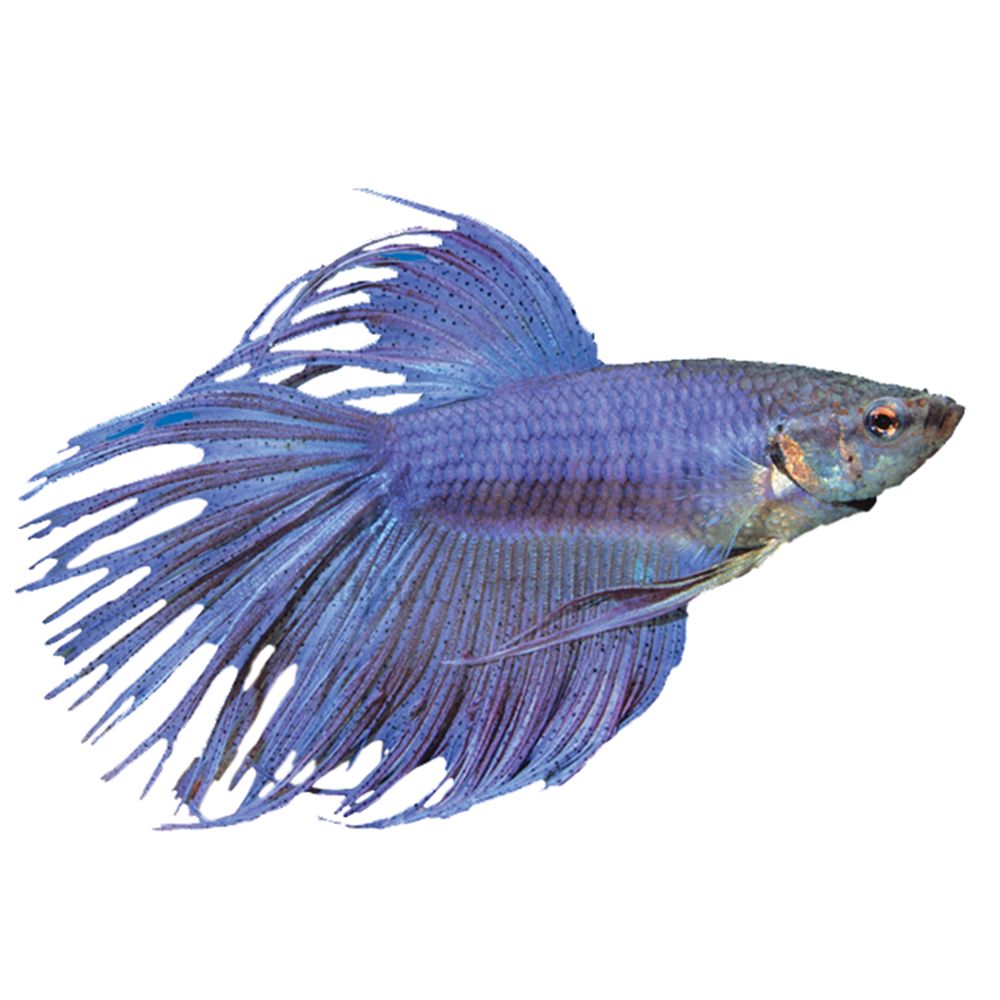 Variations
Please select a variation value to continue
This item is not available for in-store pickup. Check store availability.
product highlights
Diet: Flake, Frozen, Freeze-dried
Maximum size: 2.5"
Water temperature: 72-82&deg F
Swimming level: All
Experience level: Intermediate
Tank Setup: 1+ quart, solitary pet
Note: Pet availability is seasonal. State and local regulations may vary. Pricing may vary by store location. PetSmart stores cannot match the price above for this pet. Ask a store associate for details.
With their long flowing tails and vibrant colors, its no wonder that bettas are one of the most popular fish for beginner aquarists. They are easy to care for and make a great ornamental addition to any desk, kids room or living space. While female bettas are not aggressive and can live together peacefully, male bettas are aggressive toward each other. Therefore, house only one male with smaller, peaceful fish in a community aquarium, or keep him alone in a one-quart or larger bowl.
Bettas gulp air from the water's surface to help them breathe. Youwill see your betta slowly swimming toward the top of your aquarium or bowl. They also tend to rest near the bottom. As carnivores, bettas eat mostly animal matter, including prepared foods and fresh, freeze dried or frozen foods. Choose a tropical flake or pellet food. Feed according to the directions on the packaging.
Learn about the Crowntail Betta
Common Name
Crowntail Betta
Other Common Names
Siamese Fighting Fish
Scientific Name
Betta splendens
Community
Gourami
Feeding Habits
Prefers small live foods such as brine shrimp, blood worms, glass worms and tubifex worms. Frozen brine shrimp, plankton, beef heart, glass worms and blood worms. Freeze dried food will be accepted on occasion.
Compatibility
More than one female can be kept in a peaceful community setting. Avoid fin-nipping fishes, such as some of the characins and barbs. Males, however, should either be housed in 1-gallon or larger containers as single specimens, or as the only male of its species in a peaceful community tank.
Habitat
Thailand-Cambodia: Moderately decorate with live plants, rocks and driftwood.
Breeding
The male has the long flowing fins and the female has very short round fins. The male will create a bubble nest at the top of the aquarium, and the eggs will develop in there until they hatch in about 24 hours.
Additional Comments
Their bright colors are from breeding in captivity. They also have the ability to breathe air from the surface through their labyrinth, which acts like lungs.
Vet Assured™ Promise
All pets purchased at PetSmart are raised under our exclusive Vet Assured program and come with a 14-day satisfaction guarantee. Vet Assured is a program designed by PetSmart veterinarians to improve the health and well-being of our pets. The program sets standards for the care of our pets by our live animal partners and store associates and establishes strict standards for the monitoring and prevention of common illnesses found in pets. PetSmart makes a significant investment in the care of our pets and it is apparent in the quality and comfort of the pets in our stores. However, if your pet becomes ill during this initial 14-day period, or if you're not satisfied with your pet for any reason, PetSmart will gladly replace the pet or refund the purchase price. Please keep your sales receipt and return the pet to the store where it was purchased if needed.
Crowntail Betta
is rated
4.8
out of
5
by
171
.
Rated

5

out of

5
by
Beets
from
Fun little pet
I was given a crowntail betta on Valentine's Day. He's my first fish ever, and I just adore him. I had no idea a fish could have so much personality. He's lively and always comes up to the glass when I stop to watch him. He's easy to care for. I've got him in a 5-gallon tank with a low-flow filter and a 50-watt submersible heater that keeps the water at exactly 78 degrees, some soft silk plants and a moss ball. At first I was going to keep him in a bowl, but he seems to like having room to prowl around. I would definitely recommend bettas to anyone interested in keeping fish. Every time I pass the betta display, it's a struggle not to buy another tank and bring another betta home.
Date published: 2013-04-06
Rated

5

out of

5
by
SomethingsFishy8508121212
from
Beautiful, great personality and temperament
I purchased a beautiful blue crowntail with a deep red color on the tip of the rear fins. The fish and my daughter have a special relationship, as strange as it may sound. The fish always greets my daughter at feeding time and will take food straight from her hands. He will also swim through our hands when held in a loop position near the surface of the water. I house him along with a few White Cloud Mountain minnows of various gender and they get along great (your mileage may vary on that depending on the individual temperament of your Betta...remember to keep the water temperature at 75 degrees farenheit when housing these species together). The minnows and the Betta even school together. It is so cool. Since he is male, he often blows bubble nests, which is a great way of knowing whether your Betta is happy in his environment. He is very easy to take care of, with twice per day feedings. As stated earlier, you will need a heater if you live in a place that gets cold in certain seasons, as they prefer water temperature between 75 and 85 degrees. Use plenty of real plants or silk ones to ensure the fish doesn't get hurt, as the plastic plants can indeed cause unintentional injury. While there is an open debate over the use of filtration in a tank with a Betta, I've found that filtration set at the lowest setting is very acceptable and helps to keep the aquarium clean without bothering the Betta fish. Please only purchase a Betta after doing your research. A lot of people do not understand the needs of the species and end up having them live shorter, suboptimal lives. Fish are animals that are capable of feeling pain. You wouldn't buy a dog or cat without getting all the necessary supplies so please do not treat your fish any differenly. Most of all, have fun. This is a great hobby and hours of entertainment for a young child and her dear old dad.
Date published: 2015-12-18
Rated

5

out of

5
by
Lizlovesfish
from
Amazing.
I love my betta! His name is Science and he is blue and red with a touch of purple. I got him about a month ago. He is in a heated 5 gallon tank with filter, hood and lights.He is very happy and makes lots of bubble nests.His' tank has black gravel with a bit of purple and he has 3 plants.Happy as can be. Science likes to swim around and play with his floating plant. Really fun to watch. No smaller than 3 gallons per betta ,even though people say 1\4 of a gallon is okay, it isn't.
Date published: 2013-12-05
Rated

5

out of

5
by
VirgoWolf91
from
Fun Little Fish
My boyfriend recently bought me a red crowntail betta. I recieved a tank and decor for christmas and after it was set up for a few days he took me out to buy me a betta. His tank has an asian theme to it so I named him Mushu. He's very active in his tank being that it's much bigger than the little cup he was in at the store. So with given plenty of space these little fish can be very active
Date published: 2013-12-30
Rated

5

out of

5
by
NibblesAndTeddi
from
We Love Them!
I'm definitely a 'fish person'. I've had goldfish, tropical fish, marine tanks, live coral, etc. About a year ago, I decided to spice it up and I purchased a blue crowntail betta named Moki. I love him to death. He's got LOTS of personality, he's sassy, follows my finger, flashes nicely with the mirror, and is a generally all-around great fish. I'm definitely more of a betta person now! My next goal is to purchase another male (of course, in a separate tank), a female (separate tank), a baby (separate tank) and another male, but Moki will always be special... Keep in mind, the minimum tank size for these guys is 2.5 gallons. NO TINY CUPS OR BOWLS! These fish are very hard to keep healthy. They need a heater, special silk plants to make sure their fins don't tear, a filter, weekly water changes, places to hide, etc. I learned this very quickly. At first, Moki had a small bowl, but I quickly transferred him to a 5 gallon aquarium. If you're looking for a sassy, fun fish who will entertain you, a betta is for you!
Date published: 2013-11-12
Rated

5

out of

5
by
LauraLeigh
from
Great pets!
Bettas are great pets with big personalities! I have 4, and I'm looking to get another soon. However, these beauties require more than a bowl and room temperature water. I have both of my crowntails in a 5gal with a filter,a weekly water change, some silk plants and a heater, and they are very colorful and active.
Date published: 2013-10-11
Rated

5

out of

5
by
kelseyk
from
Beautiful fish.
I got my betta Liberty from here and I'm really happy with him. He's a halfmoon, he's white, red and blue and he's really active and he sort of glows. He's in a 2.5gallon tank that receives a 20% water change once a week and I wouldn't put him in anything smaller than that. I keep the blinds open on a north facing window so he gets indirect sunlight and he's really thriving. He's been taught how to flare on command when I put the end of his cleaning toothbrush near the glass of his tank. overall very happy with my fish and hope to spend lots of time with him.
Date published: 2013-01-18
Rated

5

out of

5
by
Steenie
from
Beautiful and active!
It took me forever to decide, there were so many to choose from! I ended up picking a halfmoon betta which was a bit more expensive at $9.99. He was one of the most active ones there. When I put him in his new tank he went exploring, so cute!!
Date published: 2012-12-07
y_2017, m_12, d_14, h_21
bvseo_bulk, prod_bvrr, vn_bulk_2.0.3
cp_1, bvpage1
co_hasreviews, tv_6, tr_165
loc_en_US, sid_15248, prod, sort_[SortEntry(order=HELPFULNESS, direction=DESCENDING), SortEntry(order=POSITIVE_FEEDBACK, direction=DESCENDING), SortEntry(order=SUBMISSION_TIME, direction=DESCENDING)]
clientName_petsmart
do they come in yellow?
Asked by: Hannah Evershed
Yes but it may be hard to find one in yellow
Answered by: Hannah Karin
Date published: 2017-10-26
how long do these fish live and how big are they
Asked by: macy b
Betta live about 5 years with good care. That means 5-10 gallon tank and weekly water changes and water testing and soft hiding places that will not tear their fins. They are about 2-3 inches at max, but by no means are you to keep them in a bowl or cup!!!
Answered by: bettaprotector347
Date published: 2017-11-18
Do you have to be 18 years old or over to buy a fish?
Asked by: Alexandra Nieves
y_2017, m_12, d_14, h_21CST
bvseo_bulk, prod_bvqa, vn_bulk_2.0.3
cp_1, bvpage1
co_hasquestionsanswers, tq_3
loc_en_US, sid_15248, prod, sort_[SortEntry(order=LAST_APPROVED_ANSWER_SUBMISSION_TIME, direction=DESCENDING)]
clientName_petsmart