Cremecicle Lyretail Molly
Details
https://www.petsmart.com/fish/live-fish/goldfish-betta-and-more/cremecicle-lyretail-molly-4033047.html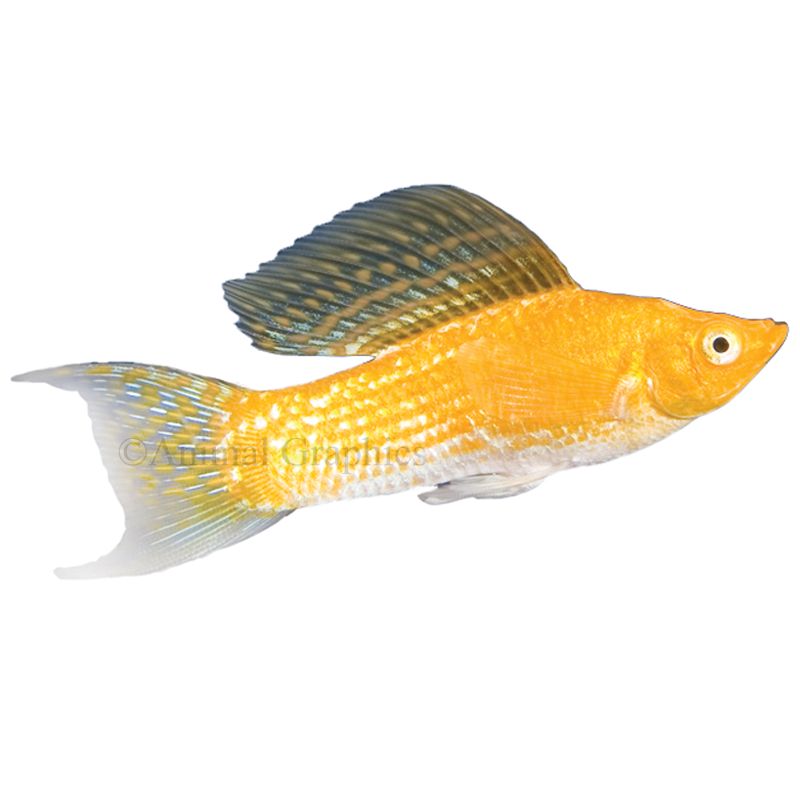 Variations
Please select a variation value to continue
Available only at select locations
not available for online purchase. please check availability at other stores.
product highlights
Diet: Flake, Frozen, Freeze-dried
Maximum size: 3"
Water temperature: 72-82&deg F
Swimming level: Middle
Experience level: Beginner
Tank Setup: 10+ gallons, moderately planted
Note: Pet availability is seasonal. State and local regulations may vary. Pricing may vary by store location. PetSmart stores cannot match the price above for this pet. Ask a store associate for details. Great for beginner aquarists, mollies are attractive, hardy fish that come in a variety of colorations and color patterns. Mollies are peaceful fish that will sometimes school with their own kind. Females should out number males two to one. One of the most fascinating features of mollies is that they are a livebearing species, meaning they give birth to free-swimming offspring.
Learn about Cremecicle Lyretail Mollies
Common Name
Cremecicle Lyretail Molly
Scientific Name
Poecilia sphenops species
Family
Poeciliidae
Feeding Habits
Fresh spinach, zucchini, peas and lettuce. Live blood worms, glass worms, brine shrimp and tubifex worms. Frozen vegetable diet, daphnia, plankton, beef heart, brine shrimp, glass worms and blood worms. Flake and freeze dried foods also accepted.
Compatibility
Peaceful fish that will sometimes school with their own kind. Females should out number males two to one.
Habitat
Columbia: Moderately decorated with rocks, live plants and driftwood.
Breeding
The male has a longer pointed dorsal fin, while the females is smaller and rounded. Males also have a gonopodium (underneath the body of the male is one fin that hangs down and what looks like a fin folded up against his body, this is a gonopodium. Where as the female has two fins that hang down). They are livebearers that will produce 20-40 babies at one time and they will eat their young.
Additional Comments
Many color and fin variations have been commercially produced over the years by breeders.
Vet Assured™ Promise
All pets purchased at PetSmart are raised under our exclusive Vet Assured program and come with a 14-day satisfaction guarantee. Vet Assured is a program designed by PetSmart veterinarians to improve the health and well-being of our pets. The program sets standards for the care of our pets by our live animal partners and store associates and establishes strict standards for the monitoring and prevention of common illnesses found in pets. PetSmart makes a significant investment in the care of our pets and it is apparent in the quality and comfort of the pets in our stores. However, if your pet becomes ill during this initial 14-day period, or if you're not satisfied with your pet for any reason, PetSmart will gladly replace the pet or refund the purchase price. Please keep your sales receipt and return the pet to the store where it was purchased if needed.
Keep Shopping
Pet Parents Also Bought
Cremecicle Lyretail Molly
is rated
4.6
out of
5
by
48
.
Rated

5

out of

5
by
srsi1970
from
An especially good find
Easy fish to take care of. Very nice coloring. Great for community tanks. Im writing this review for one purpose. To tell you to wait for the PERFECT fish on this one. These fish come in frequently in perfect coloration. Most fish have their one in a hundred especially nice looking specimen but not these mollies. Id say every 1 out of 5-8 is so beautiful and captivating it is worth waiting for. Not that the other fish will be bad or sub par but if you dont see one or two mollies in the tank that are MUCH MUCH better colored than even the one pictured above wait for the next weekly shipment
Date published: 2011-02-05
Rated

5

out of

5
by
PreTeenMermaid101
from
If you want beautiful, hardy fish, this it is!
My male Cremecicle Lyretail molly, Mango is very crazy and dopy. He is not scared easily, in fact he's curios, he just is very active. He has a great personality and is super cute! He's hardy, beautiful and a good community fish.
Date published: 2014-01-24
Rated

5

out of

5
by
nino2000
from
a brave fun kind fish!
i bought a male cremicycle 5 years ago and he is still alive and active! but the best thing is that he is basically a protecter in my tank! when my fish get a little aggresive he comes and chases them off until they calm down and he loves protecting the females the most! he aready got most the females pregnant! if you are looking for a fun and nice fish i suggest the cremicycle lyretail mollie!
Date published: 2013-02-14
Rated

5

out of

5
by
LCollins12
from
Beautiful pet
I absolutely love this fish. I currently have a community tank, and I've been keeping fish for 5 years now. I have had tanks from all sizes 5gal to 55gal. This is one of my first mollys. I am normally a fancy goldfish person. I love Oranda's and putting a pleco or other bottom feeder with them. My husband wanted us to go for something different. He chose a Dalmation molly, and I chose this lovely fish. If I couldn't have a goldfish I was at least going to stick with the same color! This fish is so active and friendly. The main swimmer in my community. I have a mystery snail in the tank as well and they all get along well. I would recommend this fish for beginners and experienced keepers.
Date published: 2013-12-10
Rated

5

out of

5
by
thefishcarer
from
great fish
this fish is very great. Very nice to my others but can get a little a little mean to the other female mollies but nice to my others. This fish is a fantastic fish and i think it should be added to any tropical community tank like mine.
Date published: 2010-08-14
Rated

5

out of

5
by
JLibro357
from
Fvorite Fish
At first this fish was aggressive. Now i've had it for 6 months and it has became so colorful. I have it in a 6 gallon fluval edge aquarium. It also follows me when I come to the front of the tank. It is a big eater is the only thing wrong. Once again this is my favorite fish in the tank.
Date published: 2013-01-08
Rated

4

out of

5
by
ToothyGrins
from
Lovely and Hungry
I cannot speak for everyone who's owned this particular fish, but from my experience, I'd say the Creamsicle Lyretail Molly is worth considering. Here is what I have to say about them; -The example picture does not do this animal justice. I don't know if I just got lucky, but I do know that all three of my mollies are simply lovely. The male is especially gorgeous. I feel the name 'Sunfire' more than suits him. -I started with three fish. It's been two months. I'm still at three fish. So far so good. -The first half week in which I brought my fish home, the huddled together in the corner. They are looong over this phase. Once comfortable, these mollies are ridiculously social and brave. They've gotten to the point where I can stick my finger in the tank and they'll nibble it. They've also become very curious about my cat... It's quite amusing. -They get along perfectly with not only one another, but my danio's and my otto's. -The only problem I'd say I've had with these fish... they are terrible gluttons. They are hungry all. The. Time. If it fits in their mouths, it will be eaten, no exceptions. I find it difficult to feed my otto's because the instant I drop in an algae wafer they are all over it. And they get fed six days out of seven! So I suppose I wouldn't recommend them to anyone who already own any kind of shy fish who wouldn't be able to hold their own. o-o
Date published: 2012-12-02
Rated

4

out of

5
by
Garlover
from
Awesome!!!!
I have 2 of these and the are great fish very hardy and easy to care for! I keep mine with a wide variety of fish and have seen no signs of aggression towards the other fish:) Pros: cheap hardy and easy to breed Cons: very very few
Date published: 2013-12-09
y_2018, m_2, d_21, h_22
bvseo_bulk, prod_bvrr, vn_bulk_2.0.7
cp_1, bvpage1
co_hasreviews, tv_3, tr_45
loc_en_US, sid_15247, prod, sort_[SortEntry(order=HELPFULNESS, direction=DESCENDING), SortEntry(order=POSITIVE_FEEDBACK, direction=DESCENDING), SortEntry(order=SUBMISSION_TIME, direction=DESCENDING)]
clientName_petsmart