Angelfish
Details
https://www.petsmart.com/fish/live-fish/goldfish-betta-and-more/angelfish-4034664.html
Promotions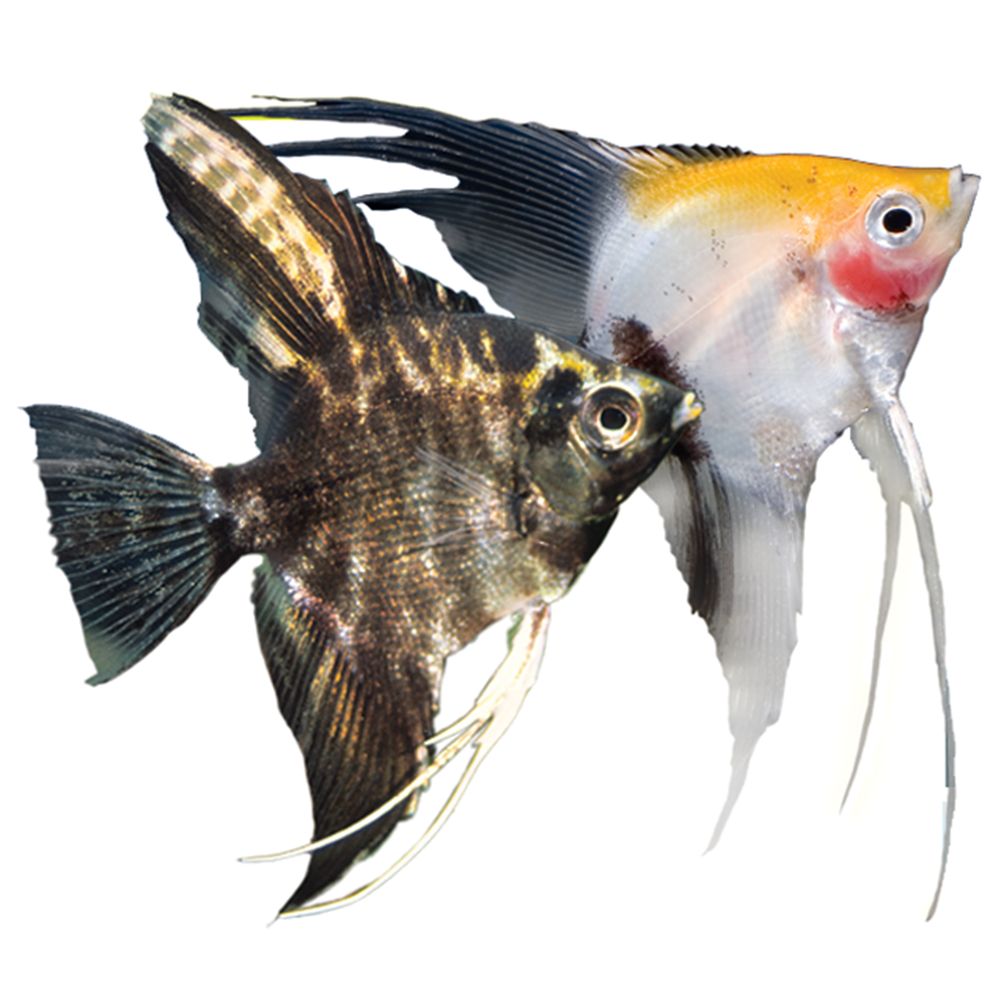 Variations
Please select a variation value to continue
This item is not available for in-store pickup. Check store availability.
product highlights
Angelfish are generally peaceful with same-sized fish, but breeding angels may become aggressive. Also, they will eat fish small enough to fit in their mouths. Angelfish are shy and need plenty of cover areas like tall plants with slender leaves. Instead of plants, these fish eat aquatic crustaceans, worms and aquatic insect larvae. Angelfish are beautiful tropical freshwater fish that come in a variety of colors. They are popular with fish hobbyists and can be found in tanks all over the world. You will see your angelfish swimming in the middle of your aquarium. To create a beautiful aquarium environment, be sure to add some top and bottom swimmers as well. Ask a PetSmart associate to help you choose.
Features: Shy and need cover areas; Generally peaceful with same-sized fish
Includes: 1 Fish
Experience Level: Intermediate
Swimming Level: Middle
Color: Come in a variety of colors
Size: Maximum Size 6 in

Feeding Instructions:
Diet: Frozen, Freeze dried

Housing: 29+ gallon tank, Moderately planted, Water temperature 76-86 degrees F

Things to Remember

Staple diet
Choose a tropical flake or pellet fish food. Feed according to the directions on the packaging.

Specialty Foods
Angelfish will enjoy fresh or frozen bloodworms, brine shrimp and daphnia. Always remember to thaw frozen foods before feeding.

Frequent Feedings
For optimum health, feed your angelfish as much food as they will consume in 1-3 minutes, twice a day. You can alternate between regular staple diet feedings and 2-4 meals per week of a specialty food.

Aquarium
Start with a 29-gallon or larger, tall aquarium. A good rule of thumb is one gallon of water for every one inch of full-grown fish.

Decor
Decorate their aquarium with rocks, driftwood and plants, but be sure to place them on the sides and back of the aquarium so they'll have enough space to swim in the center. Avoid decor with sharp edges.

Fish Compability
Angelfish should not be housed with highly aggressive tank mates or fin nippers. They can share their aquarium with community gouramis, discus and other non-aggressive cichlids.

Note: Note: Pet availability is seasonal. State and local regulations may vary. Pricing may vary by store location. PetSmart stores cannot match the price above for this pet. Ask a store associate for details.

Vet Assured Promise
All pets purchased at PetSmart are raised under our exclusive Vet Assured program and come with a 14-day satisfaction guarantee. Vet Assured is a program designed by PetSmart veterinarians to improve the health and well-being of our pets. The program sets standards for the care of our pets by our live animal partners and store associates and establishes strict standards for the monitoring and prevention of common illnesses found in pets. PetSmart makes a significant investment in the care of our pets and it is apparent in the quality and comfort of the pets in our stores. However, if your pet becomes ill during this initial 14-day period, or if you're not satisfied with your pet for any reason, PetSmart will gladly replace the pet or refund the purchase price. Please keep your sales receipt and return the pet to the store where it was purchased if needed.
Angelfish
is rated
4.6
out of
5
by
81
.
Rated

5

out of

5
by
CajunGirl87
from
Angelfish
Angelfish are my favorite freshwater fish! I've been having mine for a few years now. I have two in a 46 gallon bow front aquarium (I used to keep them in a 29 gal tank until I upgraded to this one). I don't think I'll ever have an aquarium without them in it! They are big & beautiful. My 2 Angels will follow me down the tank, waiting on me to feed them. My black Angel will even eat on an algae wafer out of my hand. They get along great most of the time, but every now & then they like to argue. They don't seriously fight to hurt each other, they mostly "bluff" or nip each other a little. They usually like to stay in the middle of my aquarium between the two castles & when one of my other fish come into their territory they shoo them off. Other than that they don't really bother my other fish. I recommend housing medium to larger sized fish with these guys as they can eat smaller, slender fish (like neon tetras). I keep my Angels with skirt tetras, cory cats, pleco, ghost cat, & sword tails. They prefer taller tanks over long, short tanks. I wouldn't keep them in a tank smaller than 29-30 gallons. They need plenty of room to swim. My two are going on 3 years old so they seem very hardy. I love them & I highly recommend them!
Date published: 2014-03-24
Rated

5

out of

5
by
kenziemarie13
from
definitely buy it :)
This fish is a joy to have! My Angelfish is named Priscilla and she is great although they eat a lot they are still fabulous. Angelfish can be aggressive but most are not, well mine isn't at least she is nice to the other fish in my tank too!! But, I definitely recommend this fish and give it 5 stars :)
Date published: 2013-03-13
Rated

4

out of

5
by
lemonJake2
from
Awesome!
Short summary-they grow quickly they can be a little greedy with space they eat a lot may bother other fish highly unlikely though. Great in a community tank 20 ok 29-40 great 40+ awesome! Great fish!
Date published: 2014-06-15
Rated

5

out of

5
by
Angeltothefish
from
VERY beautiful and VERY graceful. I have two Koi Angelfish and they make a nice centerpiece. They are friendly and follow me from one side of the tank to the other. I have taught them to eat food of my finger and they just have a great personality.
Date published: 2010-10-04
Rated

4

out of

5
by
pratical
from
Great Fish!
These fish are for intermediates. They are slightly aggressive, they get along with fish that they can dominate but not defeat (cats, barbs like tigers, gourmi, etc.) Dominate so there is no temptation to nip their long fins but intimidated enough that the other fish don't become lunch. But a fish with a better personality you'll never find. My first angel lived for years and stayed in my grandma's kitchen. She loved to follow us around the room (whatever side of the tank we were on that's where she was). Was super friendly, loved to be hand fed and even petted on the head! I was constantly having to watch visitors, caught my dad feeding her chips and my sister feeding her crackers! Unfortunatly she tried to lay eggs but with no mate to fertilize them they would just fall. Finally the stress of tring to save her eggs killed her. Now since I have a larger tank (only had a 10 then) I've got 3 and they are already starting to respond to me. I hope to eventually have a mated pair or at least one male that won't have the same thing that happened to my last one.
Date published: 2011-04-27
Rated

5

out of

5
by
AquaMama
from
Perfect Little Angles!
My 3 angels are very social and will eat from your hand. I have not found them to be aggressive towards other fish, though I do have one dominate male who is slightly territorial towards the other two. They are slow moving, easy going fish, but because of their size...they should never be kept in an tank smaller than 30g. Also take care when feeding if kept with other, faster moving fish because the angles just won't get their share. Foods should be sprinkled in some floating plants where the angels can take their time, while other fish are feeding from the top. They also enjoy sinking algae waffers.
Date published: 2011-06-26
Rated

5

out of

5
by
MisterKnowItAll
from
Amazing Fish! Not for begginers.
We just got ours a couple of days ago! It has done fine no fighting our any other nonsense. This fish looks amazing with other Cichlids and Tetras. They are picky so they probably aren't the best for begginers. Mine is in a 37 gallon with some other fish. Although the store may say 20 gallons or so they will most likely do best in a 30 gallon which has lots of room.
Date published: 2014-04-10
Rated

4

out of

5
by
Pinsandneedles
from
I love my little angels
They look beautiful in my 60 gallon tank I bought 4 of them. They appear healthy although one is missing a bottom feeler. I didn't notice it at the store but when I let her in the tank I realized it. I do not want to return her though because she has paired up with another probable male angelfish and I do not want to separate them. Their colors are pretty and one of the angelfish changes color her stripes go from silver to black amazing. They are all very active I definitely will buy more in the future
Date published: 2015-07-07
y_2017, m_11, d_18, h_22
bvseo_bulk, prod_bvrr, vn_bulk_2.0.3
cp_1, bvpage1
co_hasreviews, tv_2, tr_79
loc_en_US, sid_15215, prod, sort_[SortEntry(order=HELPFULNESS, direction=DESCENDING), SortEntry(order=POSITIVE_FEEDBACK, direction=DESCENDING), SortEntry(order=SUBMISSION_TIME, direction=DESCENDING)]
clientName_petsmart
Purchase Size
Asked by: boys
Start with the $6.49 Angel fish and watch them grow, they need to get use to you and trust you feeding them
Answered by: Deshaun
Date published: 2017-10-17
What kind of colorful fish can i put with betas
Asked by: Glendanana
You can have an assortment of fish with betas...PLEASE remember to only have one male beta in a tank and never put them with a cichlet
Answered by: Deshaun
Date published: 2017-11-08
How big is the $8.49 anglefish? And what type of guarantee do I get?
Asked by: David Rivera
Angel fish get to be 6" in length So start small and watch them grow
Answered by: Deshaun
Date published: 2017-11-08
I have a 30 gallon community tank 5 African chiclids 1 Texas 1 firemouth 1 jack dempsey couple tiger barbs and rainbow shark can I mix in a angel fish ?? Everyone gets along now !! An should I add 1 or 2 if it's ok to add them in the mix thank you
Asked by: Tommy1980
y_2017, m_11, d_18, h_22CST
bvseo_bulk, prod_bvqa, vn_bulk_2.0.3
cp_1, bvpage1
co_hasquestionsanswers, tq_4
loc_en_US, sid_15215, prod, sort_[SortEntry(order=LAST_APPROVED_ANSWER_SUBMISSION_TIME, direction=DESCENDING)]
clientName_petsmart