Tetra® Aquarium Algae Control
Details
https://www.petsmart.com/fish/food-and-care/water-care-and-conditioning/tetra-aquarium-algae-control-5098502.html
Discounted Price

$4.19
Old Price

$5.49
Promotions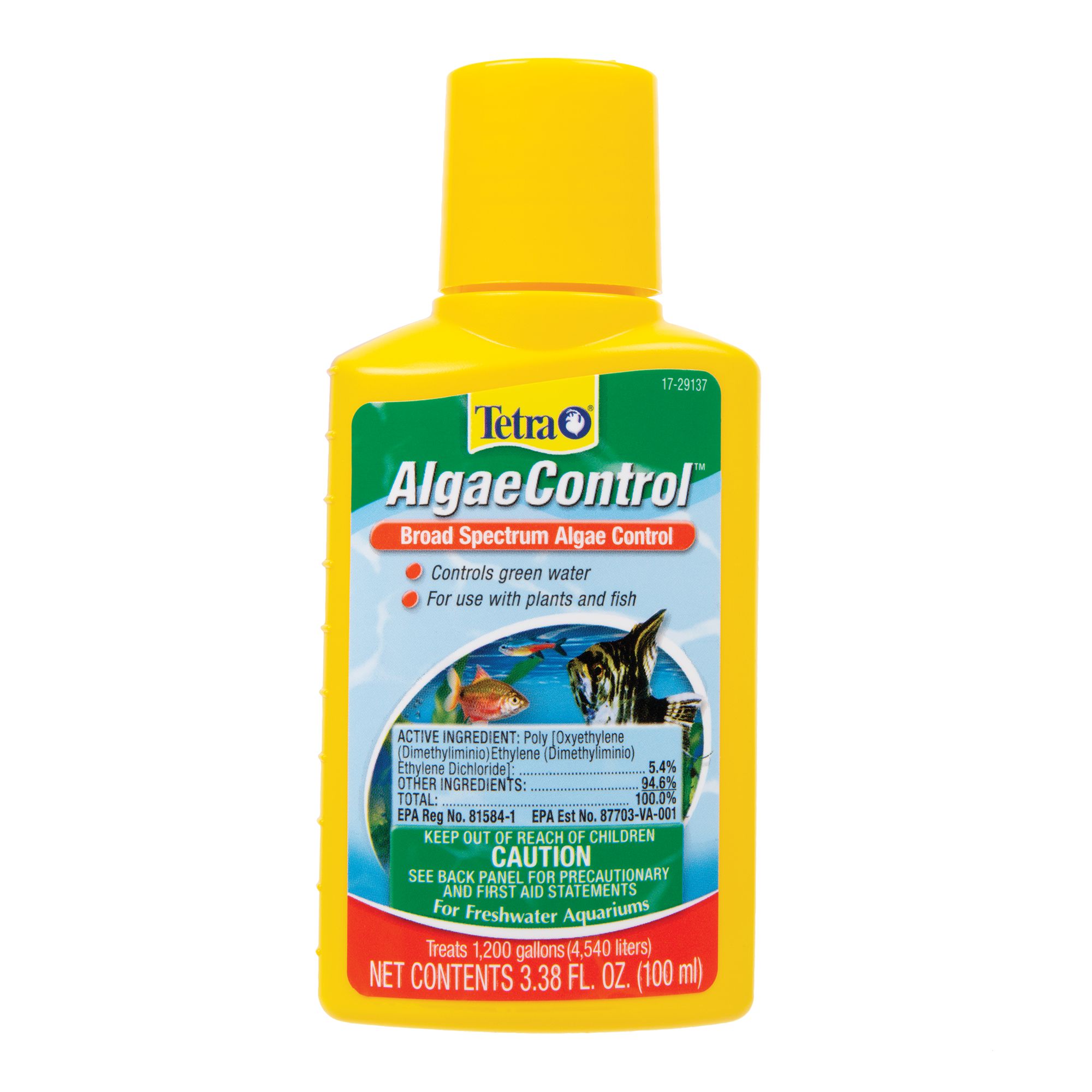 Is this product safe for Snails and plants
Thanks for asking! This product is safe for plants but the snails should be removed from the tank for treatment. Wait 3-4 days after treatment is completed to return the snails to the tank. For more help call Tetra at 1-800-526-0650 or email PetSupport@spectrumbrands.com.
Date published: 2018-12-28
I can peel the label properly to see instruction. Please advise how to use 
Again, we are sorry this label is not cooperating. Here is a link to where you can click on the instructions for this product: http://www.tetra-fish.com/products/water-care/algae-control.aspx.
Date published: 2018-12-18
I can't peel label to see instructions. Could you forward 
We are sorry to hear the label is not peeling properly! You can visit this link to read the instructions: http://www.tetra-fish.com/products/water-care/algae-control.aspx. BREX
Date published: 2018-12-18
We have an outside large vase that is a water feature. Can this product be used to clear the algae causing the vase to turn black.
Depending on the material used to make the vase, yes. This product will remove most types of aquatic algae.
Date published: 2018-12-03
Can this be used in a tank with Rainbow Sharks. 
We would not recommend this for scaleless fish, no.
Date published: 2018-12-03
Can this be used in a fish tank with a crawfish in it? 
No, algaecides in general are not safe for invertebrates, unfortunately.
Date published: 2018-11-27
Can I use this in a small outside koi pond?
Depends on how well maintained it is - this product is safe for koi unless the pond is overstocked or under filtered, etc. Koi require 500 gallons of water per each koi, so koi ponds typically are quite large, never small. Your pond may not have sufficient balance and oxygen for the use of a chemical. Try removing and replacing half of the water first, and either using something like Barley and Peat Extract, and all natural aid, or adding a UV light to the pond.
Date published: 2018-04-10
My tank is about a month old and I'm having algae problems, is this product ok to use? I was recommended to use it.
No, not in such a new tank. The tank must be established with fish for at least three months, if not older. Algae problems are typically due to excess waste, over feeding, high levels of phosphates in the tap water. Try doing your normal partial water change, which the tank is due for, and vacuuming the gravel. Algae stops growing back as quickly if you do a good job of regular maintenance.
Date published: 2018-03-09