San Francisco Bay Brand® Freshwater Multi-Pack™ Frozen Fish Food
Details
https://www.petsmart.com/fish/food-and-care/food/-san-francisco-bay-brand-freshwater-multi-packandtrade-frozen-fish-food-1031501.html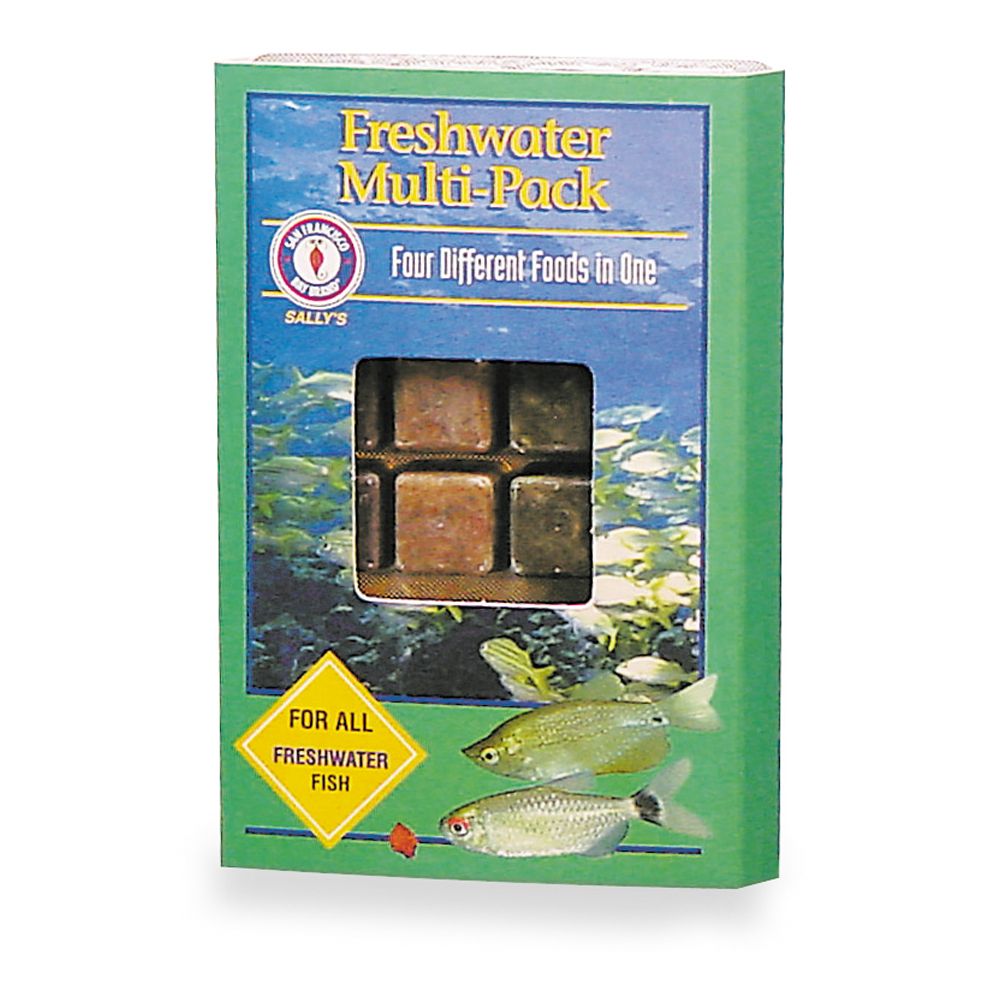 Variations
Please select a variation value to continue
Available only at select locations
not available for online purchase. please check availability at other stores.
Available in-store only
at
Panama City
849 E 23rd St
Call 850-522-4122 to check availability
Check Nearby Stores
product highlights
This multipack of San Francisco Bay Freshwater Multi-Pack Frozen Fish Food includes 4 varieties of fish food that provide the essential nutrients to maintain high energy levels and vigor in your fish. Each variety contains all-natural ingredients to provide wholesome nutrition. Meanwhile, this cubed frozen fresh food is packaged with a foil cover to prevent freezer burn.
Features:
For freshwater fish, including Algae Eaters, Angels, Discus, Goldfish, Tetras, Barbs, Cichlids, Georamas, Platys, Mollies, Loaches, Eels, Catfish, African Cichlids and Sharks
All-natural to provide wholesome nutrition
Includes 4 varieties of food that provide essential nutrients to maintain high energy levels and vigor in your fish
Package features a foil cover to prevent freezer burn


Food Type: Fish
Food Consistency: Fish
Life Stage: All
Flavor: Freshwater Frenzy, Emerald Entree,Spirulina Brine Shrimp,Bloodworms
Primary Ingredient: Freshwater Frenzy: Bloodworms, Emerald Entree: Water, Spirulina Brine Shrimp: Bine Shrimp, Bloodworms; Bloodworms
Package Weight: 3.5 oz


Feeding Instructions:
Feed often, but only what your fish will consume in 3 minutes. Remove any uneaten food, never overfeed. Keep unused portion in your freezer. Microwaving or thawing in hot water is not recommended as this breaks down the nutrients contained in frozen food

Ingredients:


Freshwater Frenzy
Bloodworms*, Brine Shrimp, Water, Cyclops, Daphnia, Watercress, Sodium Alginate, Spirulina Algae, Astaxanthin, Yucca, Wheat Flour, Vitamin A Acetate, Cholecalciferol (Source Of Vitamin D3), Vitamin B12 Supplement, Riboflavin, Niacin, Calcium Pantothenate, Folic Acid, Menadione Sodium Bisulfate Complex, Pyridoxine Hydrochloride, Thiamine Mononitrate, Biotin, Inositol, L-Ascorbyl-2-Polyphosphate, Betaine, D-Alpha Mixed Tocopherols (Source Of Vitamin E), Garlic And Paprika

Emerald Entree
Water, Brine Shrimp, Mysis, Krill, Plankton, Spinach, Romaine Lettuce, Red Leaf Lettuce, Spirulina Algae, Menhaden Oil, Sodium Alginate, Wheat Flour, Vitamin A Acetate, Cholecalciferol (Source Of Vitamin D3), Vitamin B12 Supplement, Riboflavin, Niacin, Calcium Pantothenate, Folic Acid, Menadione Sodium Bisulfate Complex, Pyridoxine Hydrochloride, Thiamine Mononitrate, Biotin, Inositol, L-Ascorbyl-2-Polyphosphate, Betaine And D-Alpha Mixed Tocopherols (Source Of Vitamin E)

Spirulina Brine Shrimp
Brine Shrimp, Water, Spirulina Algae and Carrageenan

Bloodworms
Bloodworms*, Water and Xanthan Gum

*Bloodworms are a natural product that may cause allergic reaction in some people.


Guaranteed Analysis:


Freshwater Frenzy
Crude Protein (min) 3.4%
Crude Fat (min) 0.6%
Crude Fiber (max) 1.1%
Moisture (max) 93.7%

Emerald Entree
Crude Protein (min) 6.2%
Crude Fat (min) 1.2%
Crude Fiber (max) 0.5%
Moisture (max) 90.0%

Spirulina Brine Shrimp
Crude Protein (min) 4.0%
Crude Fat (min) 0.6%
Crude Fiber (max) 0.4%
Moisture (max) 93.0%

Bloodworms
Crude Protein (min) 4.0%
Crude Fat (min) 0.4%
Crude Fiber (max) 0.7%
Moisture (max) 95.0%