Marineland® All-In-One Remedy
Details
https://www.petsmart.com/fish/food-and-care/disease-treatment/marineland-all-in-one-remedy-5210371.html
Promotions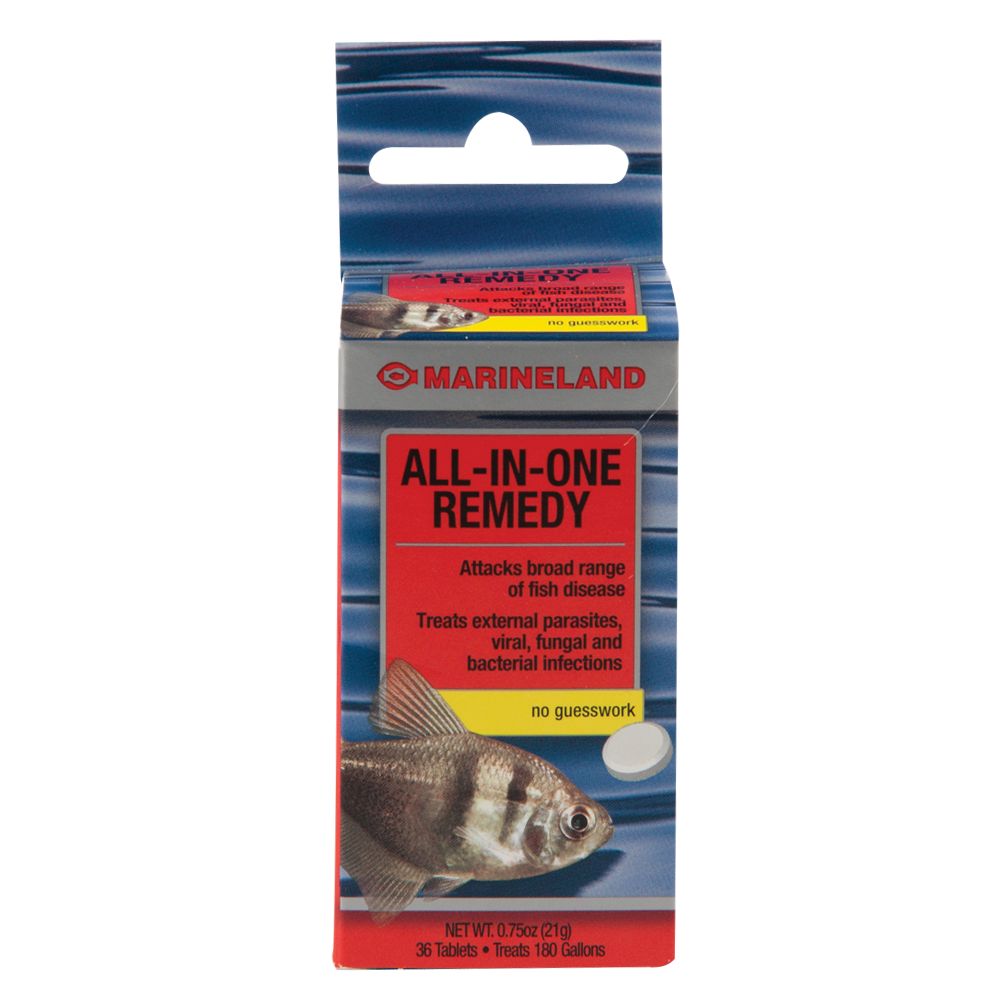 Does it treat Popeye?
Great question, Indlee1968. This product treats most external diseases. Popeye is often due to poor water quality or a low pH so we do recommend checking your parameters and doing a good water change on the tank prior to starting treatment as this may improve the fish' condition.
Date published: 2019-03-06
does this work for a bloated betta
Thanks for asking! It is critical to know why the fish is bloated so you can get them the right treatment. Sadly Marineland cannot provide veterinary advice. We suggest contacting your local veterinarian or fish store for help. For help with Marineland products contact us at PetSupport@spectrumbrands.com.
Date published: 2018-12-27
Is this safe for scaleless fish such as Cory's, plecos or bichirs?
Thank you for your question! Corydoras and plecos are not true scaleless fish. Plecos are armored because they have large bony scutes or plates. You can also see the scales on corydoras catfish. This medication is safe for both the plecos and the cory cats. However, it is not safe for bichirs as they are true scaleless fish.
Date published: 2018-11-20
Will this treat oodinium? Aka gold spot.
Thank you for your question Jedadiah! No, you need a product that contains copper to treat that, and this product does not contain copper.
Date published: 2018-10-13
Wil this treat body flukes?
Yes, this medication will treat flukes too. Do a good partial water change of the tank with a gravel vacuuming, and then start treatment.
Date published: 2018-07-31
Will this harm my snail?
It is not recommended for use with snails or other invertebrates.
Date published: 2018-10-13
Do you just drop these in the tank it self and is it a 25% change each day of treatment or after the 5 day full treatment?
A partial water change prior to each dose, every 24 hours, and you can drop them in or dissolve them in a disposable cup of fish water.
Date published: 2018-10-13
Is thus product safe for invertebrates? I have a planted tank and I am unable to catch all my nano fish without tearing up the whole aquarium. So I'll be treating the main tank. It's also because it appears more than one fish is now sick.
No, it is not safe for inverts, very few medications are and it will be difficult to treat the tank without harming them.
Date published: 2017-09-12