Top Fin® Silenstream™ Power Filter
Details
https://www.petsmart.com/fish/filters-and-pumps/filters/top-fin-silenstreamandtrade-power-filter-5262264.html
Discounted Price

$29.99
Old Price

$43.99
Promotions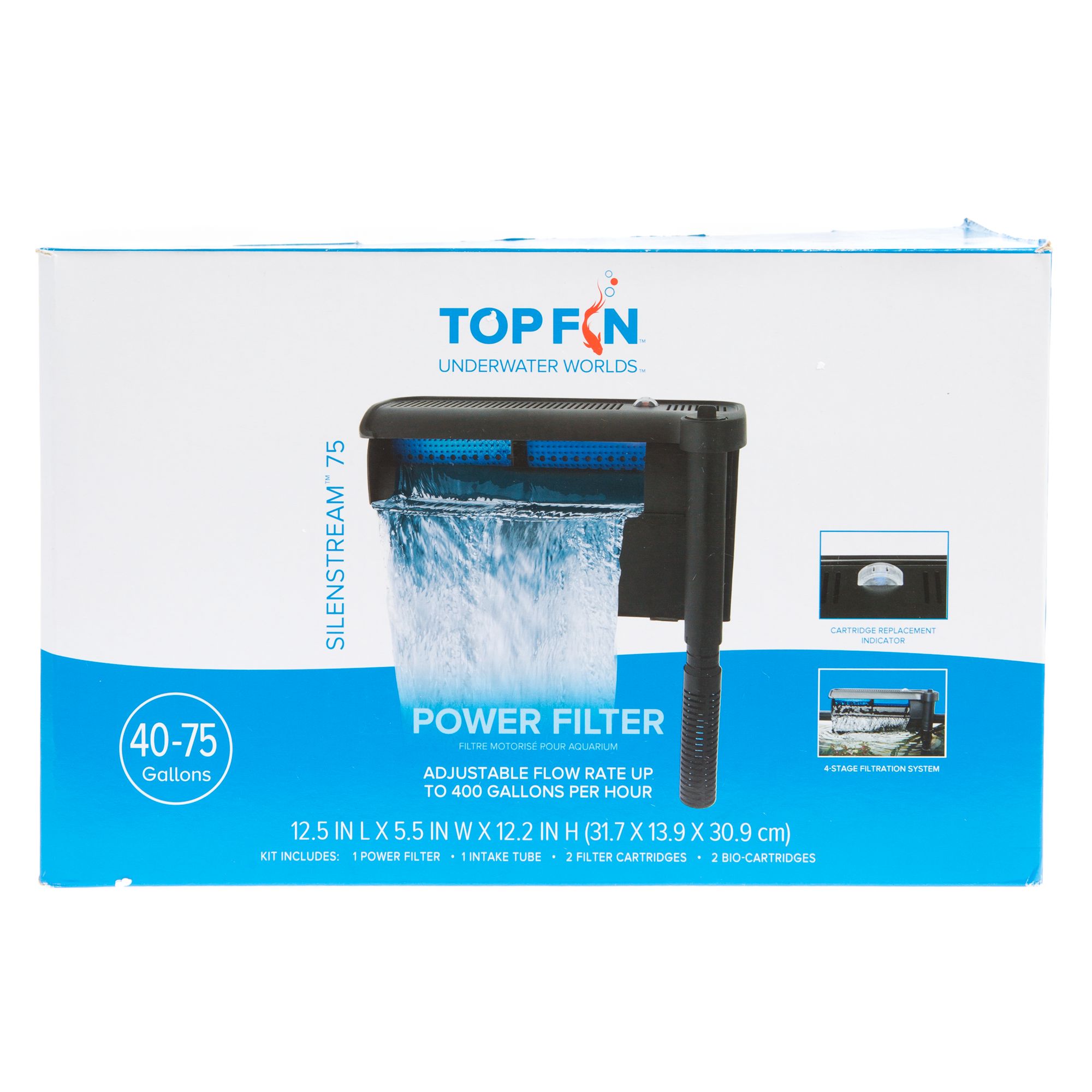 My power filter is not working, It is only about a month old. It started making a very loud buzzing sound. Can you tell me what might be wrong with it? Thanks
Same thing happened to me, worked great for about 2 weeks and now makes a loud vibrating sound. In reading the reviews it sounds like this brand of aquarium filter is cheap junk!
Date published: 2019-02-22
does the silenstream 10 power filter have parts that are removeable when cleaning the filter
You can remove cartridges located in the filter....
Date published: 2019-01-04
I have the 5-10G filter, and every 2nd day it asks for a filter cartridge change, it gets clogged really easily, basically I need to replace filter 4 times a week, why is that? Used to feed fish twice daily in little amounts
I have a 10g aquarium and my filter cartridge lasts 2 months or more. Maybe there is something wrong with your filter or the water condition is not good.... Cloudy water and high ppm (also know as "hard water") always decrease the cartridge lifetime.
Date published: 2019-01-05
Whats the right filter pad for this?
TopFin sells cartridges for this filter. Sizes are based on filter models (for 10 gallon, 20 gallon, etc). Based on the cartridge indicator (there is an indicator on the top of filter - blue means good cartridge; red: cartridge should be replaced), I can say that my cartridge (10 gallon) lasts 2 months (sometimes more)... A box with 6 cartridges (about $12) lasts one year with my aquarium. PS: I have 13 fishes and 2 shrimps
Date published: 2019-03-17
Do you know the size of the intake. I have shrimp and need a pre filter sponge to go on it so the shrimp don't get sucked into it
I have 2 shrimps (ghost - which is small- and amano - which is medium) and this filter didn't suck them into (and they passed several time on the region by water is being sucked in). It seems that water flow is not strong enough to disturb my shrimps
Date published: 2019-01-05
I plugged the filter in it made a loud sound and no water came out of the thingy what do I do
Did you put water in?? Put water into this filter before plugging in.... If you don't have fish, wash the cartridge with aquarium water prior to turn filter on
Date published: 2019-02-05
Can you use this for a guppy
My aquarium (10 gallon) has 8 guppies with this filter... No problem so far
Date published: 2019-02-03
Do I place a bio media bag in front of the filter ie towards the tank or behind it towards the wall?
Towards the wall
Date published: 2019-02-24