Fluval® FX4 Canister Filter
Details
https://www.petsmart.com/fish/filters-and-pumps/filters/fluval-fx4-canister-filter-5254729.html
Promotions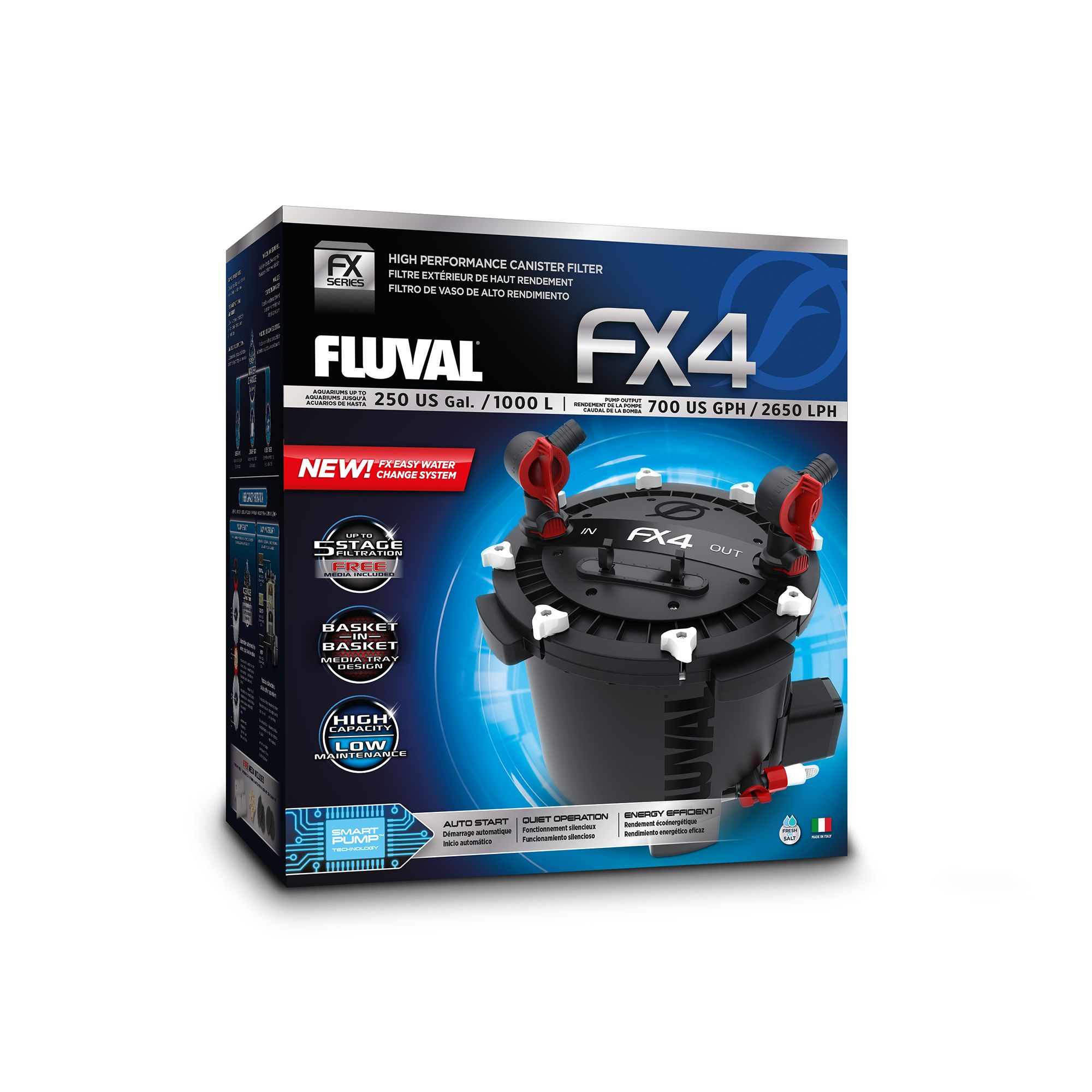 I bought fx4 & my tank is still cloudy after 2days of use?
If you ditched your old filter, it could be cloudy because of a cycling issue.
Date published: 2019-01-06
MIne came with one black hose is it supposed to come with only one?
Yes, it only comes with one. You cut it to size to get your two hoses. I hope that's not why you gave it a 2 star rating
Date published: 2019-01-07
What replacement ribbed hosing do you use for the Fluval FX4 Canister Filter? Do they come in any longer than the ones that come with it? I love this filter for my 125 gallon tank and I am moving soon and would like new hosing. Can you help? Thanks!
In the user manual where the specific parts are listed there is also a list on the next page that has each part and an item number for replacing. Hope this helps :)
Date published: 2018-12-26
I have a 100 gal.tank. will a 250 gal.filter pump be better than a 100 gal. Filter pump? So you clean less
Yes, you always want to double or more filtration. The fx4 flow rate is 700gph so your tank will cycle 7times a hour that's good but I would want more. I'm installing a fx4 on my 65gallon. Hope this helps
Date published: 2018-11-12
Would this filter be too powerful for a 60 gallon aquarium with Mollies and Pleco's? 
I have a 54 gal tank , I had a fluval 406 for about a week it was really good but I had to upgrade to the fx4 and it's perfect does an amazing job , get it while on sale it's worth the money 
Date published: 2018-11-12
Is this a good filter for a 75 gal. tank?
ideal for mine, love it.
Date published: 2018-08-20
I have a small bait shop an i use a 80 gal freezer for my fat head minnows, the freezer does not cool. I use a water chiller to cool my water I stock my tank with 1 gal of minnows at a time. Will this filter work for me? Thank you
this is hard to answer 'quickly' since bait fish tanks are w a y different than decorative home aquariums. This certainly is perhaps the second largest popular filter you can buy (except the fx6). You will need a large airstone also, or two medium size bubblers. I would also get a bulk block of sponge as a "prefilter" for the intake of whichever cannister filter you buy, to save you labor and parts dissassembling a cannister every few weeks.
Date published: 2018-11-27