Aqueon® QuietFlow Internal Power Filter
Details
https://www.petsmart.com/fish/filters-and-pumps/filters/aqueon-quietflow-internal-power-filter-5272259.html
Promotions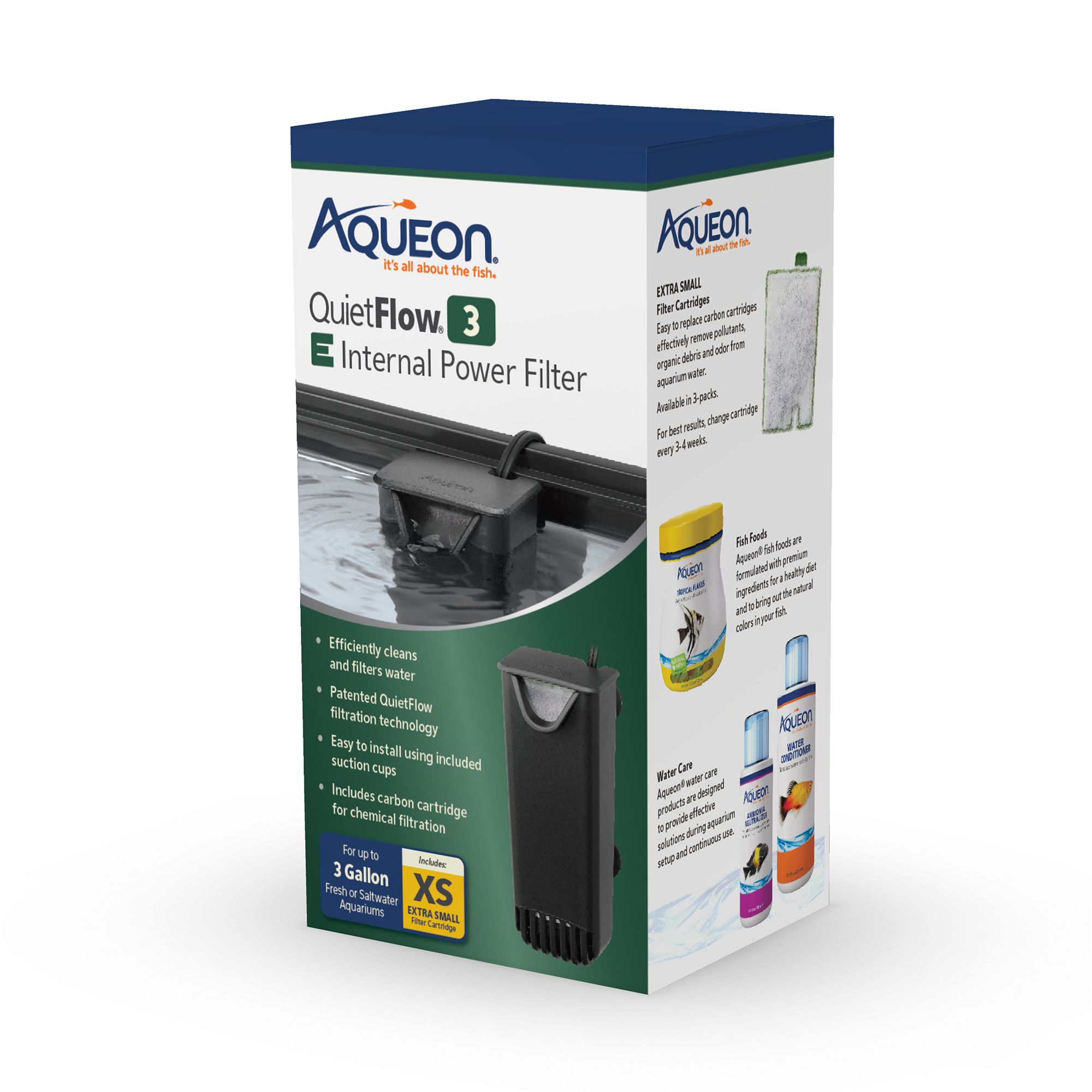 Does this work for a 10 gallon saltwater tank?
Yes, the 10 gal, small filter size will work for your 10 gallon saltwater tank.
Date published: 2018-07-05
How does this filter function? Can't really tell In any of the pictures sadly.
We hope this gives you the information you need, but if it doesn't, please call the Aqueon Team at 888-255-54527. - Fully submersible in vertical or horizontal position - Adjustable return flow rate - Direction and height of water return is also adjustable - Three stage filtration: dense foam for particles and debris, activated carbon for toxins, odors and discoloration and patented BioGrid for ammonia and nitrates
Date published: 2018-06-22
is it small 
The sizes vary - here they are: 3 Gal: 2.75 in L x 2.75 in W x 6.81 in H 10 Gal: 4.69 in L x 3.75 in W x 6.31 in H 20 Gal: 5.75 in L x 3.94 in W x 8.19 in H 40 Gal: 6.5 in L x 5.69 in W x 11.19 in H
Date published: 2018-06-01
Will this filter be dangerous for small shrimp?
Please call our Aquatics Support Team at 800-529-8331 so we can fully understand the situation so we answer correctly.
Date published: 2018-05-31
I'm using this filter in my 2.5 gallon tank. Is it best to have the lip of the filter completely out of the water so that there is a drop off point for the filtered water or can it be partially submerged? 
Please give our support team a call. They can answer any questions that you have regarding tank maintenance.
Date published: 2018-03-18
I have a Hydro 1 Sponge Filter and would like a small internal filter to help out in a 10 gal tank. Small fish load but have had 2 previous terrible, noisy and fast flow filters that I hate! Can I use the small internal filter just as a "helper" filter?
Absolutely! A perfect helper.
Date published: 2018-01-24
Does this have a low flow or is it just quiet???
Yes. It is both low flow & quiet.
Date published: 2018-02-23
Will it work for a 2 gallon tank?
Yes. This will work for UP to 3-gallon tanks.
Date published: 2018-05-31