Hill's® Prescription Diet® Metabolic + Mobility Dog Food - Chicken
Details
https://www.petsmart.com/dog/food/veterinary-diets/hills-prescription-diet-metabolic-%2B-mobility-dog-food---chicken-5236958.html
Discounted Price

$91.99
Old Price

$93.99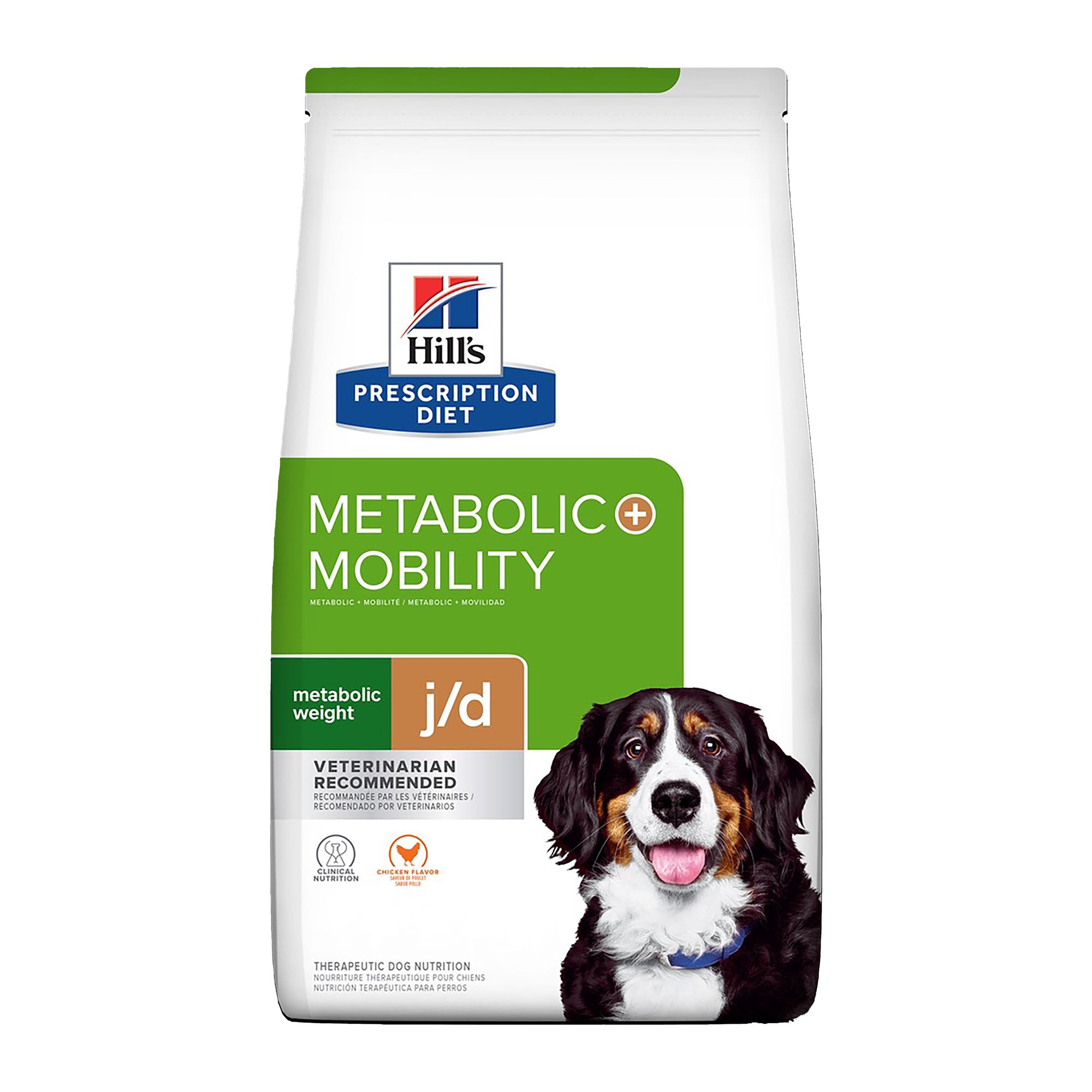 RX INFO REQUIRED
Variations
Please select a variation value to continue
I feed my dog 2/3 cups day.  It seems he is not liking it because the niblets are little bigger  and harder to chew than his old food.  Can you add water to it?  
Thank you for your question. While we strive to create foods which will be palatable and acceptable to all pets, we recognize that not every product will match every pet's preferences. Anytime you have questions on ingredients or nutrition, please feel free to give us a call! We can be reached at 1-800-445-5777 (M-F 8-5 CST). We hope to speak with your soon. Hill's Pet Nutrition
Date published: 2019-09-30
what is the difference between prescription metabolic and mobility dog food versus Healthy Mobility Large?
That's a great question! Hill's® Science Diet® Healthy Mobility Large Breed dog food is lifelong wellness nutrition precisely balanced for dogs with mild joint health issues or breeds prone to joint health issues. This diet is not indicated for a pet that is obese or obese prone. Hill's® Prescription Diet® Metabolic + Mobility Dog Food is precisely balanced for dogs with moderate to severe joint health issues, or dogs requiring clinical nutrition. This product contains a high fiber content including both soluble and insoluble fiber to trigger satiety, control appetite, and maintain gastrointestinal health. This product also is high in Carnitine to help dogs' burn fate while maintaining lean muscle mass. You might want to check with your vet to make sure you're feeding the right pet food to meet your dog's specific needs. Hope this helps! Hill's Pet Nutrition
Date published: 2018-10-16
How much is,50 grams of Metabolic Dry food, for weight loss..1/2 cup or less..
You can get your information by reading the 'daily feeding guide' on the back of the bag. Looks like it's a little less than 1/2 cup. Definitely should speak with your primary veterinarian who can give you the right information on how many cups you should feed your pet.
Date published: 2017-09-13
My dog was diagnosed with hip displasya and was prescribed hills prescription food, but the prescription is from a vet in mexico, can i still order it or what can i do?
I rec'd the $20 instant savings coupon 2 use in-store. I called the local store & it wasnt in stock. I would like to know if an exception could be made to order Hillsrx Diet Metabolic & Mobility 24lb bag/dog and rec $20 savings