Hill's® Prescription Diet® a/d Urgent Care Dog Food - Chicken
Details
https://www.petsmart.com/dog/food/veterinary-diets/hills-prescription-diet-a%2Fd-urgent-care-dog-food---chicken-5010829.html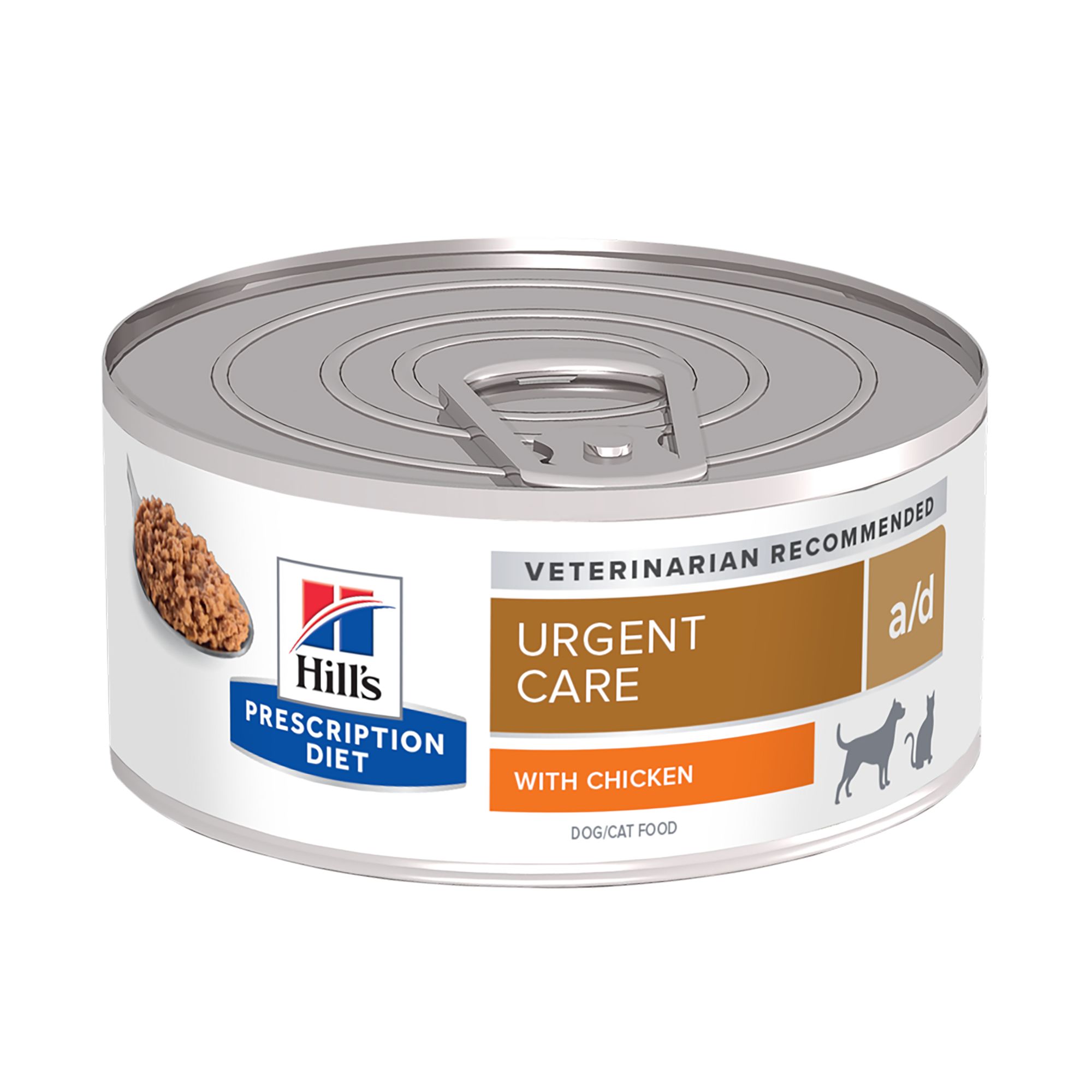 RX INFO REQUIRED
Variations
Please select a variation value to continue
Available only at select locations
not available for online purchase. please check availability at other stores.
product highlights
DESCRIPTION
Cats and dogs can undergo significant metabolic changes when recovering from surgery, illness or injury. Hill's nutritionists and veterinarians developed Prescription Diet a/d, clinically tested nutrition specially formulated for dogs and cats recovering from a debilitative state.
Key Benefits
High levels of high quality and highly digestible protein and fat to meet increased energy needs
High levels of clinically proven antioxidants to support immune system and offset oxidative stress
Increased levels of B vitamins and zinc to support convalescence, skin recovery and natural body defenses
Increased potassium to combat depletion
Exceptional palatability to stimulate appetite in sick pets and encourage early feeding
Smooth, soft, moist and thixotropic consistency (stirring makes it more liquid) for maximum flexibility in feeding - by hand, bowl, spoon, syringe or tube


Item Number: 5010829
Brand: Hill's Prescription Diet
Food Type: Dry
Health Consideration: Urgent Care
Weight: 5.5 oz


NUTRITIONAL INFORMATION


Ingredients:
Water, Turkey Liver, Pork Liver, Chicken, Turkey Heart, Corn Flour, Pork Protein Isolate, Fish Oil, Calcium Carbonate, Chicken Liver Flavor, Egg Flavor, Sodium Tripolyphosphate, Potassium Chloride, Dicalcium Phosphate, Guar Gum, Taurine, vitamins (Vitamin E Supplement, Thiamine Mononitrate, Niacin Supplement, Ascorbic Acid (source of Vitamin C), Calcium Pantothenate, Vitamin B12 Supplement, Pyridoxine Hydrochloride, Biotin, Riboflavin Supplement, Folic Acid, Vitamin D3 Supplement), Potassium Citrate, Choline Chloride, minerals (Zinc Oxide, Ferrous Sulfate, Manganese Sulfate, Copper Sulfate, Calcium Iodate), Magnesium Oxide, Beta-Carotene


Guaranteed Analysis:
Protein: Min. 8.5 %
Fat: Min. 5.2 %
Crude Fiber: Max. 0.5 %
Taurine: Min. 0.19 %

Caloric Content: 1175


FEEDING INSTRUCTIONS

Weight of Animal Schedule 1 in Milliliters Schedule 2 in Milliliters Schedule 3 in Milliliters
5 lb (2,3 kg) 110 ml 132 ml 176 ml
8 lb (3,6 kg) 157 ml 188 ml 251 ml
10 lb (4,5 kg) 185 ml 222 ml 296 ml
15 lb (6,8 kg) 251 ml 301 ml 402 ml
20 lb (9,1 kg) 311 ml 374 ml 498 ml
30 lb (14 kg) 422 ml 507 ml 675 ml
40 lb (18 kg) 524 ml 628 ml 838 ml
50 lb (23 kg) 619 ml 743 ml 991 ml
60 lb (27 kg) 710 ml 852 ml 1136 ml
70 lb (32 kg) 797 ml 956 ml 1275 ml
80 lb (36 kg) 881 ml 1057 ml 1409 ml
90 lb (41 kg) 962 ml 1155 ml 1539 ml
100 lb (45 kg) 1041 ml 1250 ml 1666 ml

Transition Instructions:
Adjust feeding amounts as necessary to maintain optimal weight. If you are unsure, ask your veterinarian. For best results & safety practices: Gradually transition to your pets new food over a 7 day period. Exclusively feed the recommended Prescription Diet dry food, wet food, & treats. Keep fresh water available at all times. Split the recommended daily amount into smaller portions and feed throughout the day. Have your veterinarian monitor your pet's condition. To prevent suffocation, keep this plastic bag out of the reach of pets and children.

Important Notice:
A prescription from a veterinarian must be obtained in order to purchase this food. Visit your vet to learn more information about switching your pet to a prescription-based diet and how to make the change. Check your local store for availability prior to purchase.