Gentle Giants Dog Food - Natural, Chicken
Details
https://www.petsmart.com/dog/food/dry-food/gentle-giants-dog-food---natural-chicken-5269216.html
Promotions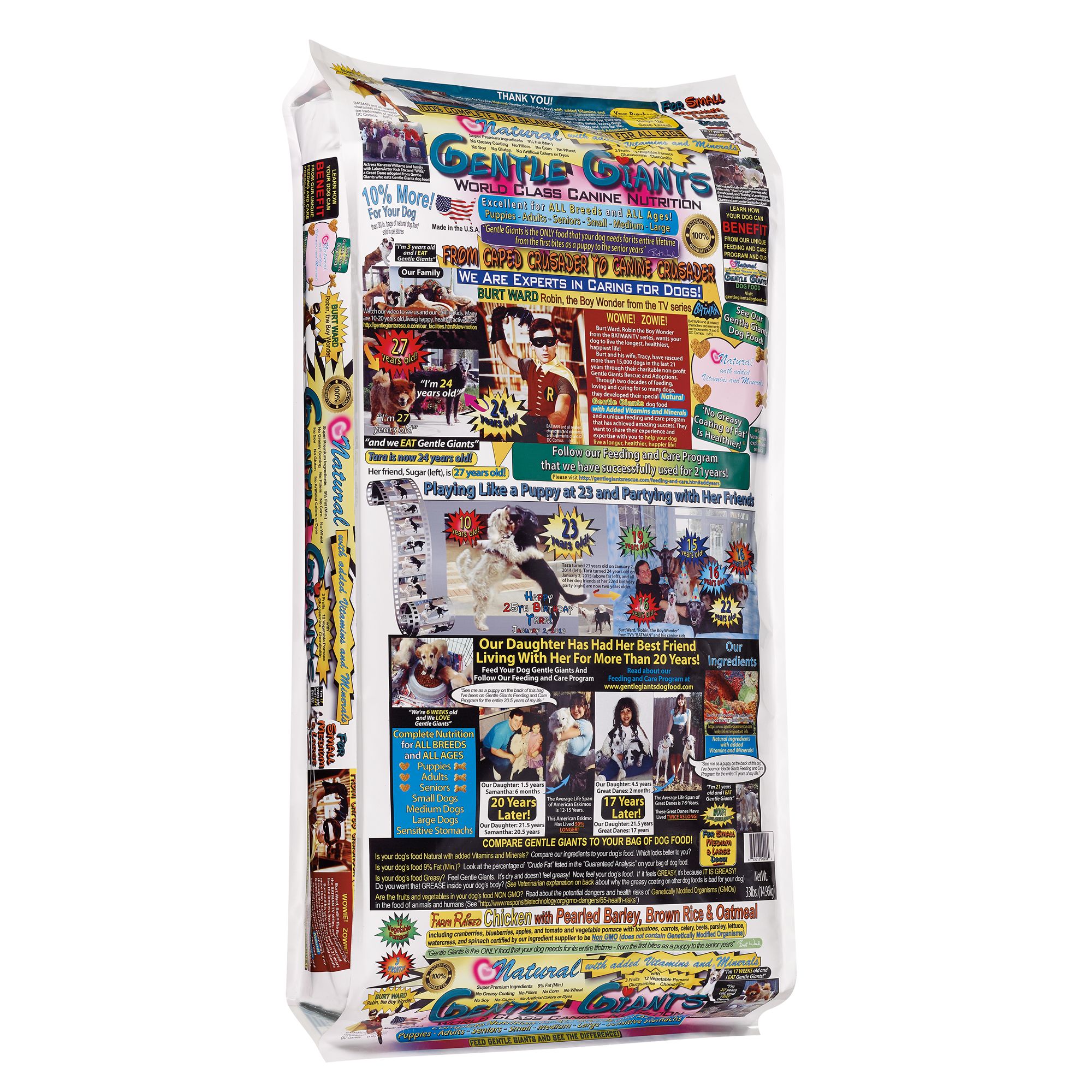 I have small elderly Yorkie with weak teeth, so she can only eat little croquets. How big are the crunchies in your bags?
I have a 20 year old Weiner dog and a 10 year old chihuahua both with weak teeth. I heat chicken broth in microwave for 30 seconds then pour on top. So easy for the dogs to eat it this way
Date published: 2019-02-01
How big is the kibble?I have small dogs.
small heart and bone shapes. any small dog can eat it. My Dane loves it!!!
Date published: 2019-01-15
Do they make this for small dogs?
Food Type: Dry Food Form: Bag Food Consistency: Kibble Life Stage: All Life Stages from 4 Week Old Puppies to 27 Year Old Seniors Flavor: Chicken, Rice, Vegetables, Fruits Primary Ingredient: Chicken Package Weight: Available in 3.5 lb, 7.5 lb, 15 lb and 33 lb sizes
Date published: 2019-01-08
HI, would love to try the food until I found this ingredient...Ethylenediamine Dihydroiodide. Why are they using this, as it is used in these chemical applications, according to Wikipedia...as a solvent, a dye, fabric softener, adhesive, etc??
A few things to note... 1. It's a salt that is commonly used in pet food to help prevent iodine deficiency and the FDA says it's safe for pets and humans to consume up to 50mg/day. 2. Ingredients list are ordered from most abundant to least and after the first 5-10 items the rest are typically very small amounts. This item is #42 on the ingredients list so I can almost guarantee the quantity is negligable and not enough to be harmful to our 4 legged family memebers :) 3. I saw a news story on this and the people who make this dont keep any profit for themselves they are just huge animal lovers who did lots of research on how to keep their dogs alive longer and are now sharing this with the world so we can all love our pups a little longer so I highly doubt they would be putting anything in there that is going to be harmful to your dog because the point in the food is to make them live longer. 4. Wikipedia is not a credible source, you can go on there right now and edit that post (or any for that matter) to say whatever you want. I didn't believe this until a friend of mine showed me by editing quantum physics to say it was the study of purple elephants to prove her point. lol Now, someone can come behind you and change it back to the correct info but just know wiki can be edited by anyone so the info you're getting isn't always credible. 5. There are numerous excepients that can be found in chemicals, cleaners, fertilizer and other harmful products that are commonly used in food and pet products that aren't harmful to pets or humans. Just because these excepients are used in finished products that are harmful does not mean they themselves are harmful. Long story short, I wouldn't worry or not give your dog this food that could add years to its life just bc you read on wiki that it's used in potentially harmful products. Hope this helps put you at ease and you and your little love have many, many more years together! :)
Date published: 2019-01-04
Should gentle giant dog food have little black specks in it
Is this for small dogs like Chihuahuas?
Is this dog food grain free?
Is this food you can feed a pug puppy?