High Tech Pet® Power Pet™ Automatic Pet Door
Details
https://www.petsmart.com/dog/crates-gates-and-containment/dog-doors-and-gates/high-tech-pet-power-petandtrade-automatic-pet-door-5109499.html
Discounted Price

$359.99
Old Price

$399.99
Promotions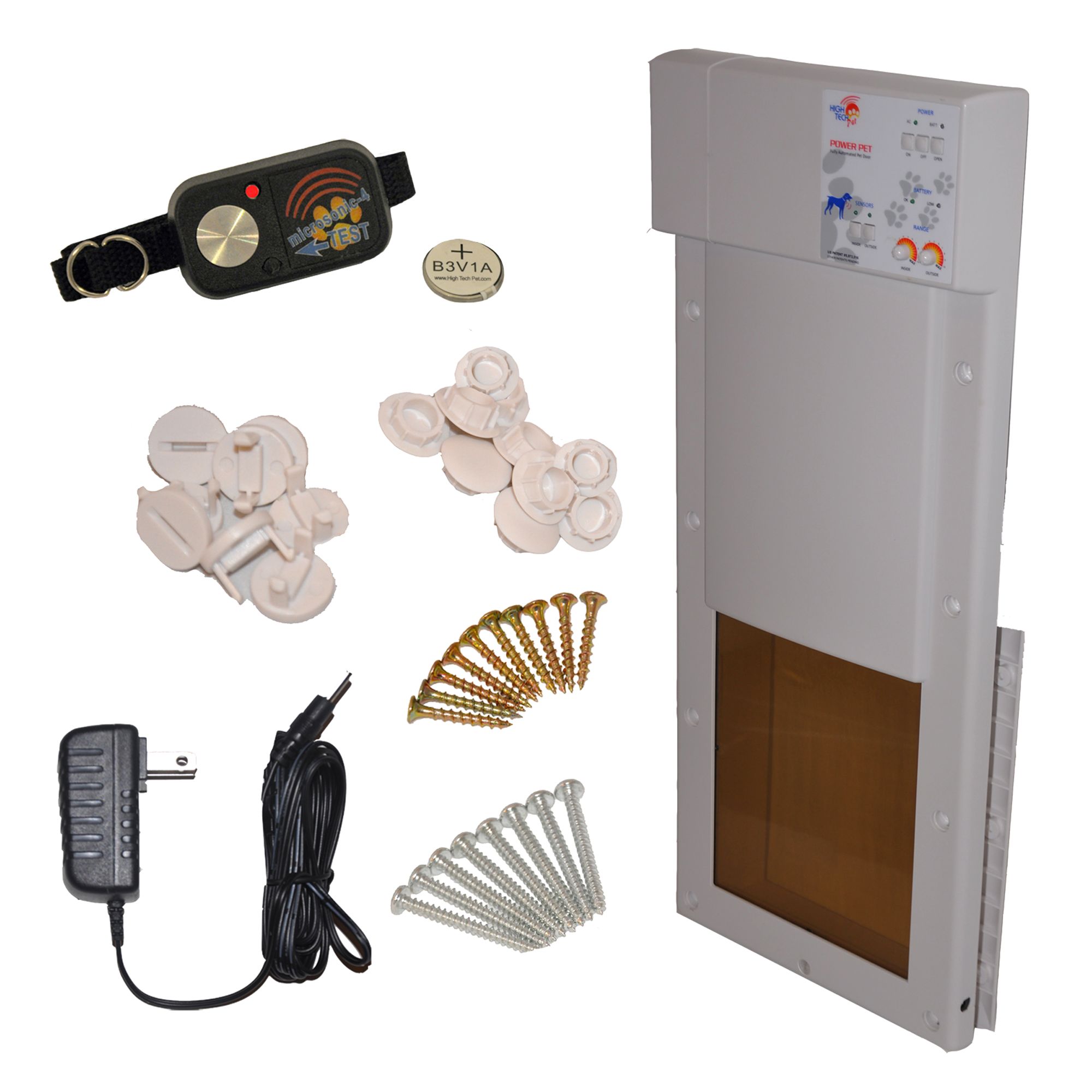 Is there a small size?
Yes ITEM NUMBER 111361 DIMENSIONS 29 x 12 x 2.8 inches WEIGHT 8.0 pounds BREED SIZE Extra Small & Toy Breeds Small Breeds Medium Breeds MATERIAL Plastic COMPATIBILITY Plug-In Power Battery Powered
Date published: 2019-07-11
How many dog collars comes with this?
Only 1 Extras can be ordered separately
Date published: 2018-08-21
Can I get additional collars for other pets in the family
How many additional collars will it allow to be added? This pet door can have as many additional collars as needed. By on Jun 9, 2017 Report https://www.chewy.com/app/product-question/789626?productId=138706#ugc-target
Date published: 2018-09-02
I need two more collar to work with the door a total of 3
I have had this door for over 10 years, all the collars work on the same band/channel. Order as many collars as you need. I keep two spares at all times.
Date published: 2018-06-26
I was curious to know the dimensions of the actual opening the dog goes through and not the system itself. Have a 119 lbs german shep, didnt know if large would work or need bigger?
Found dimensions for the flap on another site. Medium - 8 1/4" w x 10" h --- Large - 12 1/4" w x 16" h
Date published: 2018-11-24
1.  Can the unit be painted to match wall color? 2.  Are additional collars available?
What are the dimensions of flap/inside opening.  what are dimensions if outside 
I need 5 more collars to open the door for a total of 6