Coastal Pet Products Personalized Comfort Soft Wrap Extra Small Dog Harness
Details
https://www.petsmart.com/dog/collars-harnesses-and-leashes/harnesses/coastal-pet-products-personalized-comfort-soft-wrap-extra-small-dog-harness-5171585.html
Discounted Price

$16.99
Old Price

$17.99
Promotions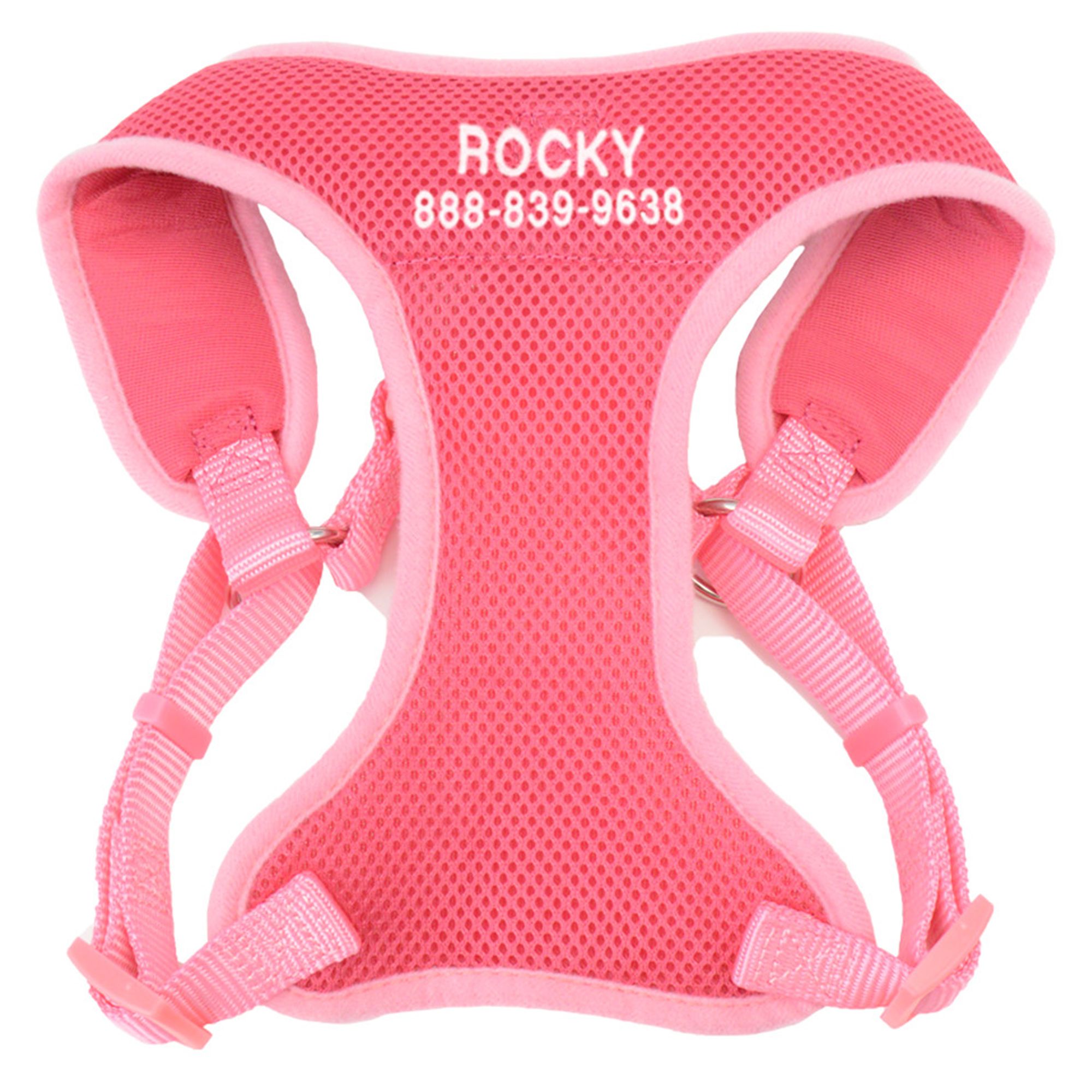 Please provide directions on how to put on...
Whenever you put on any harness, make sure that the girth size is correct. You want it to have a nice fit that is not too loose or too tight. When you lay it out on the floor, the pet should step into it and it will be brought up around the girth, or ribcage, and snapped together at the buckle. If it has a Coastal name on it, you should be able to look at it straight on and the name will be easily able to be read. If it is upside down, then there is the possibility that the harness is most likely put on wrong.
Date published: 2019-03-21
Will this fit a super small 2 - 3 # dog Has short legs Neck to butt maybe 6 - 8" 4 - 5" between legs xx s fits 4 # + Weight at 14 weeks 2# Now 16 weeks Max on her by 1 yr 2.5 - 3# Info on anything xxx small Thanks Gene H
We have the Lil Pals Petite X-Small (PXS) and Petite Small (PSM) harnesses for special small dogs. They are Comfort Mesh harnesses that have a Velcro closure instead of a buckle closure. The PXS is 8"-10" for the girth size and the PSM is 10"–12". They are item number 16383 and come in a variety of colors. We also have a style that comes in a Canvas material. They are the same sizes but have printed patterns instead of solid colors. They are item number 6249. You can see these on our website at www.coastalpet.com. For a third option, we also have the Micro Suede material of these harnesses also. They are item number 295 and come in solid colors, Black, Blue and Pink. Actually, we have several new items to see. Our apologies for the delay in responding!
Date published: 2018-05-08
Please, Please answer this question for me. Is this the Comfort Soft Harness which the dog steps into and it snaps at their neck... then allowing the leash to hook into 2 D rings at the location of the snap? thank you.
Good morning, I am Debbie at Coastal Pet Products. I hope you are doing well today. This is a very good question and I investigated it just to be sure that I give you the correct information. It is actually the Comfort Soft WRAP Harnesses that the pet steps into and it buckles on their back between the shoulders. It has the two D-Rings over the buckle to use for the leash. These are item number 6283, 6383, 6483, 6683, 6883 and 6983. The Comfort Soft harnesses only have one ring above the buckle to hook the leash onto. These are item numbers 6313, 6413, 6613 and 6913. Please feel free to go onto our website at www.coastalpet.com to see these harnesses. I hope this information is helpful to you. Please feel free to contact me anytime with questions or concerns that you may have about our products. I will always be glad to help you. Our toll free number is 1-800-321-0248 and I am extension 356. Take care and have a very nice weekend.
Date published: 2019-03-21
Does it have a leash hook?
Hello and thank you for your question. Yes, all of our Harnesses have a D Ring on the back where a leash can hook onto.
Date published: 2018-12-24