Coastal Pet Products Personalized Leather Dog Collar
Details
https://www.petsmart.com/dog/collars-harnesses-and-leashes/collars/coastal-pet-products-personalized-leather-dog-collar-5169883.html
Discounted Price

$21.59
Old Price

$22.99
Promotions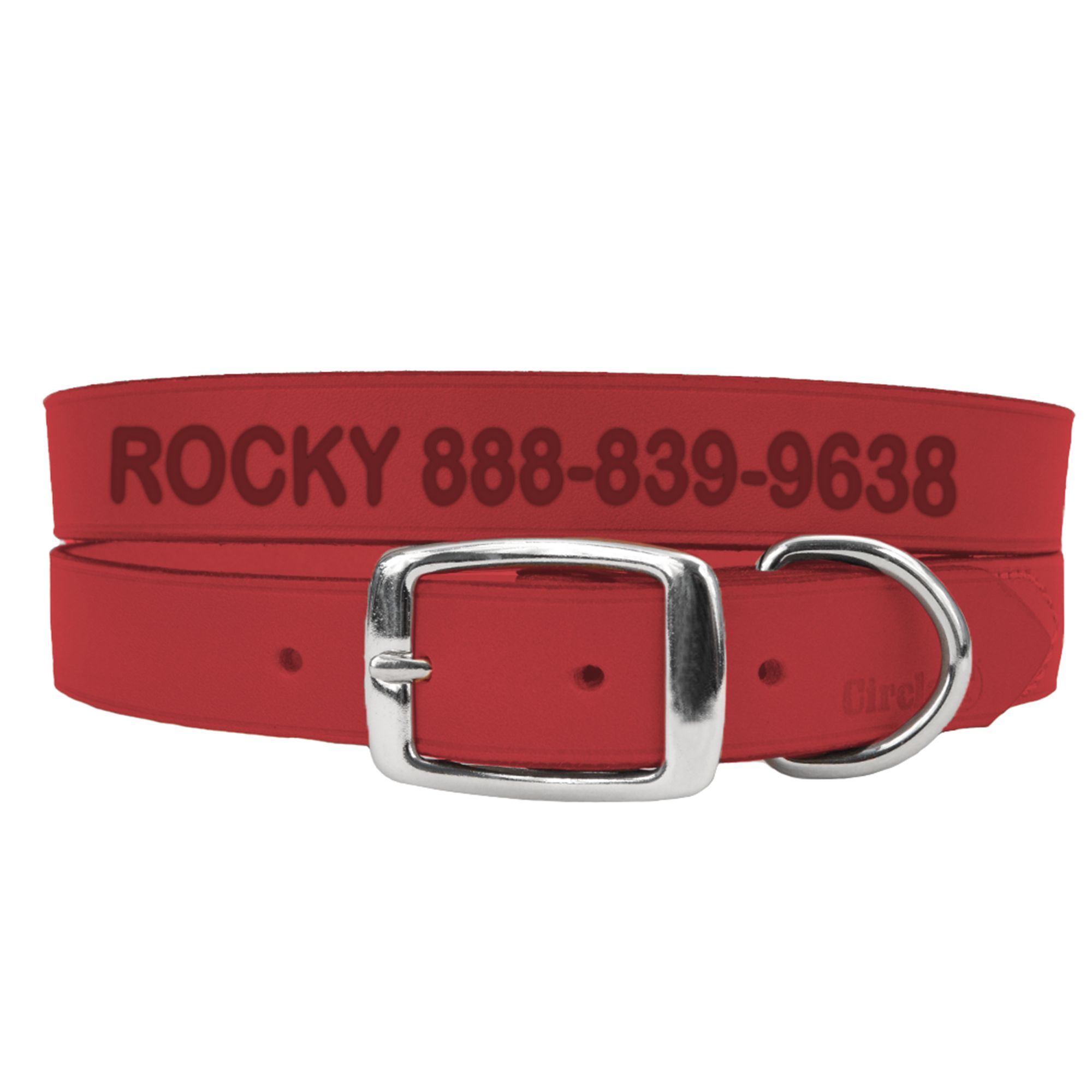 I'm needing the strongest collar I can find. My 6 mo old has already destroyed 2, the second time losing his rabies tag. He's approximately 75 lbs. already. We are trying to train him.
Hello Blonde Nightowl and thanks for reaching out. We would suggest our Macho Dog Double-Ply Collar. Our item number 5903K. If you have trouble finding it, please call us at 1.800.321.0248. Thanks,
Date published: 2019-09-09
I just purchased this as my pitbull pup likes to chew on everything so I figured a leather collar would be sufficient. I got home and put the tags on the metal ring not realizing that part night be for the leash. Is that where it would go? Please explain
Good afternoon, I checked into your question to be sure that I answer you correctly. Our leather collars are designed to hold both the ID tags and a leash all at once.
Date published: 2019-08-03
what size is recommended for a small dog, yorkie mix 8lbs to be exact?
Good afternoon, We have a brand of collars, leashes and harnesses for small dogs. It is called Lil Pals products. You should be able to find a collar that will fit your pet perfectly. They are available in several different patterns and some solid colors too. You can see our items on our website at www.coastalpet.com. Or you can call our company to ask for more information.
Date published: 2019-08-03
Is the metal loop for hooking the lead to welded or crimped? My dog has broken the loop off 4 collars in 3 months.
Good afternoon, The rings on the collars, any collars, are welded instead of crimped. This is the safest way to keep it closed when the leash is attached. If you are having problems with these collars, please feel free to contact us at Coastal Pet Products. If there is a problem, we would appreciate any information that you can give us. We stand behind our products and care about you and your pets.
Date published: 2019-05-25
Is this collar real leather?
All of the Circle T leather collars are made with real leather. They are constructed right here at our facility in the leather department by skilled people that can produce the collars.
Date published: 2019-03-08
I'm getting a pom and need a collar for a puppy. I don't get him until the end of January but want to surprise my boyfriend with a collar at Christmas. Since I won't know the measurements and he'll at most be 5-6lbs, are these collar options too big?
Good morning, I am so glad to hear that you are receiving such a special gift after Christmas. You can try the Lil Pals line of collars, etc. They are special made for smaller pets and come in an array of collars, leashes and harnesses. If you want to see these items, go to www.coastalpet.com and you can see all of these items and much more. We have toys, puppy pads and a lot of other things. If you would like to receive help in your selection of puppy things, you can contact me here at Coastal Pet Products. I will be glad to help you in any way needed.
Date published: 2018-12-25
i don't understand the size measurements. I have a miniature schnauzer weighs less than 18lbs. What size does she need?
Good morning, If you are purchasing a collar or a harness for your pet, you will need to know the girth size of the neck or up around the rib cage behind the front legs for a harness. The weight of your pet does not mean anything. The girth size does. If you are looking for a harness, measure behind the front legs and up around the rib cage, and add another inch. This should give you a reasonable idea of how much your pet will need to be comfortable in the new harness. Let's say the girth size for a harness is 14". You would want to purchase a harness that ranges between 12" to 18". That way, it should not be too tight or extremely loose but will still have enough strap to adjust it if your pet grows more, or in the winter when some pets get their winter fur.
Date published: 2018-11-27
What size would I need for a large pitbull and black lab mix? The dimensions I'm unfamiliar with.
Good morning, First thing you will need to do is to find the girth size of the neck for a collar or up around the rib cage, behind the front legs, for a harness. Once you find the amount, add an extra inch to it. That gives it more room for comfort and adjustability. Weight is not a determining factor in finding the size that you need. The girth size is. If your pet has a girth size of 23", and you want to purchase a harness for them, like the K9 Explorer, you would select the Medium size because it ranges from 20" to 30". This is the right size with the ability to still adjust it if your pet happens to gain any weight or grows more fur for the winter coat. It' will not be too tight or too loose.
Date published: 2018-11-27