Pioneer Pet® Raindrop™ Pet Fountain
Details
https://www.petsmart.com/dog/bowls-and-feeders/automatic-feeders/pioneer-pet-raindropandtrade-pet-fountain-5193574.html
Discounted Price

$14.39
Old Price

$20.99
Promotions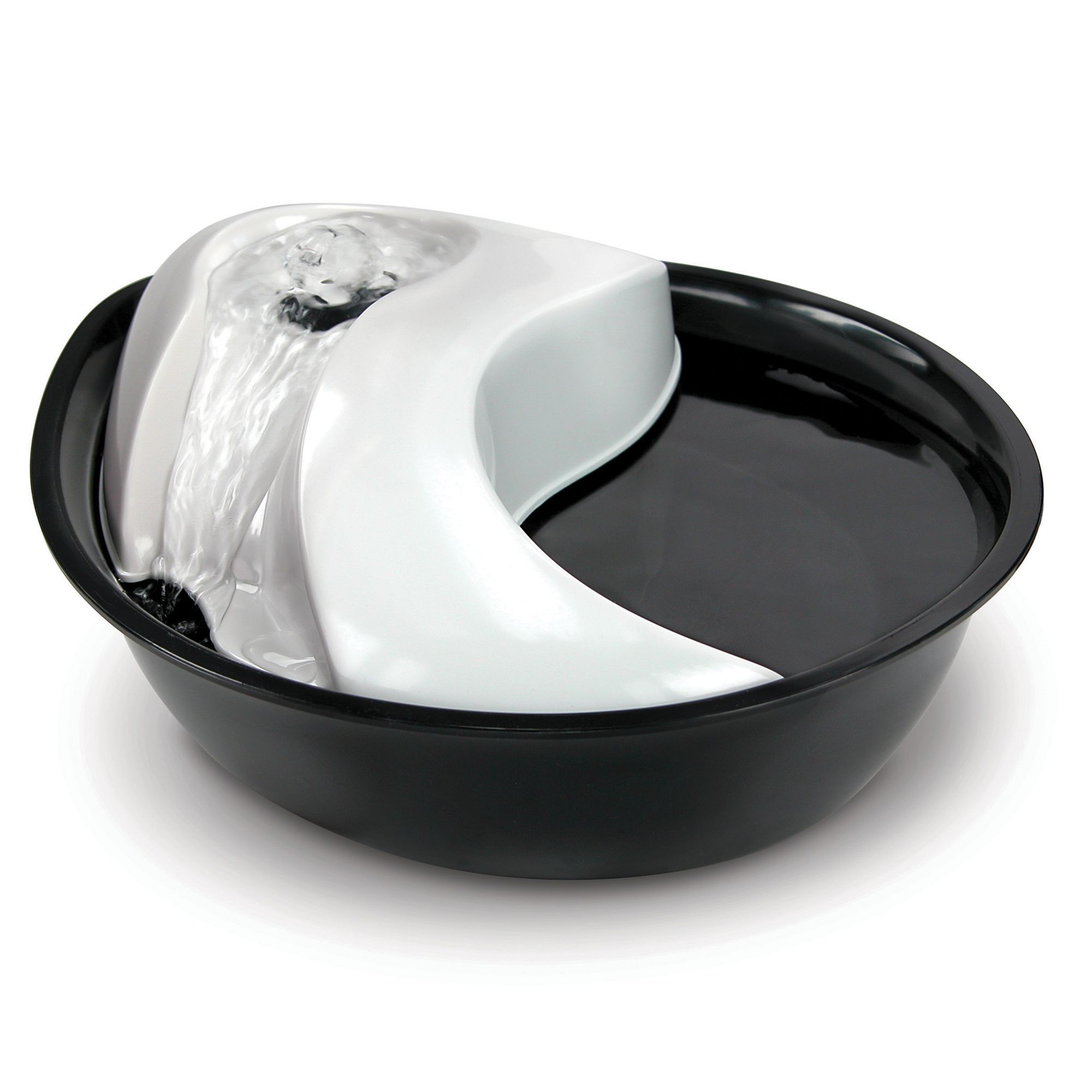 The reviews for this product all praise the stainless steel aspect, yet the description says it is plastic. Is it plastic or is it stainless steel? Are the reviews for a different product?
There is one that is stainless steel and one that is plastic. Same manufacturer, same product name. My guess is that the reviews for both products are being cross-referenced somehow.
Date published: 2018-11-12
Is the Pioneer Raindrop Fountain @ $44.99 Stainless Steel or NOT? Someone above said it was NOT. Perhaps they purchased the plastic in black which is not stainless steel.
. My fountain is mainly stainless The upper and lowers halves are stainless. Inside, There is a plastic clam-shell looking piece that holds the filter and the pumps. These are plastic. The stainless is cleaned easily with non-scratch cleanser. The plastic is cleaned with soap and water. I have hard water. The pump comes apart and works like an aquarium pump with an impeller that is removable from a housing. The pump is cleaned and reassembled. If you don't clean the pump, It WILL FAIL and cost $13 to replace. Hope this answers your question. I love the fountain and clean it regularly and replace the filter monthly for my crew of a hound and three cats. The filter can be back-flushed to aid in getting the "goobers" out and keep the filters longer.
Date published: 2019-02-11
Silly question about this product - does this have an electric cord to make it work.
Yes it has a long cord that is removable from the plug base so that the pump can be cleaned or if necessary replaced. It threads out of a round hole at the corner. It runs into a plastic holder for the filter. The pump is protected by the filter so that the "goobers" of food and mucus from the little darlings mouths doesn't contaminate the water or plug the pump.
Date published: 2019-04-28
How often do you find yourself refilling it? Thanks!
Are these plastic ones good? Everyone keeps referencing the stainless steel and ceramic which I can't afford… And second, what filter do I use with the plastic one? Please help me!
Which filter fits the Pioneer Pet Raindrop water fountain 
Are these carried in store in Nevada?
Is this good for going on a short vacation and leaving my cat alone?