Nature's Miracle® Jumbo Disposable Cat Litter Box
Details
https://www.petsmart.com/cat/litter-and-waste-disposal/litter-boxes/natures-miracle-jumbo-disposable-cat-litter-box-5178068.html
Promotions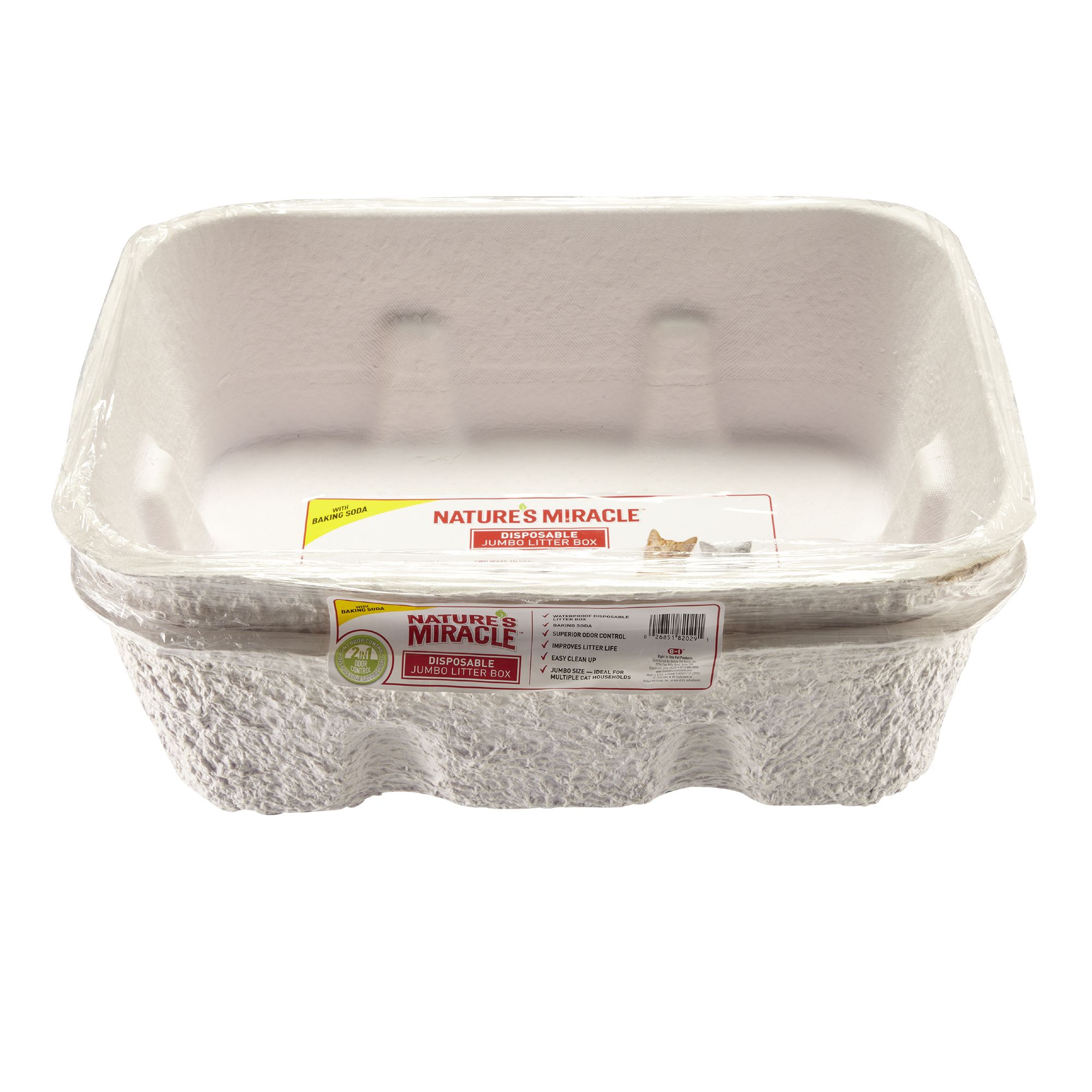 does this ox have an entry for the cat?
Thank you for asking! No, it does not have a cutout area, they just climb over it to get into it.
Date published: 2018-07-05
Would these fit inside the side sided litter pan?
No they do not fit inside the high side box.  The dimensions are too large and the lip of the disposable pan just rests on the lip of the high sided pan, suspending it on top of the box.  I would love to find a plastic high sided pan these WILL fit into so I can use them as a liner.
Date published: 2018-02-22
Is the price for a pack of two jumbo litter boxes?
Great question, Crose 10! Yes, this is the price for the 2 pack. For more help, please contact Nature's Miracle at 1-800-645-5154.
Date published: 2019-02-06
Is this a 2-pack?
Thanks for asking, Sandysushi! Yes, you will get 2 disposable boxes when you buy this item. For more help, contact Nature's Miracle directly at 1-800-645-5154.
Date published: 2019-02-06
Does one order include 2 litter boxes? Or is one order just one box?
Hi Suwqn. Yes, one order would get you a pack of 2 litter boxes.
Date published: 2018-04-08
Has anyone actually measured the height?  When I ordered from a different online company I was duped, I am showing over 6" but less than 7"?  My cat needs over 7" & I am wondering if this is a misadvertisement by Nature's Miracle or the other seller.
is item # 5178068 for $5.49 a pack of 2. how much is shipping?