Hill's® Prescription Diet® k/d Kidney Care Cat Food - Chicken & Vegetable Stew
Details
https://www.petsmart.com/cat/food-and-treats/veterinary-diets/hills-prescription-diet-k%2Fd-kidney-care-cat-food---chicken-and-vegetable-stew-5220852.html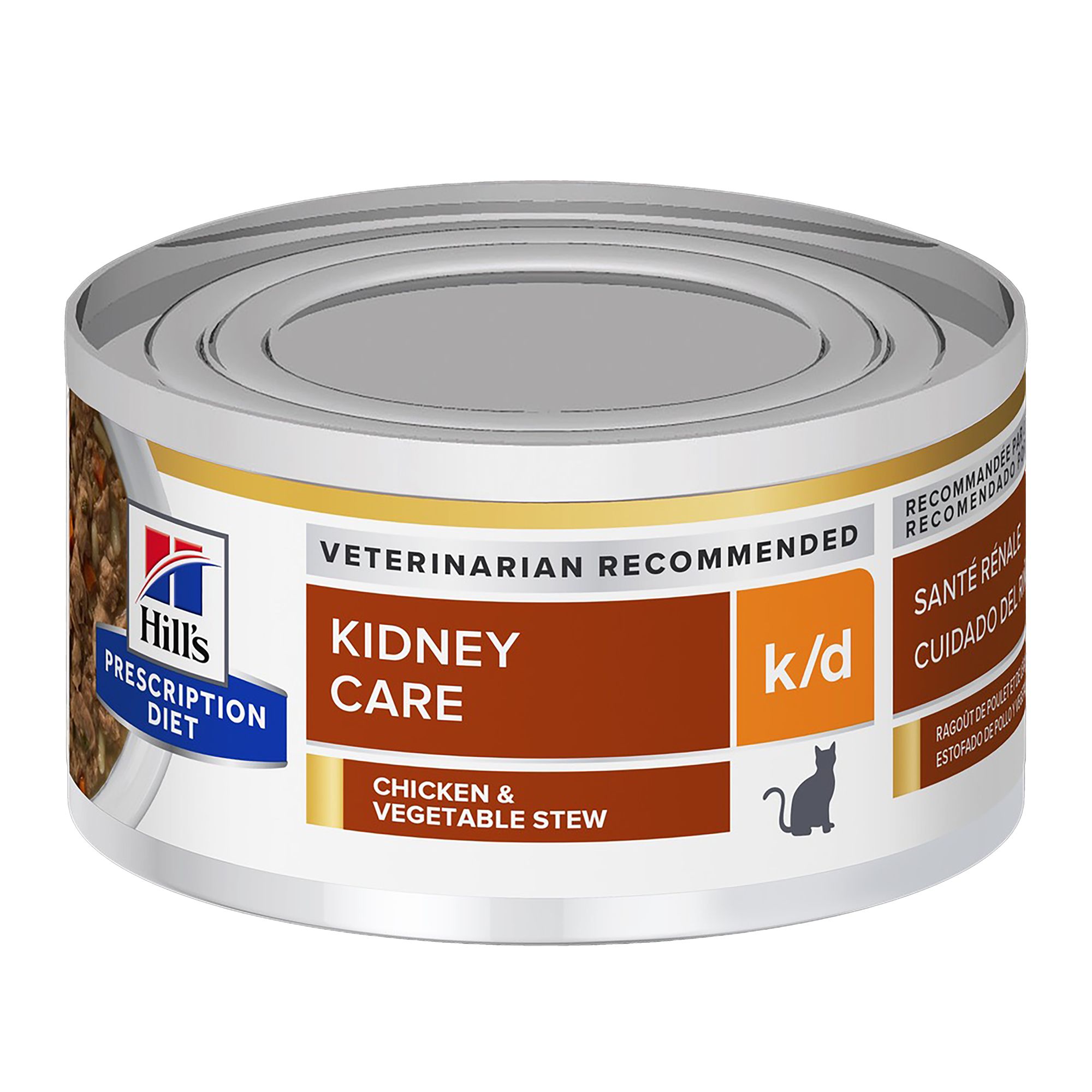 RX INFO REQUIRED
Variations
Please select a variation value to continue
Will prescription kidney care hurt our other cat if she eats it?
Thank you for your question. We would not recommend feeding a Prescription Diet® product to a pet unless it has been prescribed by a veterinarian. Hill's Pet Nutrition
Date published: 2018-04-18
Why is the website not letting me choose to pick up in-store for a prescription diet food and order less than a case of 24, which I could buy if I just walked into the store? I can't even get to the page to choose amount I want because of the shipping.
Thank you for your questions. For shipping and ordering questions, please contact PetSmart directly. They will be able to better assist you. We hope this helps. Hill's Pet Nutrition
Date published: 2017-11-14
Is this the original formula of chicken and stew or the new improved because the cats will not eat the new version!
We are sorry to hear your pet does not like the new formula. To maintain our leadership in nutritional health care for companion animals, we periodically makes changes to product formulas to incorporate additional health or product design benefits. As of December 2016, this formulation was updated. Despite the favorable benefits gained through the reformulation, our pets are creatures of habit and may need a little help to get accustomed to the change in the food. Here is more information regarding a gradual transition. Hope this helps! https://www.hillspet.com/cat-care/nutrition-feeding/switching-cat-food
Date published: 2017-11-07
Does the 24 quantity package  prescription diet cat k/d include an assortment of the available flavors or are they all same flavor?
Great question! The 24 cans in this case will all be the k/d Chicken & Vegetable Stew. Hill's Pet Nutrition
Date published: 2017-10-30
Do you have the can good in big packages
Thank you for asking! This food only comes in a 2.9 oz can.
Date published: 2017-10-30
how many calories per ounce are there in the Hills chicken and vegetable stew and the tuna and vegetable stew kidney diet for cats
Thank you for your question. The chicken stew has about 24 calories per ounce. The tuna stew has about 26.5 calories per ounce.
Date published: 2017-10-30
Do you need a prescription to buy this food?
Yes, you need a prescription according to my vet.  Our cat was just diagnosed with early stages of kidney disease and we were given a card with a bar code to use when purchasing her food.  I hope this post helps.
Date published: 2017-10-07
Is this item sold by the case or just individual cans?