Hill's® Science Diet® Perfect Weight Adult Cat Food - Chicken
Details
https://www.petsmart.com/cat/food-and-treats/dry-food/hills-science-diet-perfect-weight-adult-cat-food---chicken-5209028.html
Promotions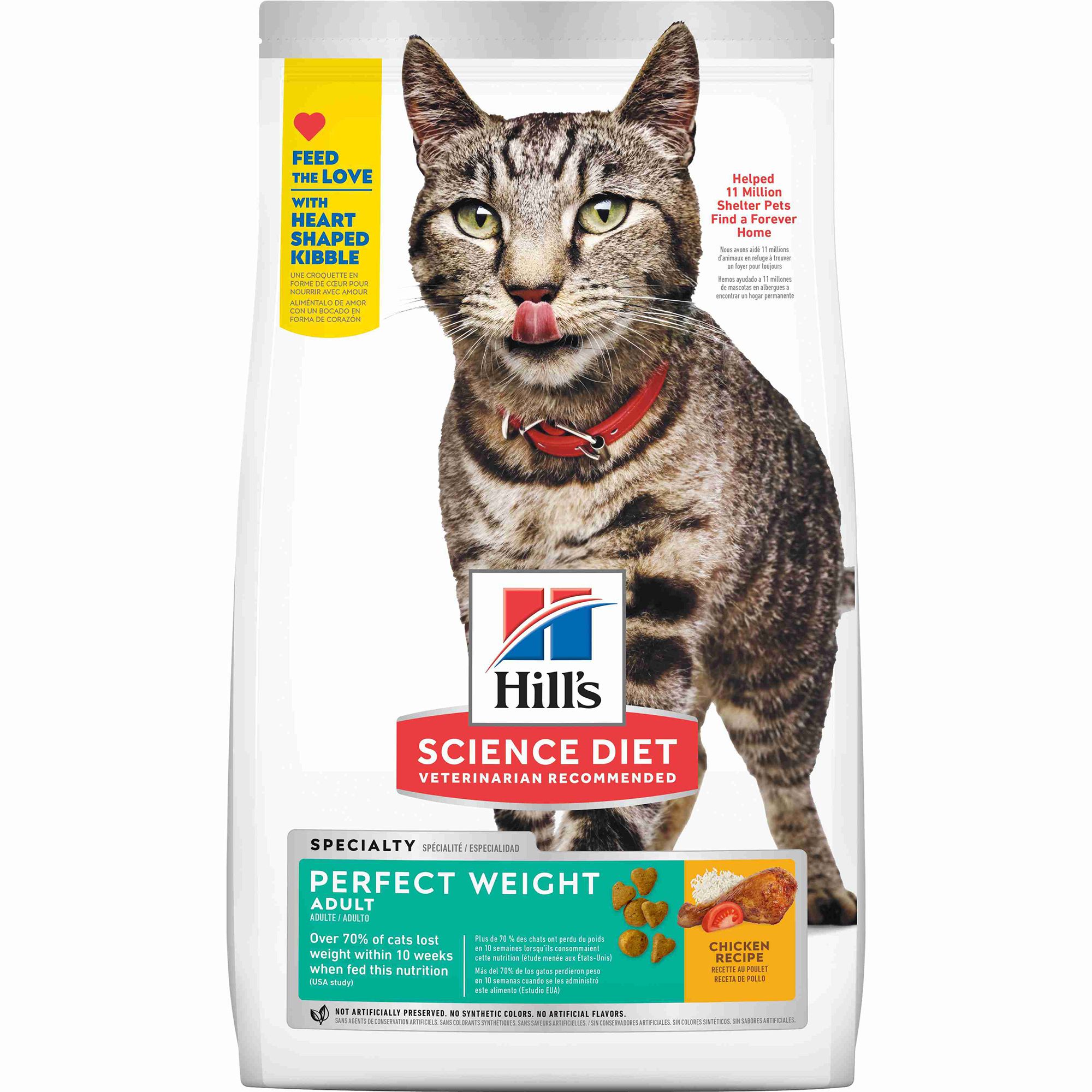 I noticed on the feeding instructions that a cat that is obese prone would get more food than a cat who simply needs to lose weight. Is that correct, and can you explain to me why that is please?
Thank you for your question. The feeding chart is broken into two sections; weight loss and weight control. If the pet needs to lose weight you would feed from the weight loss section. If you pet needs to maintain its weight, then you would feed from the weight control section. Please visit the link below to view the feeding guide: https://www.hillspet.com/cat-food/sd-feline-adult-perfect-weight-dry We hope this helps! Hill's Pet Nutrition
Date published: 2017-12-14
Bought Perfect Wt. Science Diet feline 7lbs for 39.99. Why show here15 lbs. for 36.89. Big price difference.
Thank you for your question. For price inquiries, we would suggest contacting PetSmart's customer service.
Date published: 2017-11-06
My cat is a recently diagnosed diabetic. The vet wants the prescription dry glucose weight management fed only. I see the first ingredient is meal. This one is chicken which seems better as it is protein. Any thoughts? Thanks
Great question! Your veterinarian has recommended the food they feel is best for your pet based on their specific medical condition. We would suggest following your veterinarian's advice and feeding the product they recommended. The chicken meal listed consists of ground, rendered, wholesome parts of the chicken. This is a high quality, concentrated source of protein and is very palatable. Hill's Pet Nutrition
Date published: 2017-10-30
How can I order online for in-store pick up?