Cat Mate Pet Fountain
Details
https://www.petsmart.com/cat/bowls-and-feeders/automatic-feeders/cat-mate-pet-fountain-5190830.html
Promotions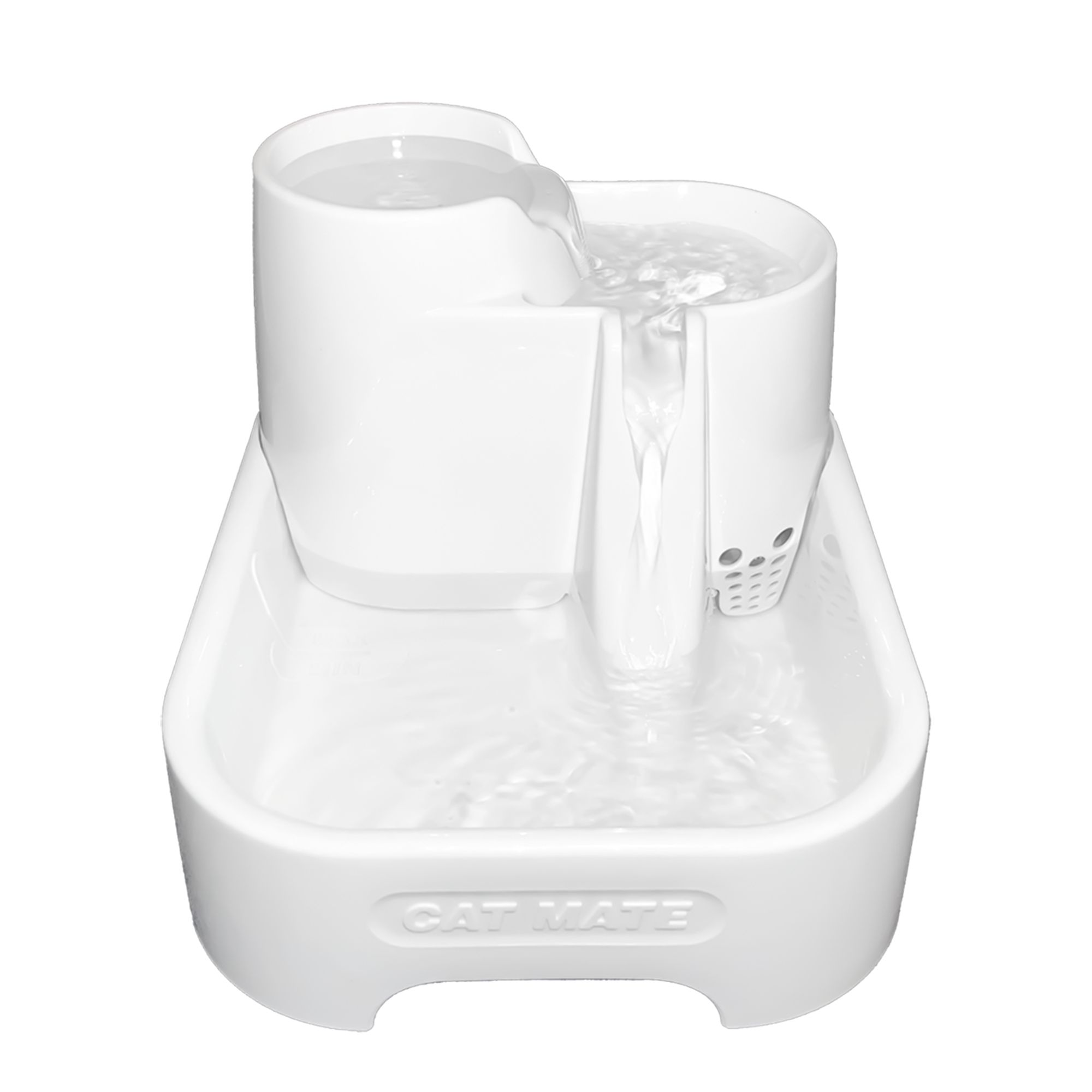 Can I pick up this item in store
No, available online only.
Date published: 2018-10-06
Ceramic or plastic?
Plastic. I find that I have to clean the entire fountain frequently. It is dishwasher safe as long as you remove the motor and filter first. At first I just wiped it clean every other day and changed the water, then I noticed it was getting mold in the crevices. I put it in the dishwasher every 2-3 days now.
Date published: 2019-02-15
How do I reassemble the Cat Mate watering system after cleaning?
This is a three piece system. The pump fits in to the underside of the fountain by moving the little blue catch out of the way and inserting the pump onto the hole inside the fountain. The hole on the top of the pump (next to the label) fits onto the nipple like hole then the little blue catch swings over the pump to hold it in place. The filter gets placed in the base between the two grooves on either side of the base wall. It can only go in one way, because the front is rounded and the rear is not. After those parts are secured you can run the power cord through the hole in the back of the fountain part and then press the fountain onto the base. Hope this helps.
Date published: 2018-08-11
What is the fountain made of? Nowhere in the description, reviews, or questions is this addressed except one person who asked if it was BPA-free. Plastic is the worst material for biofilm. I am hoping it is ceramic.
All plastic, except for the pump. Same black material as around plastic power adapters.
Date published: 2018-08-02
Is it bpa free?
Yes
Date published: 2018-05-23
Are part made in China????
No
Date published: 2018-05-23
What are the dimensions of this product? I am trying to decide where I could place it. Also thinking of ordering it to have someone pick it up for me at the Bowie,MD PetSmart. I am in a wheelchair and can't get there but can get a friend to pick it up
Product Dimensions: 6.8" H x 10.5" L x 8.8" W inches ; weight 2 pounds Note that the highest water tier is at the top. Place fountain in a location the includes space for your cat's head when sipping at this level.
Date published: 2019-02-27
How easy to clean? I have had several fountains and I always find cleaning to be difficult with little tubes and such.
This device is as easy to clean as a serving dish, cup and saucer. There are no little tubes, just broad curves and flat surfaces.
Date published: 2019-01-01